Fitness studio and class schedules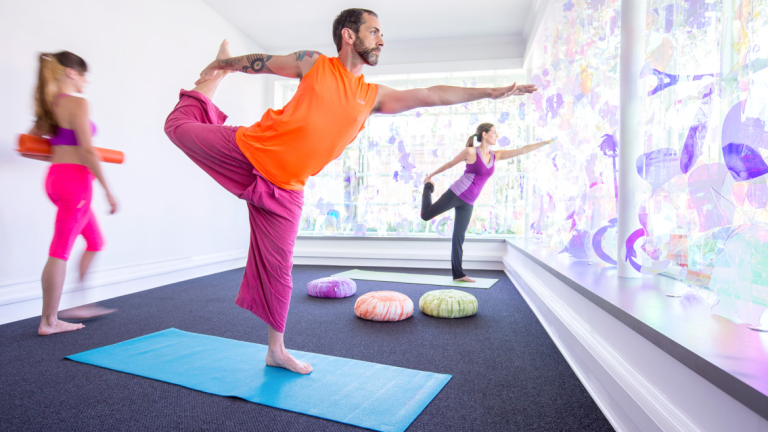 SCAD Studio offers yoga, meditation, Pilates and ballet classes. Classes are free for SCAD ID holders. See below for updated SCAD Studio class offerings and times.
Learn more about ClubSCAD classes and what each one can do for you.
Classes and class times are subject to change.
No fees.
Sign-up begins 30 minutes prior to class time.
Classes held in ClubSCAD are limited to 20 participants.
For more information visit scadathletics.com or email fitness@scad.edu.
ClubSCAD hours
Summer quarter hours
Monday–Thursday, 8 a.m. to 7 p.m.
Friday, 8 a.m. to 5 p.m.
Saturday, 9 a.m. to 5 p.m.
Sunday, noon to 5 p.m.
Fitness schedule
There is no online sign-up; spaces are reserved in person at ClubSCAD on a first-come, first-served basis. We hope to fill these classes, so please spread the word. 
Email scadstudio@scad.edu with any questions.
Monday
Cleaning—11:30 a.m. to noon
Body Shock—5–5:50 p.m., Morgan
Melt—6–6:50 p.m., Morgan
Tuesday
No classes scheduled for Tuesday
Wednesday
Cleaning—11:30 a.m. to noon
Melt—6–6:50 p.m., Jamie
Thursday
Crunch!—5–5:30 p.m., Morgan
Melt—6—6:50 p.m., Morgan
Friday
Cleaning—11:30 a.m. to noon
Saturday
TRX Strong—3–3:50 p.m., Morgan
Sunday
Cleaning—12:30–1 p.m.
HIIT Bootcamp—3–3:50 p.m., Morgan
ClubSCAD class descriptions
Cardio Kickboxing: Learn basic boxing techniques and footwork while incorporating kicks and training exercises in this engaging cardio workout. Instructor: Mary
Crunch!*: Looking for functional strength work in a time crunch? This 30-minute core class uses various positions, stations and equipment to firm up your front, back and oblique abdominals. Instructor: Mary, Meredith
Glow: Take part in a black-light party while you trim your body into a lean, mean, toned machine. Dance the night away in this body-sculpting, high-energy, calorie-torching fitness party. Glow sticks are provided. Instructor: Ashleigh
HIIT Bootcamp: Looking for the ultimate workout? Test your inner strength and take your fitness level to new heights with this full-body, heart-pumping workout that combines strength training with high intensity cardio bursts. Bring a full water bottle. Instructor: Morgan
Melt: Need a serious calorie burn? Transform your metabolism from the inside out with a class based on the latest scientific findings regarding hormones, strength, conditioning and fat burning. Boost your resting metabolism by revving up your exercise intensity and changing your hormonal profile. Instructor: Jamie, Meredith
Mobility: Relieve nagging pains and prepare your body for intense workouts at this mobility-based class. Learn how to use fitness tools and improve your body movements to increase your fitness potential, decrease possible injuries and become a better athlete. Instructor: Meredith
SCAD Fit: Inspired by cross-training classes, this group fitness class involves warm-up, workout of the day and a cooldown with mobility work. The workout of the day includes a variety of exercises for the whole body, using different types of equipment and high-intensity work. Instructor: Meredith
Total Body Circuit: Experience an action-packed workout combined with free weights, balance exercises and abdominal sculpting in this cardio and strength class. Instructor: Mary
TRX Strong: Build your strength, flexibility and endurance while burning calories and strengthening your core. Harness the way your body naturally moves and improve your performance with a combination of suspension training and other functional exercises. Instructor: Morgan
Zumba: Zumba is an exhilarating, effective, easy-to-follow and calorie-burning dance class involving a combination of salsa, merengue, cha-cha and other Latin dances. Instructor: Ashleigh
Zumba Tone: Perfect for those who want to party, but with an extra emphasis on toning. This class incorporates resistance with light weights to help you focus on specific muscle groups. Instructor: Ashleigh
* Express classes are limited to 30 minutes.
Class times are limited to 50 minutes.
Regular classes are limited to 20 participants. TRX Strong classes are limited to 10 participants.
Visit the SCAD Athletics website for more information.