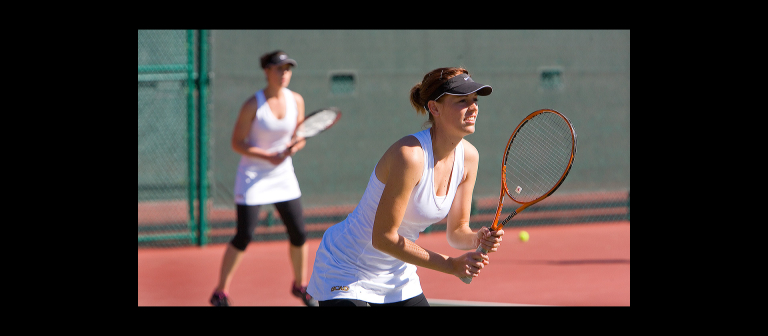 SCAD tennis hosts inaugural Doubles Tennis Challenge
Bacon Park Tennis Complex
6262 Skidaway Rd.
SCAD's men's and women's tennis teams are hosting their inaugural Doubles Tennis Challenge. Event proceeds will benefit the SCAD Bees by helping fund team travel expenses and daily operations and buy equipment.
For more information, email coach Reinaldo Valor or call 912.358.7252.
Tournament  information
Divisions of play
Format
The format is an 8.0 combo with each team consisting of one men's doubles pair, one women's doubles pair and one mixed-doubles pair, each with a minimum rating of 3.0 and maximum rating of 4.5. Teams must sign up as a complete doubles pairing. No singles.
Registration fees
Men's/women's mixed doubles team without sponsorship: $40 per team
Cost for two events (i.e., men's doubles and mixed doubles): $50
Kids day clinic: $20
Registration fees are due by Friday, Dec. 13. Make checks payable to: SCAD Tennis.
Included with registration:
Lunch
Kids day clinic
T-Shirt
Trophy for winning team
Tennis balls
Sponsorship opportunities and benefits
With your support as a sponsor, your contribution will offset travel expenses for the team, help fund the daily operation of SCAD tennis and help pay for equipment for our players. Benefits of sponsorship include: company name placed on 2014 SCAD Sponsors Banner, which will be hung at Bacon Park for all SCAD tennis matches; company name on T-shirts given to all participants; company name on trophy awarded to winner; lunch and access to kids day clinic.
If you do not have employees from your company who wish to participate, we will assign a non-sponsored team to represent your company. If you're interested in sponsoring a team, email Reinaldo Valor or call 912.358.7252.
For the mini bees
If you are not planning to participate in the tournament, but would like for your child to attend, a kids day clinic for youth ages 10-16 will be available for $20, coached by members of the SCAD tennis team.
The kids day clinic will be held 11:30 a.m. to 12:30 p.m. during the tournament lunch break.