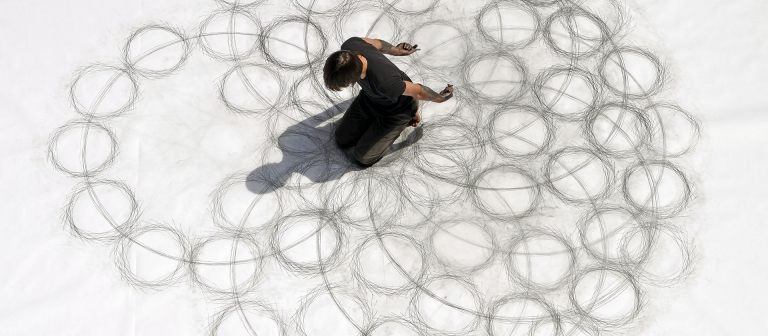 'Penwald: 8: 12 by 12 on Knees' by Tony Orrico
Savannah, GA
120 Montgomery St.
Simulcast at the SCAD Museum of Art 
Matthew Mascotte Theater Plaza
601 Turner Blvd., Savannah, Georgia
In "Penwald: 8, 12 by 12 on Knees" Tony Orrico examines and explores his ability to transform his physical and mental endurance into visual compositions, using his body as a tool to outline a full range of motion.
"Penwald Drawings" is series of bilateral drawings in which Orrico uses both of his hands to draw. His performances are specific to a time and place but are not necessarily dependent on an audience. As Orrico contours and varies his positions — standing, kneeling, sitting and lying down — he is able to create marks that are seemingly similar, yet disparate. The end result of these efforts is a composition representing the transfer of the artist's physical and mental energies, an artifact to be left for future audiences.
Presented as part of the 2014 deFINE ART program, Feb. 18-21
All deFINE ART lectures, receptions and events are free and open to the public.