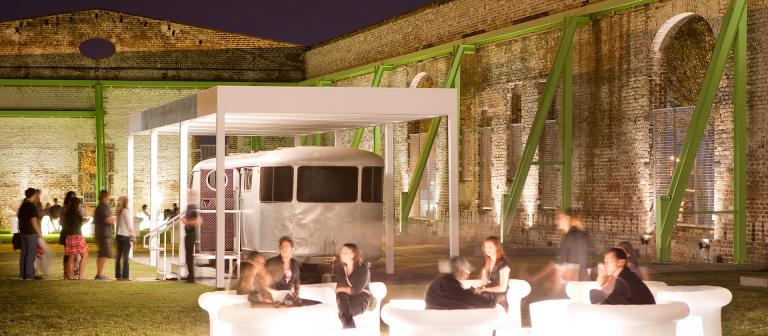 Disney Imaginations finalists share design concepts
Savannah, GA
601 Turner Blvd.
A team from the SCAD themed entertainment design program was selected as one of six finalists in Disney's Imaginations, a design competition created and sponsored by Walt Disney Imagineering with the purpose of seeking out and nurturing the next generation of diverse Imagineers. 
Walt Disney Imagineering is the unique innovative organization that creates — from concept through construction — all Disney theme parks, resorts, attractions, cruise ships, real estate developments and regional entertainment venues worldwide. The name Imagineering combines imagination with engineering.
In January, the SCAD group spent five days in Glendale, California, where they presented its concept for a "Disney Living Library at Candlestick Park in San Francisco, California" to Imagineering executives.  Disney's Living Library offers a one-of-a-kind experience that blends storytelling, game play and learning in a real, interactive and fully immersive themed environment.
The finalists also met and networked with Imagineers, went behind the scenes where Disney magic is created, and interviewed for paid internships.
Moreover, a team SCAD Hong Kong students was the winner of 2014 Imaginations Hong Kong.
The SCAD Savannah finalists will present their concept to the SCAD community at the SCAD Museum of Art.
This event is free and open to all SCAD ID holders.
Learn more about the SCAD themed entertainment design program.