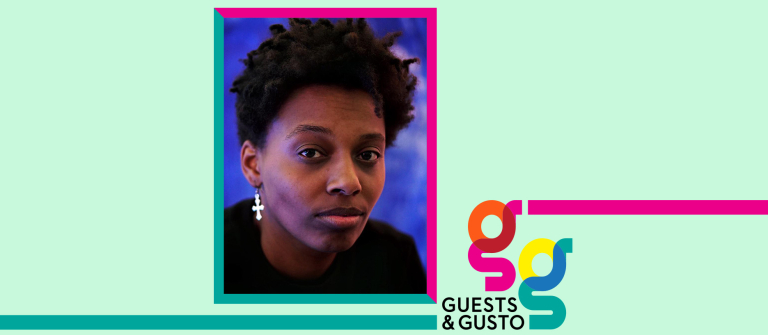 Reflect on the role of art in social movements with artist Le'Andra LeSeur on 'Guests and Gusto'
Join interdisciplinary artist Le'Andra LeSeur (B.F.A., photography, 2014) for a deep look at movements throughout history that have changed how we engage as a society. LeSeur will reference the civil rights movement, Chicano arts/labor movements, ACT UP, the Women's March, and the Black Lives Matter movement, along with works and writings from the Combahee River Collective, Marlon Riggs' film Tongues Untied, and Tourmaline's film Happy Birthday, Marsha! These movements and the works that have followed show us the ways in which changes can affect how we perceive the world around us, how we perceive ourselves, and how we work to create new language — whether visual or sonic — to make sense of our identities.
About Le'Andra LeSeur
Le'Andra LeSeur is an interdisciplinary artist working and living in Jersey City, New Jersey. Her work explores Black identity, informed by the effects of regulated systems of oppression on Black women specifically. Through visual media, installation, and performance, she reclaims and dismantles stereotypes through the reworking of conventional art forms and mundane objects — ultimately reshaping the context of spaces where the lives of the oppressed are silenced and celebrated in the same breath.
LeSeur has participated in exhibitions throughout the Southeast including On Being Black at Arnika Dawkins Gallery, Atlanta. She is the recipient of the 2017 Contemporary Black Art award at ArtPrize 9 in Grand Rapids, Michigan, for her work Searching. She is also the recipient of the 2018 Time-Based Category Award and Juried Grand Prize at ArtPrize 10 for her work brown, carmine, and blue. Outside of creating her own work, LeSeur has made notable contributions to the arts through her active participation in curating exhibitions and workshops for Black women that speak to the power of existing through expression in a world that shuns them for these exact actions.
About 'Guests and Gusto'
Tune in to Guests and Gusto, the SCAD series you want with the people you need to know. Zoom in on exclusive virtual hang-outs, real-time talks, and cool digital content with the creators and innovators remaking culture — from big celebs to top pros to boss alumni.
This event is open to the public.
Register below to tune in.
Register for the Le'Andra LeSeur Guests and Gusto event