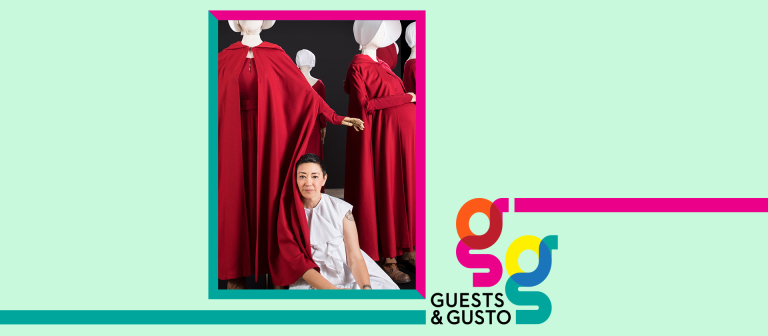 Redefine cinematic style with costume designer Ane Crabtree on 'Guests and Gusto'
Join award-winning costume designer Ane Crabtree in her studio as she shares her design process for The Handmaid's Tale, upcoming projects, and advice for budding costume designers.
About Ane Crabtree
A costume designer for film and television, Ane Crabtree made an immediate and lasting impression when she created the look for the pilot of The Sopranos for HBO. She has since gone on to style shows including HBO's Luck and season 1 of Westworld, as well as seasons 1 and 2 of Hulu's The Handmaid's Tale, for which she received two Emmy nominations and a 2018 Costume Designers Guild Award. Crabtree has also earned Costume Designers Guild Award nominations for her work on Westworld and other critically acclaimed shows such as Showtime's Masters of Sex and ABC's Pan Am. Her other work for television includes the pilot for the HBO series The Money, the pilot and first season of the Sundance Channel's Rectify, and the pilot and first season of FX's Justified. Crabtree's recent work includes the Scott Free/FOX pilot for The Passage and the Dee Rees and Cassian Elwes film The Last Thing He Wanted. Crabtree's other films include Milcho Manchevski's Dust, which kickstarted her career; Lila & Eve and Please Give, which both premiered at the Sundance Film Festival; Every Day, which premiered at the Tribeca Film Festival; and The Code. She is currently working on the creative presentation of Rees and Elwes' The Kyd's Exquisite Follies, a futuristic Afropunk, steam funk musical, as well as the much-anticipated Apple project Ray James with Simon Kinberg, David Weil, and Audrey Chon.
Renowned for her singular vision, Crabtree is sought after by directors and producers including Michael Apted, Mimi Leder, Art Linson, David Milch, and Michael Mann. She is known for her excellent rapport with actors, collaborating with them to create personalized costumes that further the exploration of their characters. Crabtree's work has been exhibited at the Smithsonian Institution, SCAD FASH Museum of Fashion + Film, and the Philadelphia Museum of Art. She was included in Fast Company's "100 Most Creative People" in 2018. She lives in Los Angeles and works regularly on both coasts.
About 'Guests and Gusto'
Tune in to Guests and Gusto, the SCAD series you want with the people you need to know. All quarter long, Zoom in on exclusive virtual hang-outs, real-time talks, and cool digital content with the creators and innovators remaking culture — from big celebs to top pros to boss alumni.
The Ane Crabtree Guests and Gusto event is open to the public.
Register below to tune in. Students who stay through the whole event will be entered to win a grand prize at the end of spring quarter. For more information, email [email protected].
Register for the Guests and Gusto event with Ane Crabtree