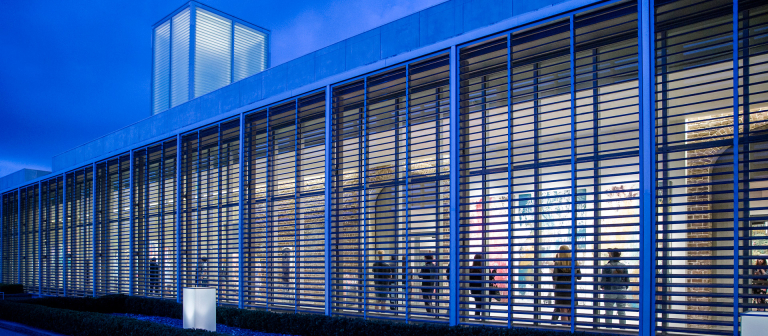 Enjoy an evening of art and film
Savannah, GA
601 Turner Blvd.
Join SCAD for an evening of events highlighting the artwork of SCAD alumna Enid Blechman (M.F.A., painting, 2013) and artist Monir Shahroudy Farmanfarmaian, both of whom are subjects of current solo exhibitions at the SCAD Museum of Art.
Enid Blechman gallery talk | 6:10 p.m.
Emerging Artist Gallery
SCAD alumna Enid Blechman and assistant curator of SCAD exhibitions Ben Tollefson discuss Blechman's current exhibition "The Red Divers of the Everglades: The Battle Begins." Blechman blends science and imagination to create narrative paintings that draw attention to current environmental issues.
Monir Shahroudy Farmanfarmaian gallery talk | 6:25 p.m.
Gallery 109
Thomas Gensheimer, SCAD architectural history professor, discusses Farmanfarmaian's exhibition "Lineages" with Amanda York, assistant curator. The conversation will lend insight into the artist's appropriation of traditional Iranian architecture and decoration for her geometric drawings and mirrored sculptural mosaics.
'Monir' film screening | 6:45 p.m.
SCAD Museum of Art theater
"Monir" (2014), directed by Bahman Kiarostami, follows the life and career of then-90-year-old artist Monir Shahroudy Farmanfarmaian.
These events, free and open to the public, follow a members-only reception on the SCAD Museum of Art terrace. Visit scadmoa.org/about/membership to become a member today.