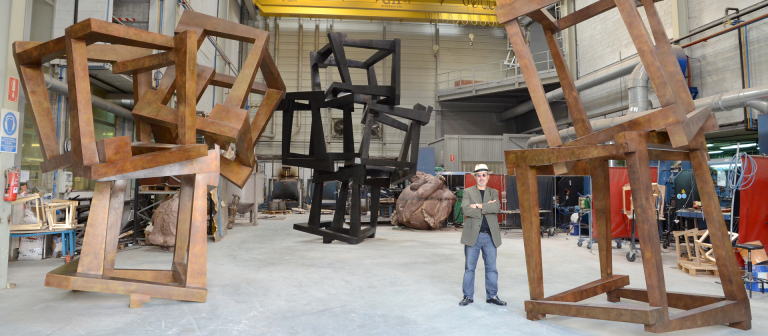 Celebrate new SCAD Museum of Art permanent outdoor sculpture
Join SCAD for an unveiling of "Chaos Concepción," a permanent, monumental sculpture by internationally renowned artist Jedd Novatt in the SCAD Museum of Art Alex Townsend Memorial Courtyard.
For more than a decade, Novatt has studied notions of matter, space and equilibrium in a series of works titled "Chaos." Rather than pointing to a tumultuous or chaotic conception of reality, the word "Chaos" in Novatt's series explores the internal and external dynamics of space — what happens inside, outside and around sculptural and linear forms. While Novatt often uses solid bronze casts or thick ink lines, the shapes he creates defy gravity in seemingly effortless, kinetic ways. By trusting the material and metaphysical capacities of his work, Novatt's art speaks to the viewer, describing not a single concept, but a concatenation of ideas.
Novatt's work has been installed in public spaces on the grounds of the Guggenheim Museum Bilbao in Spain and at the Pérez Art Museum in Miami, Florida, among other museums in Europe, Asia and the U.S. His work is also included in public and private collections worldwide. 
After graduating from Sarah Lawrence College in Bronxville, New York, in 1980, Novatt spent a year studying and working in France at the former Lacoste School of the Arts — now SCAD Lacoste — before moving to New York City. Since 2002, Novatt has lived in Europe, and he divides his time between studios in Paris and the Luberon, France, and in the Basque region of Spain.
An exhibition of monotypes by Novatt, titled "Chaos Pacific," will be on view in the SCAD Museum of Art from March 27 through June 4, 2017.
Museum hours:
Sunday: Noon to 5 p.m.
Monday: Closed
Tuesday: 10 a.m. to 5 p.m.
Wednesday: 10 a.m. to 5 p.m.
Thursday: 10 a.m. to 8 p.m.
Friday: 10 a.m. to 5 p.m.
Saturday: 10 a.m. to 5 p.m.
This event is free and open to the public.