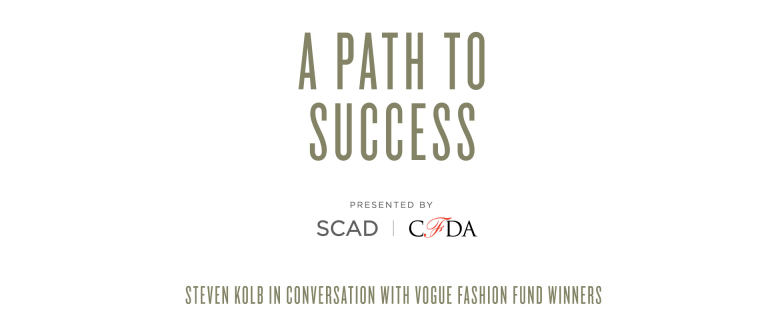 SCAD and CFDA present 'A Path to Success'
Savannah, GA
601 Turner Blvd.
Join SCAD for a conversation with Steven Kolb, chief executive officer of the Council of Fashion Designers of America, who will discuss the future of American fashion design with 2016 CFDA/Vogue Fashion Fund winners Laura Vassar and Kristopher Brock, and finalists Stirling Barrett and Adam Selman. Vassar and Brock are the founders of the Brock Collection, a luxury womenswear label based in New York, New York. Stirling Barrett is the founder and creative director of KREWE, a handmade eyewear company specializing in the small-batch production of quality and limited-edition sunglasses. A womenswear and costume designer, Adam Selman is best known for his work with Rihanna and a host of other celebrities.
Founded in 1962, the CFDA consists of more than 500 of America's foremost womenswear, menswear, jewelry and accessory designers. In 2003, the CFDA/Vogue Fashion Fund was established to cultivate the next generation of emerging American design talent through monetary support and integral mentorship from CFDA members and Vogue editors.
This event is free and open to all SCAD students, faculty and staff members with a valid SCAD Card. Contact mediarelations@scad.edu for more information.
Steven Kolb
As chief executive officer of the Council of Fashion Designers of America, the trade association for the American fashion industry, Kolb has overseen the implementation of some of the council's most important initiatives, including the CFDA/Vogue Fashion Fund and the Geoffrey Beene Scholarship. In 2010, Kolb also helped launch the CFDA Fashion Incubator program to help support young designers.
An experienced veteran of nonprofit organizations, Kolb previously held senior positions with the American Cancer Society, the Design Industries Foundation Fighting AIDS, and MTV International, where he served as executive director of the Staying Alive Foundation.
Kolb regularly collaborates with trade associations in Milan, Paris and the U.K. to promote American designers. He lives and works in New York, New York.

Laura Vassar and Kristopher Brock
Laura Vassar and Kristopher Brock began collaborating as students in New York. After working under Olivier Theyskens at Theyskens' Theory, Vassar parlayed her distinctive artistic vision into celebrity and editorial styling. Sewing since the age of 6, Brock has amassed almost a decade of experience in the world of tailoring as one of New York's most in-demand tailors and pattern makers. Together, they founded the Brock Collection in 2013.
With a couture sensibility and an inherent appreciation for craftsmanship, Brock and Vassar utilize innovative construction techniques and technical details in the Brock Collection to mine the utmost from luxe fabrications. Superfluous seams and lining are eschewed to create clean lines and artful proportion for wearable, luxury womenswear.
Stirling Barrett
A visual artist and entrepreneur, Barrett is the founder and creative director of KREWE, an eyewear company specializing in handmade, small-batch production sunglasses worn by such figures as Gigi Hadid, Kendall Jenner and Kate Hudson.
Prior to founding KREWE, Barrett was an award-winning photographer and artist known for his photographic collage style and uncommon depictions of the life and architecture of New Orleans, Louisiana.
Adam Selman
Selman is a fashion designer based in New York, New York. His eponymous label is known for its creative combinations of fashion-forward daywear that pays homage to vintage styles of the ′70s, ′80s and ′90s.
Selman began his career working at J. Lindeberg in Brooklyn, New York. In 2011, after dabbling in prop construction for the film industry, and spending a decade working closely with Zaldy for such clients as Lady Gaga, RuPaul, Michael Jackson and others, he began designing costumes for Rihanna's Loud tour. Selman launched his first collection to critical acclaim in 2013 and has remained a fixture on the international fashion scene since.