Event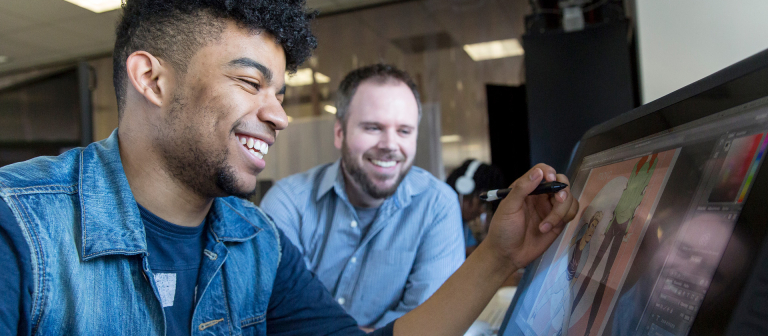 Connect with top sequential art talent at Comics Art Forum 2017
Savannah, GA
342 Bull St.
Celebrate the diverse talent of the sequential art field at the annual Comics Art Forum. Meet special guests from across the industry — comics, games, books and more — and hear them discuss their work and the current state of sequential art.
Panel discussion | Thursday, Feb. 2, 5–7 p.m., SCAD Museum of Art, theater
Portfolio reviews | Friday, Feb. 3, 10 a.m. to noon, 2–5:30 p.m., Haymans Hall
Workshops | Saturday, Feb. 4, 10 a.m. to 5 p.m., Haymans Hall
Guests
• Scott Campbell ("Psychonauts")
• Bernard Chang ("Batman Beyond")
• Dave Montes (B.F.A., sequential art, 2007) (Blue Mammoth Games Inc.)
• Taneka Stotts ("Beyond: A Queer Sci-Fi/Fantasy Comic Anthology")
This event is free and open to SCAD students.
For more information, email professor Rashad Doucet at rdoucet@scad.edu.
Scott Campbell
Campbell works in everything from paintings and illustrations to comics, children's books and video games. He began at LucasArts creating concept art for "Star Wars" games and eventually moved on to Double Fine Productions to work on games such as "Psychonauts" and "Brütal Legend."
His comic credits include a spot in the Image Comics anthology "Flight," for which he won a Society of Illustrators Silver Medal in Sequential Art, and his Oni Press book, "Double Fine Action Comics." He has also worked with legendary musician Bob Dylan to create a children's book interpretation of Dylan's 1970 song, "If Dogs Run Free."

Bernard Chang
Chang has worked on top titles such as "X-Men," "Deadpool," "Superman," "Wonder Woman" and more. Most recently, he is working on a new incarnation of "Batman Beyond." Within the first year of his comic career, Chang was voted among Wizard magazine's top 10 artists list and was nominated for the Russ Manning Most Promising Newcomer Award.
Chang is also known for his illustration work for Walt Disney Imagineering, Disney Interactive, Scholastic Press and award-winning musician Ciara's 2009 album, "Fantasy Ride."

Dave Montes (B.F.A., sequential art, 2007)
Since his time at SCAD, Montes has worked as an intern at Disney Design Group, creating original character art and graphic design for Walt Disney Parks merchandise. Currently he serves as lead artist at Blue Mammoth Games Inc., contributing to games such as "Dungeon Blitz" and "Brawlhalla."

Taneka Stotts
Stotts has extensive experience both creating and editing comics. She has edited anthologies such as the award-winning "Beyond: A Queer Sci-Fi/Fantasy Comic Anthology" and "Elements: Fire." She recently finished editing Image Comics' "Afar" by Leila del Duca and sequential art professor Kit Seaton.
Her writing credits include web comics "Full Circle" and "Love Circuits," along with a creator-owned digital comic for Stela, "Deja Brew."