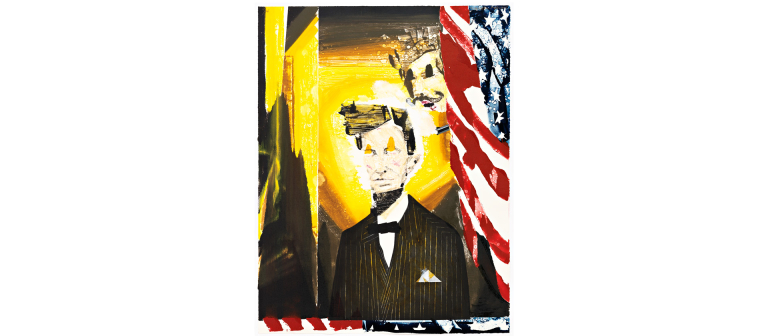 Group exhibition: 'Catalyst: Master Prints by Pace Prints'
Atlanta, GA
SCAD Atlanta, 1600 Peachtree St.
SCAD presents "Catalyst: Master Prints by Pace Prints" a group exhibition of master prints on loan from Pace Prints, the preeminent gallery and publisher of contemporary fine art prints. Founded in 1968, Pace Prints' master printmakers have collaborated with more than 125 artists at their workshops in Manhattan and Brooklyn. The exhibition illustrates how the collaborative nature of printmaking may be a catalyst for creativity, and presents a variety of artistic approaches from traditional printmaking techniques to more experimental practices. Recent works by artists Donald Baechler, Rina Banerjee, Tara Donovan, Leonardo Drew, Barnaby Furnas, Anne-Karin Furunes, Daniel Heidkamp and Nicola López will be on view. 
The exhibition is curated by Alexandra Sachs, executive director of SCAD FASH Museum of Fashion + Film and Atlanta Exhibitions and organized in association with the Southeastern Graphics Council International printmaking conference.
Gallery hours: Monday–Friday, 8:30 a.m. to 5:30 p.m.
The exhibition is free and open to the public.
This exhibition is part of deFINE ART 2017, held Feb. 21–24 at SCAD locations in Savannah and Atlanta, Georgia, and Hong Kong. DeFINE ART is an annual program of exhibitions, lectures, performances and public events that highlights emerging and established artists and visionaries.
About the artists
Donald Baechler is a key figure in the Neo-Expressionist movement and worked alongside figures such as Keith Haring, Jean-Michel Basquiat and Kenny Scharf.  The artist incorporates child-like imagery and Pop Art into his works made with handmade paper and stenciling.
Rina Banerjee trained as a chemist before embarking on an artistic career. Her profound interest in materials is evident in her installations whereby organic and plastic objects — such as ornate textiles, shells, animal forms and plastic tourist souvenirs — combine to create fairytale worlds that are both enticing and subtly menacing.
Tara Donovan's work uses everyday manufactured materials such as Scotch tape, Styrofoam plates and drinking straws to create large-scale sculptures that often have a biomorphic quality. The four, atmospheric relief prints on view were created by using the inked heads of pins to print each individual dot to create the whole image.
Leonardo Drew is known for his sculptures and installations of found natural and manmade materials that evoke urban living, humanity's relationship with nature, African-American society and other references. The exhibition includes a paper pulp work created with Pace Paper studio. Drew's work was featured in a solo exhibition in 2013 at the SCAD Museum of Art.
Barnaby Furnas explores dramatic themes of the human condition, from historical events to more mythical and religious iconography. His diverse use of painterly techniques, including pouring, splashing and patterning, are integrated into the composition and converge in a tactile experience of the picture plane. Three works based on the American Civil War are included in the exhibition.
Anne-Karin Furunes creates haunting large-scale works of faces and landscapes by perforating the surface of black or white canvas or unpainted aluminum with hundreds of handmade holes. Her portraits are taken from photographs in a Swedish archive devoted to the now-discredited notion of categorizing people by race, ethnicity and mental capacity. Furunes' work is concerned with issues relating to memory, history and the nature of photographic reality.
Daniel Heidkamp's process is rooted in observation. Painting from life in the tradition of Winslow Homer, Edward Hopper and David Hockney, the artist captures fleeting moments in the form of landscape, interiors and figuration to speak to the subjectivity of memory and, ultimately, to extract the ethereal from the ordinary.
Through her work in printmaking, drawing and installation, Nicola López describes and reconfigures our contemporary, primarily urban, landscape. Her interest in describing a place stems both from traveling, studying and working in other countries. Several of López's large-scale installations and an animation were exhibited at the SCAD Museum of Art in 2014.