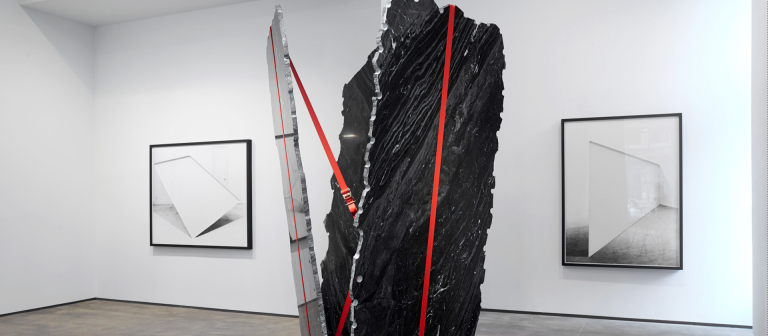 Reception for Jose Dávila exhibition: 'Practical Structures'
Join us for a reception celebrating "Practical Structures," a solo exhibition by Jose Dávila on view Thursday, Nov, 10, 2016 through Sunday, Jan. 22, 2017 at the SCAD Museum of Art.
A renowned Mexico-based multidisciplinary artist, Dávila uses site-specific installation, photography and appropriation of iconic images to explore the intersection of modern architecture and art. 
Originally trained as an architect, Dávila uses his expertise to explore material function, equilibrium, context and form throughout his artwork. His experimental structures are often calibrated specifically to the spaces in which they are installed. Their monumental components balance seemingly precariously from tethers made of ratchet straps, thus giving form to what he terms "the universal struggle of humanity against gravity."
Dávila draws from concepts rooted in minimalism and conceptual art, and encourages the viewer to question where the artist's hand begins and ends. The raw, unpolished marble countered by the nylon straps demonstrates the dichotomy between naturally occurring materials and the manufactured.
"Practical Structures" is curated by SCAD guest curator Aaron Levi Garvey. The exhibition received support from Garpa Company: House of Natural Stone, Savannah, Georgia.
Gallery Talk: Thursday, Nov. 10, 2016 at 5:10 p.m.
Museum hours:
Sunday: Noon to 5 p.m.
Monday: Closed
Tuesday: 10 a.m. to 5 p.m.
Wednesday: 10 a.m. to 5 p.m.
Thursday: 10 a.m. to 8 p.m.
Friday: 10 a.m. to 5 p.m.
Saturday: 10 a.m. to 5 p.m.
The reception is free and open to the public. The exhibition is free for all museum members and SCAD students, faculty and staff with a valid SCAD Card. Open to the public with the cost of museum admission.