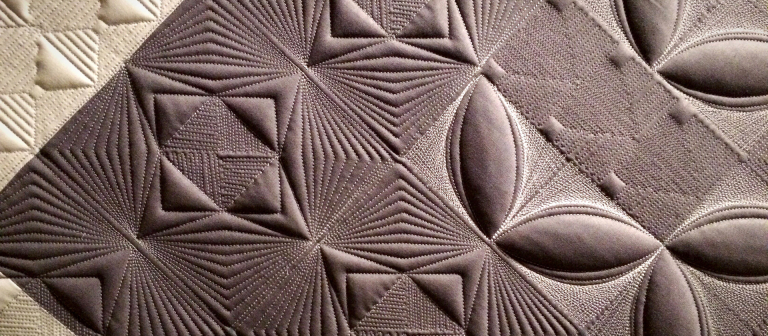 Reception for Pamela Wiley exhibition: 'Now the Once'
Savannah, GA
320 E. Liberty St.
Join us for a reception celebrating "Now the Once," a solo exhibition by Pamela Wiley, SCAD professor emerita of fibers, on view Friday, Sept. 30, 2016, through Sunday, Feb. 26, 2017.
Coinciding with the Textile Society of America symposium, "Land, Labor and the Port" held in Savannah Oct. 19–23, 2016, the exhibition showcases the artist's latest body of work. Wiley's dimensionally stitched drawings transcend the boundaries of traditional quilt making and invite us to consider the power of the line and its impact on perception.
Both mathematical and intuitive, Wiley's stitches act as metaphors connecting and bisecting different planes to create physical as well as psychological depth. Employing the language of textiles as form and process, each quilt dissolves linear planes and enables negative space to resonate from the surface. By both elevating and deconstructing the heralded tradition of quilting, they bring heirloom textile techniques into a contemporary context.
Based in Tybee Island, Georgia, Wiley is heavily influenced by her natural surroundings. She recently retired from 24 years of teaching at SCAD, and now pursues her love of all things textile-based and thread-enhanced while investigating the social, cultural and personal potential of cloth.
This exhibition is curated by guest curator Susan A. Laney.
Gallery Hours:
Monday–Friday, 9 a.m. to 5:30 p.m.
Saturday, 10 a.m. to 5 p.m.
Sunday, 1–4 p.m.
The reception and exhibition are free and open to the public.