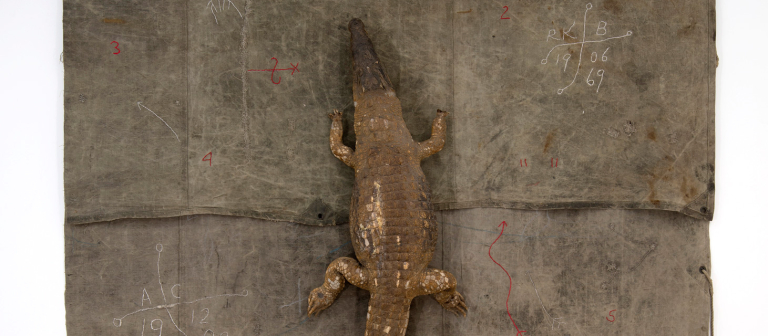 Reception for Radcliffe Bailey exhibition: 'Pensive' (CANCELED)
Note: This event has been canceled because of Hurricane Matthew.
Join us for a reception celebrating "Pensive," an exhibition by internationally renowned, Atlanta, Georgia-based artist Radcliffe Bailey on view at SCAD Museum of Art Thursday, Oct. 13, 2016, through Sunday, Feb. 5, 2017.
A painter, sculptor and mixed media artist, Bailey layers imagery, culturally resonant materials and text to explore themes of ancestry, race and memory. By translating his personal experiences into art, Bailey believes he can achieve an understanding of, and a healing from, universal history. These artworks highlight Bailey's poetic, experimental approach and his thoughtful consideration of his personal narratives within the larger collective history of the African diaspora.
Central to the exhibition is a site-specific installation titled "Storm at Sea" in which the artist utilizes piano keys, an African sculpture and a glitter-covered ship to suggest motifs associated with the African American experience of the trans-Atlantic slave trade. An arrangement of piano keys on the museum floor creates a visual experience that references turbulent ocean waves, splintered boards of a wrecked ship, and slaves who lost their lives during the trans-Atlantic journey.
The exhibition is curated by Alexandra Sachs, executive director of SCAD FASH Museum of Fashion + Film and Atlanta Exhibitions, and coincides with the Textile Society of America symposium, "Land, Labor and the Port," held in Savannah Oct. 19–23, 2016.  To mark the occasion of the exhibition and symposium, Bailey will collaborate with the SCAD fibers department on the creation of several new works.
Museum hours:
Sunday: Noon to 5 p.m.
Monday: Closed
Tuesday: 10 a.m. to 5 p.m.
Wednesday: 10 a.m. to 5 p.m.
Thursday: 10 a.m. to 8 p.m.
Friday: 10 a.m. to 5 p.m.
Saturday: 10 a.m. to 5 p.m.
The reception is free and open to the public. The exhibition is free for all museum members and SCAD students, faculty and staff with a valid SCAD Card. Open to the public with the cost of museum admission.