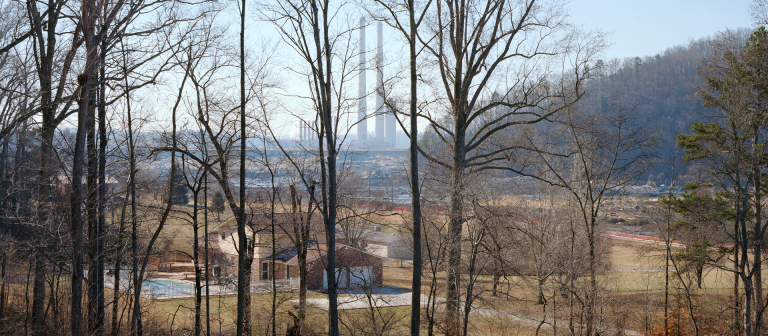 Jeff Rich exhibition: 'Watershed: The Tennessee River'
Atlanta, GA
1600 Peachtree St.
SCAD presents "Watershed: The Tennessee River," an exhibition by photographer Jeff Rich (M.F.A., photography, 2008; B.F.A., video/film, 2000), which examines the complicated effects and consequences of rapid large-scale modernization. The project documents the work of the Tennessee Valley Authority and how this government agency completely reshaped the landscape of the Tennessee Valley and the lives of its residents over nearly a century.
Rich examines why the TVA was created — and its development into the largest public power utility in the U.S. — with archival photography of its early history, contemporary documentation of various TVA sites, and profiles of the people most affected by the agency's development. By contrasting the aspirations of individual residents with larger goals for energy production in the TVA's 80 years of operation, this project offers a glimpse into the long-term effects of a highly influential regional planning project. Additionally, "Watershed: The Tennessee River" considers the sustainable future of the watershed by documenting remediation projects such as dam removal and the preservation of species and habitat in one of the most bio-diverse regions in the world.
The exhibition forms the second phase of the photographer's "The Watershed Project," an ongoing, 15-years-long endeavor that highlights the complex and often fraught relationship between land, water and man within the Mississippi River Basin.
Rich's artwork focuses on water issues ranging from recreation and sustainability to exploitation and abuse. He explores these subjects by using long-term photographic documentations of very specific regions of the U.S. His project "Watershed: A Survey of the French Broad River" was awarded the 2010 Critical Mass Book Award, and was published as a monograph in 2012. Rich's artwork has been featured on Flak Photo and as one of Daylight Magazine's monthly podcasts, and has been exhibited internationally. In 2011, Rich was one of the winners of the Magenta Flash Forward Emerging Photographers Competition. He is an assistant professor in the University of Iowa's art and art history department and curates the weekly series "Eyes on the South" for Oxford American Magazine.
Reception: Thursday, Oct. 27, 2016, 6–8 p.m.
Gallery Hours: Monday-Friday, 8:30 a.m. to 5:30 p.m.
The exhibition and reception are free and open to the public.