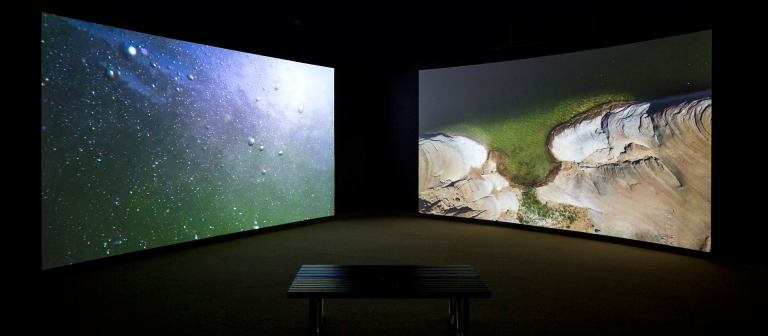 Artist talk for Kevin Cooley exhibition: 'High Water Mark'
Atlanta, GA
1600 Peachtree St.
SCAD presents a talk by Los Angeles-based artist Kevin Cooley on "High Water Mark," a four-channel video projection with sound created in July 2016, on display at Trois Gallery through Friday, Sept. 23, 2016. This immersive installation, created with the support of the university, explores the confluence of demands on our most precious resource — water — in the legendary Western landscapes of lakes Powell and Havasu.
"High Water Mark" is part of Cooley's ongoing exploration of manufactured landscapes, our evolving relationship with nature, and the connections to hidden architecture in everyday life. The installation depicts the remote canyons of Glen Canyon, now exposed by the declining water levels of Lake Powell and Lake Havasu, near the intake for Colorado River Aqueduct, which directly supplies water to the greater Los Angeles region. The slow-paced scenes of "High Water Mark" focus on the texture and scenic beauty of cathedral-like corridors and iconic waterways, punctuated by the disruptive sounds of motorized human presence in the otherwise silent desert landscape.
This exhibition is curated by SCAD guest curator Susan A. Laney.
Reception: Thursday, Sept. 15, 6-7 p.m.
Gallery hours: 
Monday–Friday: 8:30 a.m. to 5:30 p.m.
The exhibition is free and open to the public.