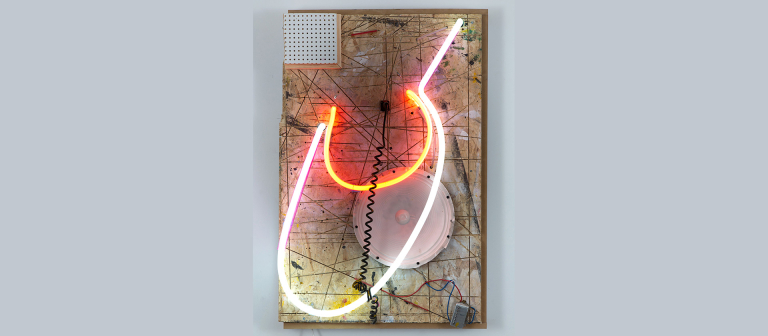 Joris Van de Moortel exhibition: 'PINK NOISES'
Atlanta, GA
SCAD Atlanta, 1600 Peachtree St.
SCAD presents "PINK NOISES," the first solo exhibition in the U.S. of Belgian artist Joris Van de Moortel. Embodying the fervent spirit of concrete music and rock and roll, Van de Moortel's process-driven work encompasses sculpture, painting and musical performance to explore the tension between the static nature of objects and their potential for energy. Van de Moortel transfigures objects — stripping them of their original function and meaning — to give rise to new forms. The title "PINK NOISES" comes from a frequency spectrum, similar to heartbeats, which manifests through the color pink. Like Arte Povera artist Mario Merz's use of neon, which galvanized everyday objects and fused the organic with the inorganic, Van de Moortel creates dynamic, self-contained environments that he then subverts with bold color. His neon brushstrokes escape the contour of representation, creating a force of energy that frees itself from the frame. This exhibition will include nine works by Van de Moortel from 2013 to 2015, and a performance by the artist commissioned by SCAD in September 2016.
Joris Van de Moortel's work has been exhibited in numerous international institutions, including the Ludwig Múzeum in Budapest, Hungary (2016); Künstlerhaus Bethanien in Berlin, Germany (2015); Musée Sainte-Croix in Poitiers, France (2015); Palais de Tokyo in Paris, France (2014); Centraal Museum in Utrecht, Netherlands (2012); and Palais des Beaux-Arts in Brussels, Belgium (2011), among many others. Van de Moortel graduated from the Higher Institute for Fine Arts in Ghent, Belgium, in 2009, and was awarded an artist residency at the Künstlerhaus Bethanien from 2012 to 2013. Van de Moortel lives and works in Antwerp, Belgium.
Gallery hours:
Monday-Friday: 8:30 a.m. to 5:30 p.m.
The exhibition and reception are free and open to the public.