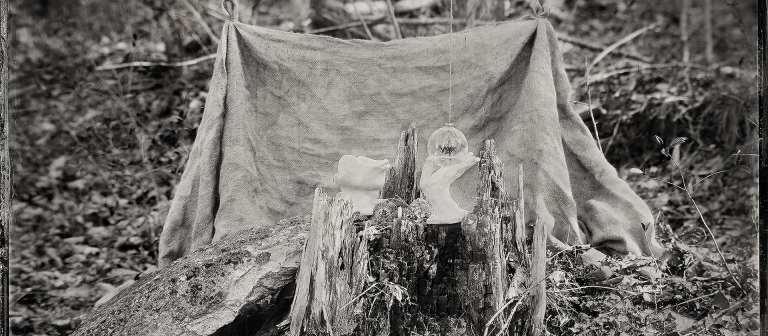 Nicole LeCorgne reception for exhibition: 'Songs From the Invisible Choir'
Atlanta, GA
1600 Peachtree St.
Join us for a reception celebrating "Songs From the Invisible Choir," an exhibition by SCAD student Nicole LeCorgne (M.F.A. photography). The exhibition, on view Thursday, May 5, 2016, through Thursday, May 19, 2016, includes large-scale digital prints, black glass ambrotypes, platinum/palladium prints and a sculptural installation confronting the inevitability of death and the artist's personal encounters with mortality.
Inspired by the poem "O May I Join the Choir Invisible" by George Eliot, each work within this collection serves as a metaphor for a song from the choir of experiences now past, but ever-present. Some songs are personal and some draw from the collective choir of humanity, some are lyrical ballads and some are melodic improvisations, but all speak to our universal search for meaning in the face of this most difficult and unifying aspect of human experience. Across mediums, LeCorgne's work builds on the premise that by confronting our mortality, we might become more connected to the beauty of life.
Reception: Thursday, May 12, 2016, 6:00 – 8:00 p.m.
Gallery hours:
Sunday: Closed
Monday: 8:30 a.m. to 5:30 p.m.
Tuesday: 8:30 a.m. to 5:30 p.m.
Wednesday: 8:30 a.m. to 5:30 p.m.
Thursday: 8:30 a.m. to 5:30 p.m.
Friday: 8:30 a.m. to 5:30 p.m.
Saturday: Closed
The exhibition and reception are free and open to the public.