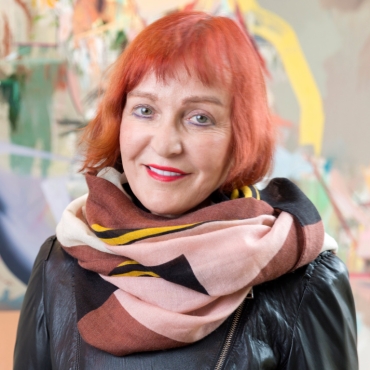 Alexandria Pierce
---
Education
B.A., art history, University of Victoria
M.A., art history, University of Victoria
Ph.D., art history, McGill University
Credentials
• Directed and curated museums and art galleries, 1980–2004.
• Founded an artist-run center, Center Eye, in Calgary, Alberta, Canada, 1980-89.
• Helped establish the medium of photography as a fine art medium.
• The first woman photojournalist in Canada to be employed as a full-time staff photographer by a major city daily newspaper.
• SCAD professor since 2006, including off-campus study courses in New York City and Greece.
Awards, recognitions and honors
• SCAD Sabbatical Award, 2014
• Creator of lecture series, "Voyage into Myth and Modernism in the Nineteenth and Twentieth Centuries," Montreal Museum of Fine Arts, 2003.
Organizations
ATINER (Athens Institute for Education and Research)
Publications and Presentations
Publications
"Beuys, Hardt and Negri: One World — One Consciousness," Athens Journal of Humanities and Arts, Vol. 2, No. 2, April 2015, 67–77
"Dissensus as Social Contract in the Art of Ken Lum," Esse, arts and opinions, Spring/Summer 2013, 52–57.
"Danya Ahmed: The Palm Collection," Art Papers, (September/October), 2012, 46–47.
"Mona Hatoum at the Rennie Collection," Art Papers (May/June), 2010. 40.
"Elegiac Documents: The Presidents' Favorite Paintings, 'Slipper Tongue' and 'Hope,' Pinned Down by Jonathan Field," Art Papers, March/April 2009, 38–43.
Review of Claire Bishop's Installation Art: A Critical History, Parachute, a contemporary art journal, No. 123 (June 2006), 129.
"Reinhard Reitzenstein and Simon Frank: 'LANDeSCAPES,'" McMaster Museum of Art exhibition catalogue, 2005, 32 pages.
"Imperialist Intent−Colonial Response: The Art Collection and Cultural Milieu of Lord Strathcona in Nineteenth-century Montreal," Bill Marshall, ed., University of Glasgow French and German Publications, Glasgow, Scotland, 2005, 105–116.
"Yechel Gagnon, 'Palimpsest,' exhibition catalogue," McMaster Museum of Art, Hamilton, Ontario, 2004, 10–21. Collected by the archive project of Grunt Gallery, Vancouver, 2012.
Presentations
"Beuys, Hardt and Negri: One World — One Consciousness," Fifth International Conference on Visual and Performing Arts, June 2–5, 2014.
 "Beyond Irony: The Politics of Aesthetics in the Art of Ken Lum," The Art and Politics of Irony conference, Institute for the Public Life of Art and Ideas, McGill University, Montreal, April 12–14, 2012
"Dissensus as Social Contract in the Art of Ken Lum," WORD IMAGE/IMAGEWORD Conference, School of Visual Arts, New York, New York, Oct. 17–19, 2012