Feature
/
Nov. 8, 2013
Meet Kendall Lock: SCAD senior and haute new fashion illustrator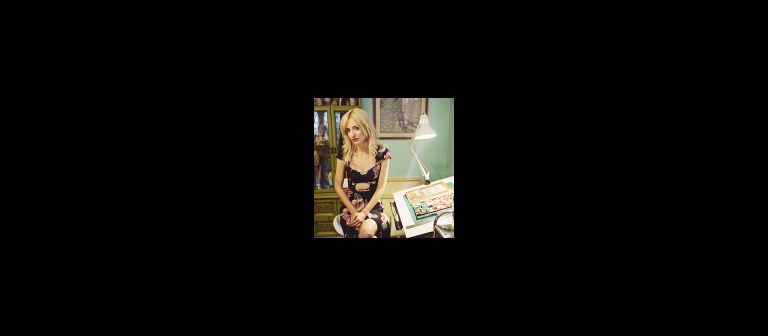 Kendall Lock incorporates her love of fashion into her art, producing stellar fashion illustrations. Photo by B.F.A. photography student Grace Ann Leadbeater.
Illustration was once at the forefront of the fashion industry. It was how designers, brands and magazines marketed a lifestyle and aesthetic. B.F.A. illustration student Kendall Lock is pushing fashion illustration back into the spotlight and her work is getting noticed.
Kendall blends high fashion and femininity with bold patterns, textures and colors. Like her art, she is vibrant and colorful.
"As an artist, I've always been really inspired by fashion," Kendall says. "I originally came to SCAD as photography major, but my first day, my first drawing class, I realized oh my God, I have to draw. I changed majors and never looked back. It felt so right. Nothing had ever felt so normal and so natural."
After checking out other art schools, Kendall visited on SCAD Day, and realized her search was over.
"This is where I'm going. This is where I'm going to get my degree," she remembers. "In hindsight, everything was serendipitous. I didn't even consider anything else after that." 
Impressed with the facilities and the faculty, Kendall enrolled, starting in Fall 2010. After switching majors to illustration, she found a way to incorporate her love of fashion into her art.
"The way SCAD operates, there's this amazing movement of different majors coming together," Kendall says. "Photo shoots, ad campaigns. I kept meeting all of these people who were doing such exciting things centered around fashion, and I realized that I could do that too — that I could do that with illustration."
While in school, Kendall pushed herself artistically and found a mentor in illustration professor Julie Lieberman.
"She reined me in and pushed me really hard in the greatest way," Kendall says. "I ended up having a huge breakthrough. I had the confidence to do what I wanted to do."
And that confidence paid off. Kendall began pushing her art on Tumblr and Twitter. She garnered the attention and admiration of Lady Gaga's brood of Little Monsters after her illustration of the music and fashion icon went viral.
"It was really crazy. It was so fun to see how social media could work and open up everything," Kendall says.
With her presence on the rise, it wasn't long until others, including Lucky magazine took notice.
"I was contacted by the creative director of Superior magazine and he wanted to focus on fashion illustration. It was monumental that a magazine wanted to offer 10 illustrators the chance to participate in a cover contest," she says. "I was honored and excited they asked me to do it and bring fashion illustration back to the front of things."
With graduation looming and New York on her horizon, Kendall gives a lot of credit to SCAD.
"I'm so thankful for my time here. Everything I've learned has changed my life and my perspective. If you can't go in there and feel humbled by where you are — there's nothing anyone can do for you."
Connect with Kendall Lock
---
About the SCAD illustration program
The work of illustrators permeates cultures from the childhood classic "Where the Wild Things Are" to visualizing film sequences with storyboards and designing icons for the top iTunes podcasts.
Learn more about the illustration program today.