Feature
/
Nov. 7, 2013
Meet Erika McKelvey; "Ever since then it's been on my heart."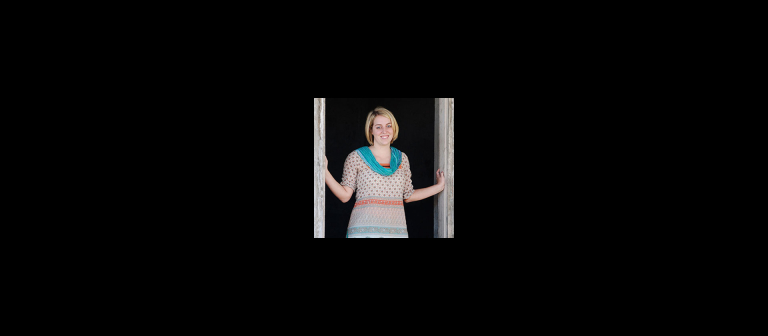 For 14 years, Erika McKelvey traveled to Romania with her family each summer to work with street kids and orphans. One summer, when she was 12 or 13, she brought along sewing machines to teach children basic techniques that might help them find safe work. In many ways, that particular experience sparked her interest in passing on skills to others.
Year after year she traveled to Romania to do this kind of good work—making new friends and connecting with old ones. Then, a couple years ago, she received some harrowing news. She discovered that one of the girls she had befriended in her youth had been ensnared in the human trafficking trade.
Reflecting on the moment she learned about her friend, there was no elaboration to the stark story, no embellishment in how Erika relayed the girl's cold, hard fate. The anecdote was simply followed with a soulful pause and a simple phrase.
"Ever since then it's been on my heart."
Earlier this year, Erika founded Universole, a non-profit organization committed to teaching leather skills and shoemaking to at-risk women and survivors of human trafficking. The idea came in Fall 2012 after she was contacted by an organization that trains in India, working with a safe house and vocational center for women who have been pulled from human trafficking. The organization, which invites other organizations to come in and teach skills, like textiles, was interested in partnering with Erika on teaching leather skills. 
When she received the invite, Erika was excited at the prospect of teaching others to create usable, wearable products. As a high school student, she loved shoes and had dreamed of working in fashion, but was headed in the direction of medical school. When she learned about SCAD, she changed her course. "I didn't hear about SCAD until my senior year of high school. I had no idea you could do fashion as a career. When I came and visited SCAD I went to see the fashion building. It was the first year of the accessory design program—I saw two girls making shoes and I fell in love." It was her SCAD education that would lay the foundation for her hands-on mentorship of at-risk women and survivors of human trafficking.
From SCAD to Italy
Erika graduated from SCAD in Spring 2012 with a B.F.A. in accessory design. Beyond her formal SCAD training, she refined her skills studying leather artisans in southern Italy. Ever the entrepreneur, Erika's work ethic didn't temper upon finishing school. Immediately after graduating, she traveled to southern Italy to see how artisans in the region crafted their signature handmade leather sandals. She explored the materials they used, studied their techniques, and mastered their methods. Upon returning home to Charleston, South Carolina, she launched her own company—Erika Lynn Handmade Leather Sandals.
When Erika was contacted by the organization in India and learned about the work it does, she knew immediately she wanted to help in any way she could. She traveled over there, spending time in the facilities and getting to know the people. While there she taught shoemaking to the women. "That's what I had learned in school, so it seemed a natural, and practical, thing to teach them."
It was Erika's experience in Romania and India that inspired Universole. What emerged was a way to partner with organizations, such as the one in India, to teach skills that can empower people. Universole purchases the handmade leather products from the vocational centers, ships them back to the U.S., and markets and sells them. Proceeds go to sustain training in the vocational centers and bring further attention to the plight of women being sold into human trafficking.
Expansion Plans
Erika also has plans to spread her work beyond India. "The goal is four continents by 2017. We have connections to hopefully travel this summer to Moldova and Romania, and we're trying to make contact with some people in the Philippines right now."
The work Erika is doing through Universole brings opportunity to people in places where hope is in short supply. "I just sat down one day and decided that I wanted to be able to teach other people something that would give them jobs and get them out of harm's way. Something that would provide them with a better future."
There is no doubt that the future is already better with Erika McKelvey at the helm of Universole.
Connect
---
Learn more about the SCAD School of Fashion today
Accessory design
From sketching to cobbling to marketing, accessory design students develop a keen understanding of the history, manufacturing practice and commercial reception of their designs.
Fashion
Students pursuing fashion degrees at SCAD are prepared to lead in the complex fashion marketplace. The School of Fashion Style Lab mentorship program offers select students the opportunity to work one-on-one with industry professionals, such as Zac Posen and Catherine Malandrino. And, international media, including The New York Times and Women's Wear Daily, attend and cover the annual SCAD Fashion Show, a juried collection of undergraduate and graduate work.
Fashion marketing and management
Fashion trends are influenced and made possible by fashion marketing and management professionals who help direct every segment of the fashion pipeline. These professionals manage a range of responsibilities: sourcing materials, supply chain management, manufacturing, economic strategy, trend knowledge, consumer understanding, and communication with all stakeholders of the fashion product.
Luxury and fashion management
The professionals who manage luxury brands — from fashion magazines to resort hotels to companies with retail stores on six continents — must understand organizational management and the narrative that drives a new marketing campaign. Luxury and fashion management students learn to speak the language of international finance, recognize the tides of macroeconomics, and understand customers.