Feature
/
Nov. 1, 2013
Entrepreneur, environmentalist, designer, innovator: David Paull has made a name for himself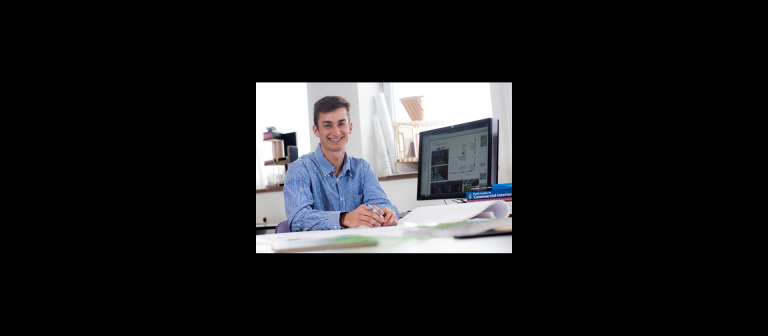 Driven by his passion for sustainability, which was fostered in SCAD's interior design program, David Paull founded Compost Wheels, a company that provides composting services to urban customers who don't have the space to do their own composting. Compost Wheels picks up organic waste from Atlanta households and leaves a bag of finished, composted soil behind.
David recently appeared on "Now in America," a documentary about the everyday struggles of modern Americans, airing over the course of a month on CNN and Headline News. David served as a green-living expert for a family challenged to live waste-free for a month—in other words, no trash could come out of their home for an entire month.
"What's really important is understanding how products are packaged and how that package can be repurposed, reused, recycled," David explains. One of his top challenges working with the family was teaching them to "pre-cycle," or consider product waste before even walking out of the grocery store.
With David's guidance, the family was able to successfully meet its waste-free goal.
Within the larger umbrella of sustainability, David's greatest passion is urban agriculture and the promotion of sustainable food sources. He is focusing his interior design degree on issues of sustainability and energy-efficient design. "The large centers of economic health are our cities," David says. "A lot of these cities were founded around farms, so we need to support that history. We need to figure out a more sustainable way to live."
Last year, David was part of an Atlanta team that designed a completely self-powered urban farm for the Trinity Avenue Farm Design Competition, a competition hosted by the Atlanta mayor's office. "We had everything, from an educational program, which I wrote, to our solar-capturing system, to our rain harvesting, to aquapaunics, which is fish and plant culture," David says. "The finished design was self-sufficient. We would even have the ability to sell back our unused energy."
David's team was a finalist in the competition. The winning design will be developed on a lot across from Atlanta City Hall. But David's not resting on his laurels while he waits for the results; he also recently designed a sustainable rooftop garden for the W Hotel.
After he graduates from SCAD, David intends to supplement his B.F.A. in interior design with an M.B.A. and devote his professional life to designing sustainable urban farms, both indoor and outdoor, and developing urban agriculture initiatives and businesses in American cities. David says his ultimate goal is "to create businesses that employ people for meaningful work, so people are overjoyed to do their work while contributing to the world."
Connect with Compost Wheels
---
Students pursuing interior design degrees study the relationship humans have with environments and objects around them to conceive and design holistic, functional interiors for hotels, hospitals, museums, offices, homes, schools and much more.