Feature
/
Nov. 4, 2013
Meet Elizabeth Snively: Hatching solutions at Chick-fil-A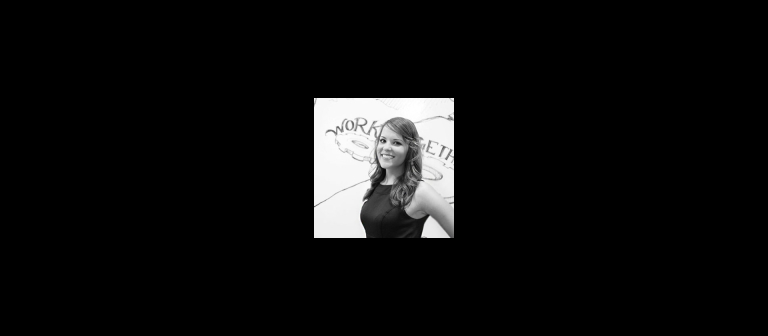 Elizabeth Snively (B.F.A., interior design, 2010) learned a lot as a SCAD student. Now as a professional, she's learning even more about her alma mater.
"As a student you have demands that are higher on you than any university I've heard of," Snively said. " Because we worked really hard at SCAD, I can apply time management, self motivation and the drive for perfection in a way that's surprising and delighting my superiors."
Those superiors are top executives at Chick-fil-A, where Snively is on the team responsible for innovation and designing the restaurant of the future.
Midway through her senior year at SCAD Atlanta, she realized that perhaps traditional interior design wasn't in the cards.
"I was more holistic in my thinking. How does the environment affect the way people think?" Snively said.
Thanks to SCAD, she got the chance to apply her way of thinking when Chick-fil-A partnered with SCAD to develop a corporate center that would become an incubator where staff and partners bring new ideas to life. Snively was one of the students selected to participate in the project and the resulting innovation and design house was named Hatch.
When the Chick-fil-A design team was started, around the time Snively graduated, she was one of the first hires.
"SCAD connected those dots for me to step [out of the classroom and right] into my career," she said.
Snively knows the value of a SCAD education, and is now in a position to hire a new class of innovators.
"I now employ SCAD grads. We find them to be at a higher caliber and level in knowledge and confidence," she said.
In the rapidly evolving quick-service dining market, Snively said, corporations receive customer feedback faster and in greater quantities than ever before and must act quickly because the public expects results.
"Designers must transform that feedback into new ideas and new competencies for customers," she said. It's design and innovation that gives such companies as P&G and DuPont longevity.
Snively cites Blockbuster as one corporation that didn't survive because it failed to see its future was not in bricks-and-mortar stores. "They weren't willing to take their heads out of the sand."
Chick-fil-A and SCAD continue to partner on projects and the experiences, seen now from the opposite side of the table, give Snively a deeper appreciation for the university's focus on career preparation.
There are lots of design needs in the business world and SCAD prepares its students to work across disciplines and markets.
"It is my desire and goal at Chick-fil-A to see the creative world the business world collide," Snively said.  "Collide in such an explosive way the only possible outcome is new, radically innovative ideas that keep our brand relevant and the business growing."
---
About the SCAD interior design program
Students pursuing interior design degrees study the relationship humans have with environments and objects around them to conceive and design holistic, functional interiors for hotels, hospitals, museums, offices, homes, schools and much more.
Learn more about the interior design program today.