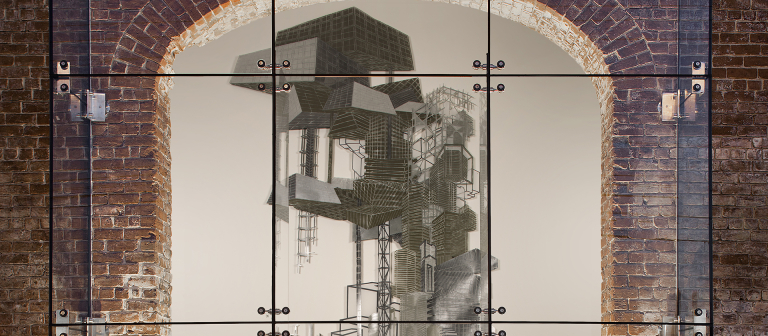 Nicola López exhibition: 'Babel Revisited: History Repeats Itself'
Savannah, GA
601 Turner Blvd.
"Babel Revisited: History Repeats Itself" by artist Nicola López is a four-part, print-based installation created specifically for the "jewel box" exhibition spaces on the façade of the SCAD Museum of Art. Each space houses a different installation — a series of four architectural towers in various phases of construction or de-construction.
These silkscreen collages are presented as individual pieces in separate worlds that together make up what the artist calls "a string of parallel realities, sequential moments in history frozen in time and thus allowed to exist simultaneously." Making reference to the Tower of Babel, the pieces explore themes of visionary and utopian architecture and how progress, growth, decay and de-construction are inherent aspects of the process of building and creation itself.
A screening of López's drawing- and print-based animation, "The Babel Cycle," from which "Babel Revisited" takes its inspiration, will be screened at the museum during deFINE ART.
Presented as part of the 2014 deFINE ART program, Feb. 18-21
Reception: Tuesday, Feb. 18, 6-7:30 p.m.
Museum hours:
Sunday, noon to 5 p.m.
Monday, closed
Tuesday, 10 a.m. to 5 p.m.
Wednesday, 10 a.m. to 5 p.m.
Thursday, 10 a.m. to 8 p.m.
Friday, 10 a.m. to 5 p.m.
Saturday, noon to 5 p.m.
All deFINE ART lectures, receptions and events are free and open to the public.
The exhibition is free for all SCAD students, faculty, staff and museum members and open to the public with the cost of museum admission.