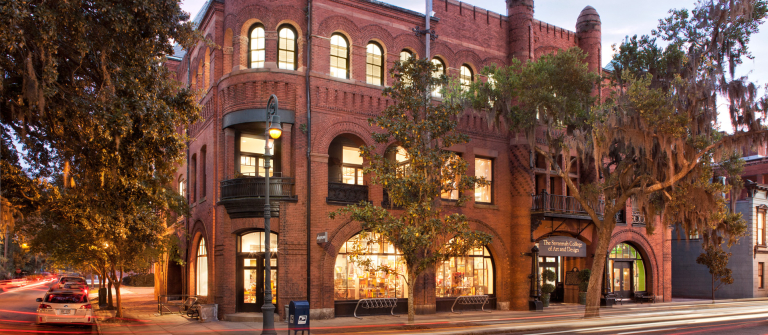 'Narrating the Lowcountry': understanding the region's history and culture through textiles
Savannah, GA
342 Bull St.
Few regions in the United States feature as much history, culture and natural beauty as the Lowcountry. The 200-mile stretch between Charleston and Savannah, shaped by the antebellum economies of sea isle cotton, rice and indigo, has been eloquently described in 19th-century travel literature by notable figures such as Fredrick Law Olmstead. The vision of riverfront plantations, sweeping porches, oak lined avenues dripping with Spanish moss dominates romantic Southern narratives both then and today. 
But the Lowcountry has a much richer narrative than the Hollywood version seen in tourist spots around the region; for some, textiles play an important role in "Narrating the Lowcountry."
Expert panelists will discuss ways in which the Lowcountry is narrated through textiles.
The panel discussion is free and open to the public.
Panelists
Jill Kinnear, SCAD professor of fibers
Kinnear's recent project "Architecture of the South" is a collection of contemporary silk shawls that at once reveal and conceal notable marks of antebellum history on the landscape.
Molly Lieberman, Abigail Kokai and Tina Hicks, co-coordinators of Savannah's Beloved Community Quilt Project
Liberman, Kokai and Hicks have an intimate understanding of the power that collaborative appliqué quilts have in building community, documenting friendships and narrating place.  "I Am the Beloved Community: Story Quilts of Our Savannah" is a multigenerational collaborative collection of neighborhood story quilts documenting residents' experiences living in Savannah.
Sharon Cooper-Murray, aka the Gullah Lady
Cooper-Murray has dedicated her life to the preservation of Lowcountry rural traditions, especially Gullah culture. In her most recent endeavor, she has set out on a mission to preserve the disappearing folk practice of using carpenter nails to push rag strips through recycled feed and grain sacks, establishing the Community Rag Quilting Initiative.