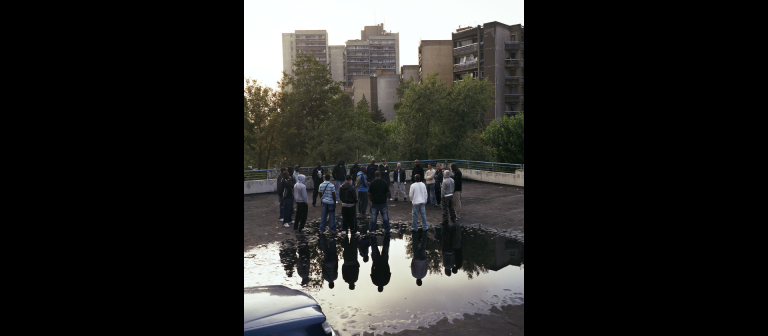 Mohamed Bourouissa exhibition in Atlanta: "Le Miroir (The Mirror)"
Atlanta, GA
SCAD Atlanta, fourth floor, Building C, 1600 Peachtree St.
The SCAD exhibitions department presents a solo exhibition of photographs by French artist Mohamed Bourouissa, guest curated by lecturer, art critic and independent curator Simon Njami.
"Le Miroir, The Mirror," is a way to address metaphorically any given society. In Mohamed Bourouissa's case, it is a statement on how people perceive otherness. For the mirror does not only reflect an individual image; it reflects a society in all its complexity. It shows both the unique and the multiple, and underlines the contradiction that lays in any attempt to construct an "usness". What is the image that the French society is sending to the youth of African origins? How can you define your belonging when you are trapped in preconceptions and when your loyalty to the nation that is yours is questioned all the time? Bourouissa's work explores those contradictions and, by playing with them, seeks to deconstruct the frozen image of the suspect that other has always been.
The exhibition is held in conjunction with the 2011 France Atlanta festival organized by the French Cultural Services in Atlanta.
Artist talk: Monday, Nov. 7, 6:30-7:30 p.m., SCAD Atlanta
Reception: immediately following from 7:30-8:30 p.m.
Gallery hours: Monday through Friday, 8:30 a.m. to 5:30 p.m.
The exhibition, artist talk and reception are free and open to the public.