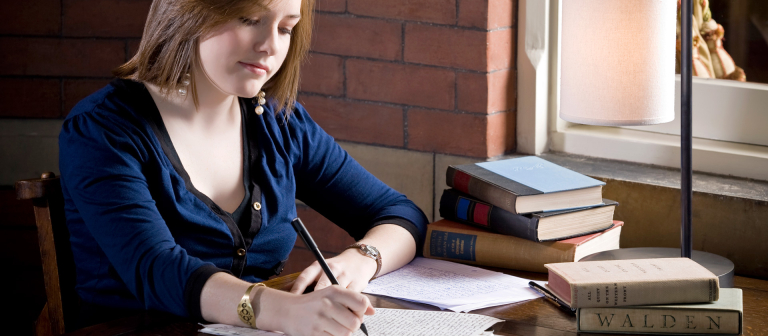 Ivy Hall hosts Young Writers Workshop
Atlanta, GA
179 Ponce de Leon Ave.
SCAD and the SCAD Writing Center at Ivy Hall invite Atlanta-area high school students to participate in a three-day workshop for budding writers, Wednesday, July 23, through Friday, July 25.
Developed and taught by the outstanding faculty in the SCAD writing department along with a guest writer, the Ivy Hall Young Writers Workshop is designed to help rising sophomores, juniors and seniors develop their skills as creative, descriptive writers. Workshops focus on a range of genres including fiction, creative nonfiction and writing for new media. The work of selected students is featured on the SCAD writing department's blog.
Atlanta-area high school students entering the 10th, 11th or 12th grade in Fall 2014 are invited to apply for admission to the workshop. Fifteen students will be selected based on the strength of their applications and writing samples.
The workshop concludes with student readings at a celebratory reception for faculty, family and friends the afternoon of Friday, July 25.
Applicants should mail a completed application and a writing sample (no more than eight pages, double-spaced, in any prose genre) to:
Catherine Ramsdell, Ph.D.
Ivy Hall Young Writers Workshop
SCAD
P.O. Box 77300
Atlanta, GA 30357
Applications can also be emailed to Catherine Ramsdell.
Applications will be accepted on a rolling basis, and applicants will be notified of their acceptance approximately two weeks after submitting their applications.
All applications are due by Tuesday, July 1. The workshop fee is $100.
For more information, email Catherine Ramsdell or call 404.253.6092.