Event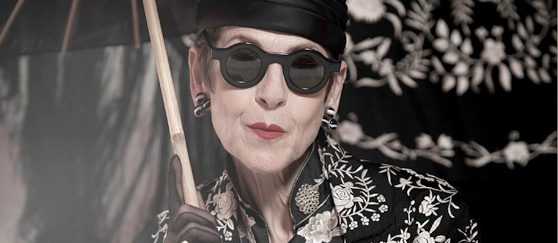 Experience 'The Fabric of My Life' performance and book signing by Tziporah Salamon
Atlanta, GA
173 14th St. NE
"The Fabric of My Life" is a sartorial autobiographical play written and performed by style icon Tziporah Salamon, a subject of the late famed fashion photographer Bill Cunningham, and featured in the hit 2014 documentary "Advanced Style" and in the 2018 H&M holiday campaign. Using pictures, stories and clothes, Salamon weaves a rich tapestry of her journey toward selfhood.
Born to Hungarian Holocaust survivors, both tailors, Salamon begins her story with her childhood in Natalya, in the newly formed state of Israel. It charts her move to America at the age of 9 that broke her heart, her schooling at Erasmus Hall High School, SUNY Buffalo and graduate school in California, before quitting a Ph.D. program in psychology to return to New York to pursue fashion and life in the city, including a friendship with Cunningham.
Salamon's personal style evolves as she morphs from the best dressed little girl in Natalya, to the "best in the Hall" in Erasmus to the elegant and creative international woman of today. Feel her pain and rejoice in her triumphs as she struggles to find the perfect fit and the right venue that will allow her to utilize her unique skills and intelligence while retaining her individual sense of style and refusal to compromise her ideals and vision. Salamon's struggle is every woman's struggle: how to navigate life's currents and arrive safely at one's port while looking fabulous and unruffled during the journey.
Following the performance, Salamon will participate in a signing of her book "The Art of Dressing: Ageless, Timeless Style." Published by Rizzoli, the book profiles the most celebrated older women of today, showcasing their wardrobes and revealing the contents of their closets, while imparting practical tips on how to put together beautiful outfits.
"The Art of Dressing: Ageless, Timeless Style" will be available for purchase on-site; retail cost is $45.
SCAD FASH members and SCAD Card holders receive complimentary admission. Tickets are available for $10 at the SCADshow box office. Purchase by phone, 404.253.2740 or online. Senior citizens receive a 10 percent discount.