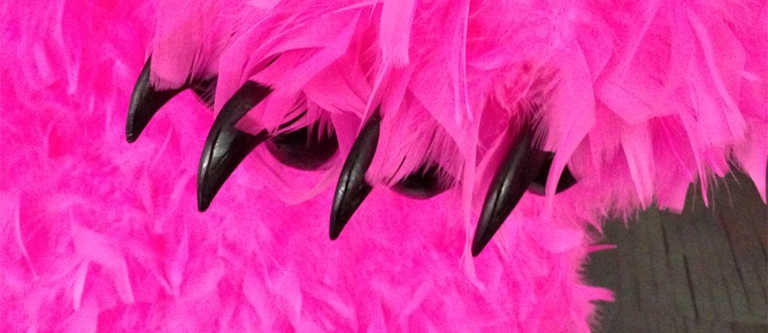 Paola Pivi exhibition: 'I did it again'
SCAD Museum of Art presents "I did it again," an exhibition of four installations by Italian multimedia artist Paola Pivi. The artist works in many international contexts and uses various media, including photography, video, sculpture, performance and installation, often employing a playfulness in her practice to explore darker themes. Pivi's work engages contemporary concerns and conditions, such as the environment and navigating the world in a post-truth context. For her exhibition, Pivi uses the language of window displays as public art by creating vignettes within the SCAD Museum of Art Jewel Boxes, a series of glass enclosures located along the historic museum's northern façade.
"I did it again" features a series of Pivi's polar bear figures — life-sized, unnaturally and brightly hued sculptures clad in feathers. The polar bear has become a symbol of the perils of climate change — emaciated creatures stranded on flotillas of ice due to the melting of the polar ice caps. As such, they are embedded with projected values, eliciting both empathy and end-of-world hysteria. Pivi's bears are occupied with more mundane activities, such as dancing, looking bold with feet up behind a desk or falling under the weight of a tilted storing shelving unit. Their anthropomorphic qualities render them absurd, but also deepen their inherent pathos.
"I did it again" is organized by Storm Janse van Rensburg, head curator of SCAD exhibitions. 
The show received support from Galerie Perrotin New York, Paris, Hong Kong, Seoul, Tokyo.
The exhibition is a reconfiguration of "I'm tired of eating fish," the artist's project commissioned by Italian department store la Rinascente, for its historical building in Duomo square in Milan. "I'm tired of eating fish" was curated by Cloe Piccoli on the occasion of Design Week 2017.

Museum hours:
Sunday: Noon to 5 p.m.
Monday: Closed
Tuesday: 10 a.m. to 5 p.m.
Wednesday: 10 a.m. to 5 p.m.
Thursday: 10 a.m. to 8 p.m.
Friday: 10 a.m. to 5 p.m.
Saturday: 10 a.m. to 5 p.m.
The exhibition is free and open to the public.
This exhibition is part of SCAD deFINE ART 2018, held Feb. 20–23 at university locations in Savannah and Atlanta, Georgia, and Hong Kong. SCAD deFINE ART is an annual program of exhibitions, lectures, performances and public events that highlights emerging and established artists and visionaries.