Savannah Women of Vision: Recognition Ceremony
Savannah, GA
1810 Bull St.
Join SCAD President and Founder Paula Wallace for a ceremony celebrating Savannah Women of Vision, an elite cadre of trailblazers whose remarkable ideas, insightful leadership and distinguished service have profoundly sculpted the city of Savannah.
2018 honorees
Miriam Center
Edna Jackson
Mary Lane Morrison
Fredericka Washington
Sema Wilkes
During the ceremony, each honoree will be extolled through prose, music and art. As a permanent tribute, relief portraits of the five women, carved by SCAD alumnus Michael Porten (M.F.A., painting, 2012; B.F.A., illustration, 2004), will adorn the walls of Arnold Hall, home of the SCAD School of Liberal Arts.
Previous honorees
Emma Morel Adler
Mother Mathilda Beasley
Mary Musgrove Matthews Bosomworth
Alice Andrews Jepson
Nancy N. Lewis
Juliette Gordon Low
Abigail Minis
Flannery O'Connor
Chief Justice Leah Ward Sears
Frances Wong
The university invites the public to join the celebration.
About the investiture
The genesis of President Wallace's Savannah Women of Vision initiative, which elevates a traditionally underrepresented — and yet tremendously influential — demographic, can be traced to the grand 1930s New Deal-era mural in the historic Arnold Hall theater. The mural, a visual ode to the titans of Savannah's history, is notable in its omission of women.
By symbolically righting the historical record, Wallace honors these paragons of civic virtue to whom students — men and women alike — can look for inspiration. The university will offer tours of the Savannah Women of Vision portrait installation in Arnold Hall to K–12 students and educators. A free curriculum guide provides historic context to the portrait installation.
As Wallace explains, "Savannah as we know it rests on the triumphs of its women — mothers, entrepreneurs, authors, patriots, philanthropists. I created the Savannah Women of Vision at SCAD to illuminate trailblazers and their transcendent work, keeping their names and deeds not only in our hearts, but publicly acclaimed. These are our heroines."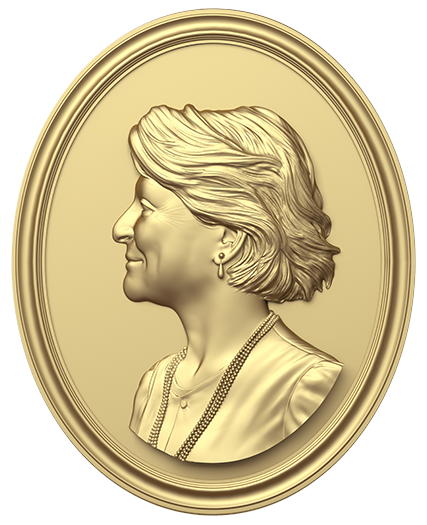 Miriam Center
(1926–present)
Miriam Center grew up in Savannah, graduating from Savannah High School in 1944. As she raised her three sons, she started her own real estate business, serving an instrumental role in the construction of the Savannah Civic Center. In the 1980s, she moved to Malibu, California, earned a degree in spiritual psychology from the University of Santa Monica and established the celebrated women's spiritual group, Daughters of Destiny. After moving to Atlanta in the late 1990s, she returned to Savannah and began writing, publishing and editing. She authored a coming-of-age tale of life as a Southern woman, and memorialized her friendship with Academy Award-winner Johnny Mercer in the musical "Johnny Mercer & Me," which debuted in Savannah. Center continues to enjoy travel, writing and contributing to Savannah's culture.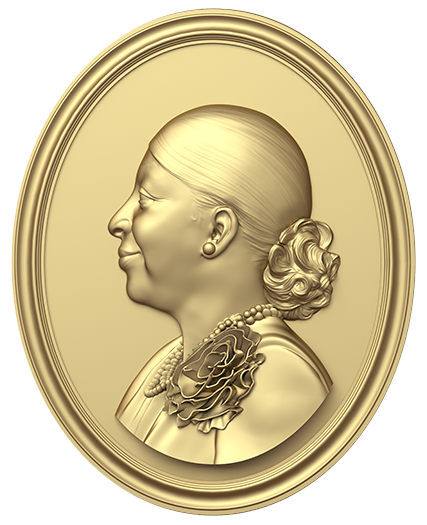 Edna Jackson
(1944–present)
Edna Jackson's lifetime of civic engagement began at age 9, when she joined Savannah's NAACP Youth Council. During the civil rights movement, she was among the students who joined the sit-ins at downtown businesses, including the Azalea Room, now the site of the SCAD Jen Library. A graduate of Savannah State University, Jackson joined the staff of her alma mater, gathering a broad range of experience in counseling, admissions, alumni affairs and recruiting. Her political career began as a three-term alderman at large on the Savannah City Council, followed by two terms as mayor pro tem. In 2011, Jackson became the 65th mayor of Savannah and the first African-American woman to hold that position. She has continued to earn awards and accolades, including the Savannah Civil Rights Museum Unsung Heroes Award, the NAACP Freedom Award and the Equal Opportunity Association Martin Luther King Service Award.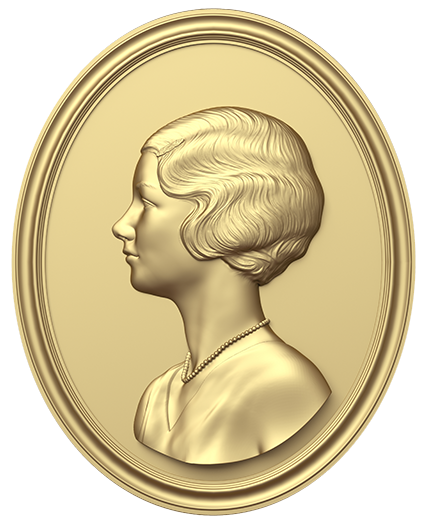 Mary Lane Morrison
(1907–1994)
Mary Lane Morrison, a native of Savannah, created an invaluable scholarly archive for the city through the study and documentation of buildings, parks and squares. Morrison collected, transcribed and catalogued newspaper clippings and Savannah City Council minutes, photographed buildings, and preserved the names of architects, owners and construction dates. She also served on the Georgia Historical Society Board of Curators. Through her authorship of "John S. Norris: Architect in Savannah 1846–1860" and editorial contributions to "Historic Savannah: A Survey of Significant Buildings in the Historic and Victorian Districts of Savannah, Georgia," Morrison helped establish a historical record and legacy that continues to benefit her community.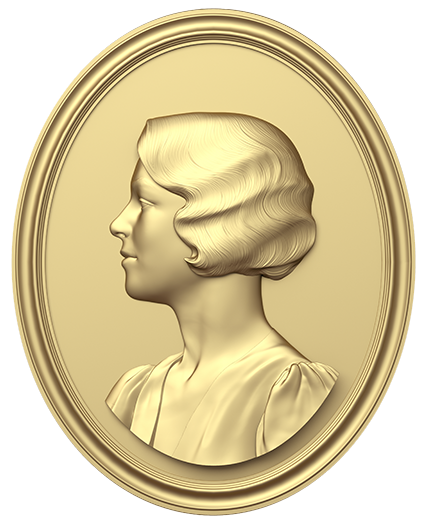 Fredericka Washington
(1903–1994)
Fredericka Washington was born, and spent her girlhood, in Savannah. She began her career as a dancer before acting for stage and screen, becoming one of the Harlem Renaissance's most widely recognized performers. Washington's best-known role was in the 1934 film "Imitation of Life," nominated for an Academy Award for best picture. Through her film career and a desire to expand opportunities for black actors and actresses, she helped found the Negro Actors Guild in 1937. Washington was also a theater writer, served as entertainment editor for the newspaper People's Voice, and worked as a film casting consultant for a Broadway revival of George Gershwin's "Porgy and Bess" and the film "Carmen Jones," starring Dorothy Dandridge. In 1975, Washington was inducted into the Black Filmmakers Hall of Fame.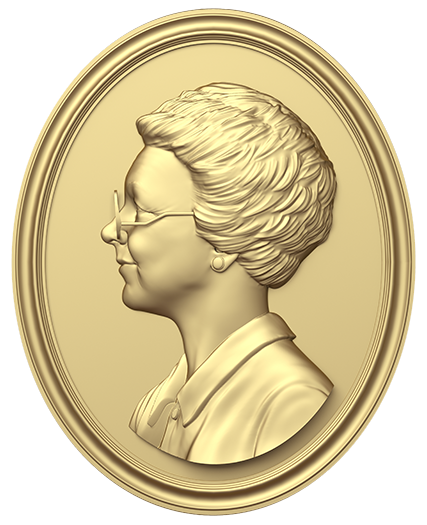 Sema Wilkes
(1907–2002)
Growing up on a Georgia farm, Sema Wilkes began cooking for her family and their workers at age 7. In 1943, she moved to Savannah with her husband and children, and took over a boarding house, transforming it into Mrs. Wilkes' Dining Room. Catering to locals and travelers, and offering hearty meals served family style, Mrs. Wilkes' rapidly became a thriving fixture of downtown Savannah. Its reputation, built through word-of-mouth, made Wilkes an ambassador for the city and state. Mrs. Wilkes' Dining Room has welcomed notable figures, including former President Barack Obama, Robert Duval, Kate Smith and Gregory Peck. Wilkes has won many accolades, among them the Al Burruss Lifetime Achievement Award from the Georgia Tourism Council.
Artist Michael Porten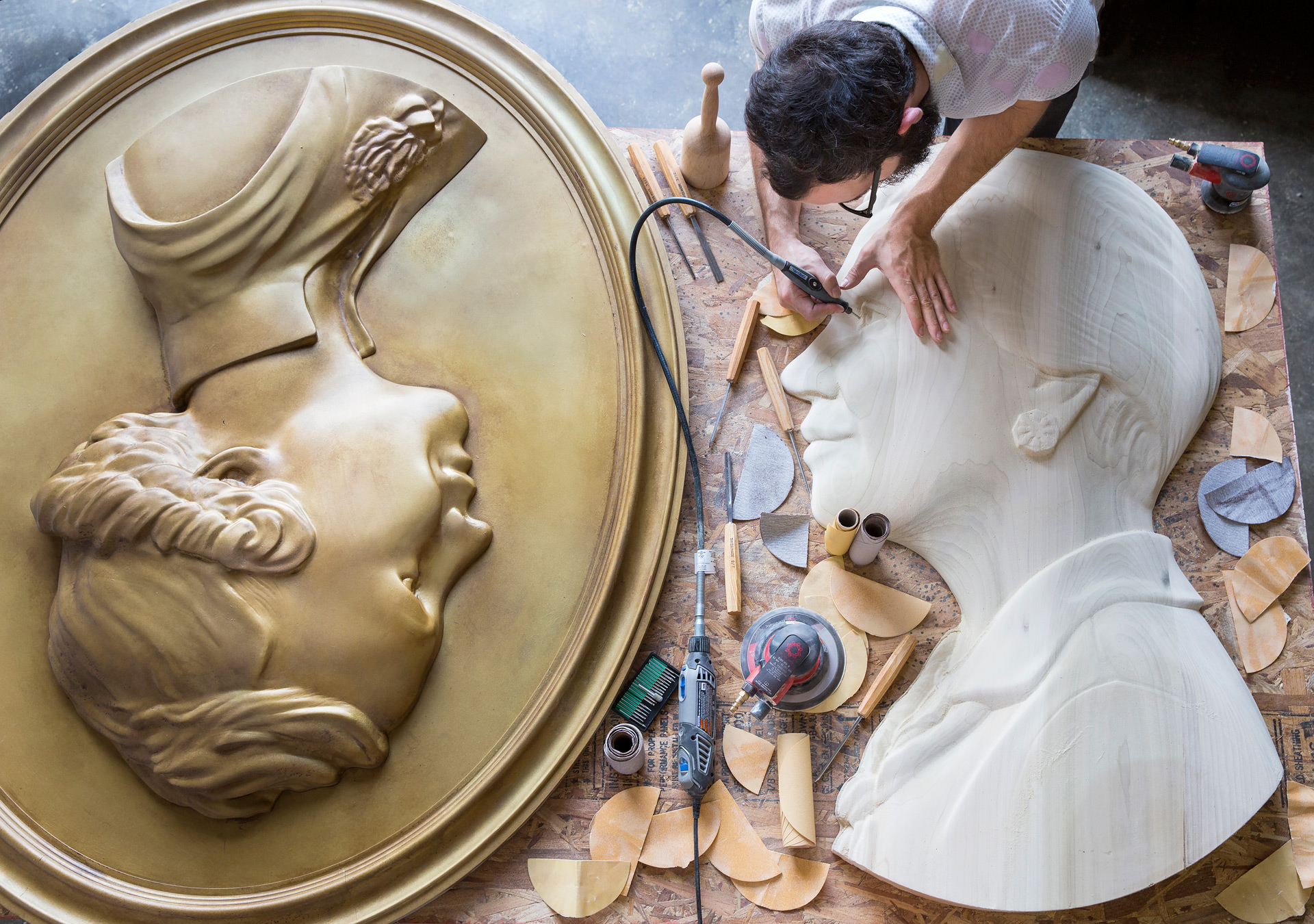 To commemorate Savannah Women of Vision and their profound impact on the community, SCAD commissioned alumnus Michael Porten to create large relief portraits of the original 10 women. This year, five additional cameos were created to recognize the newest honorees.
Monumental in scale, the sculptural portraits capture the distinct likenesses of these extraordinary heroines — of both past and present — whose equally monumental contributions, resolve and courageous spirit continue to play an integral role in shaping the lives of Savannahians.
Although the portraits are executed in classic bas-relief — a style of portraiture perfected by the ancient Greeks — Porten used advanced and highly specialized tools and software to sculpturally render each woman's visage, infusing a classic medium with modern technology. Using a 3-D modeling program and a computer-controlled lathe, each likeness was hewn into poplar, then carved and sanded by hand to a velvety smoothness. The relief portraits were then coated in an antiqued, gilded finish, forever preserving each woman's image in a larger-than-life golden cameo.
The color of the works is most appropriate, as gold traditionally represents generosity and compassion, and it is the mark of benevolent patrons and those who share wisdom, knowledge and wealth with others.
Porten was born in Indianapolis, Indiana, in 1982. Through sculptural works and paintings, he has carved his own aesthetic niche, with inspiration often pulled from contemporary pop culture and iconography. He currently lives and works in Savannah.