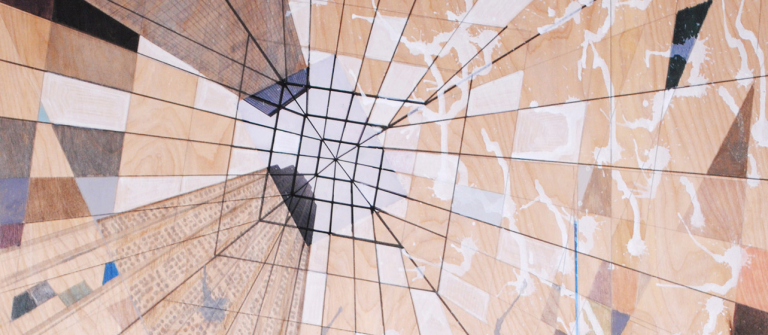 E. Bruce Phillips Jr. exhibition: 'Vanishing Point'
The SCAD Museum of Art presents "Vanishing Point," an exhibition by SCAD alumnus E. Bruce Phillips Jr. (M.F.A., painting, 2002). The exhibition features artwork from the past three years, revealing Phillips' most recent concerns with the binaries of interior and exterior, form and space, and representation and abstraction. Created as a synthesis of painting, drawing and collage, the works fuse formal concerns with the representational image, which can be seen in Phillips' inclusion of photographs of exterior spaces and architectural elements. Photographs taken by the artist are the starting point of his compositions founded in spatial relationships while abstracted forms radiate from the lines of perspective found in each image.
E. Bruce Phillips Jr. lives and works in Birmingham, Alabama. Phillips has exhibited in numerous group exhibitions and has had solo exhibitions at the Kessler City Lofts, Atlanta, Georgia; Johnson Center for the Arts, Troy, Alabama; Tuskegee University Legacy Museum, Tuskegee, Alabama; Rosa Parks Museum, Montgomery, Alabama; Hammonds House Museum, Atlanta, Georgia; and others. He was the recipient of the 2016 Individual Artist Fellowship from the Alabama State Council on the Arts. Phillips is currently an assistant professor at Tuskegee University.
"Vanishing Point" is curated by Ben Tollefson, assistant curator of SCAD exhibitions.
Museum hours:
Sunday: Noon to 5 p.m.
Monday: Closed
Tuesday: 10 a.m. to 5 p.m.
Wednesday: 10 a.m. to 5 p.m.
Thursday: 10 a.m. to 8 p.m.
Friday: 10 a.m. to 5 p.m.
Saturday: 10 a.m. to 5 p.m.
The exhibition is free and open to the public.