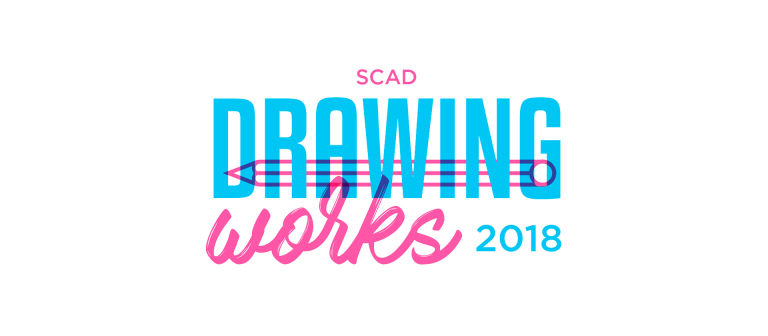 Make your mark at 'Drawing Works 2018'
Showcase your drawing skills for a chance at a spot in this annual juried exhibition, and $1,000 or $500 cash prizes. Undergraduate students from all SCAD locations and majors are eligible.
Submission period: Nov. 1, 2017–Jan. 30, 2018
Jury selection: Jan. 31–Feb. 2, 2018
Notification of inclusion: Wednesday, Feb. 7, 2018
Exhibition: March 2–18, 2018 | Alexander Hall Gallery
Reception: Friday, March 2, 2018, 6–7:30 p.m. | Alexander Hall Gallery
Email foundation studies professor Ron Longsdorf at rlongsdo@scad.edu for more information.
Award categories
Best in Show ($1000 prize): Awarded for outstanding contemporary aesthetic and conceptual qualities, inventive use of content, composition and media handling techniques, and fully expresses the unique attributes of drawing.
Best of: Preparatory Sketch/Ideation ($500 prize): Awarded to work that demonstrates exploration into concept, content and composition, and use of sketch methods to inform and support research and development processes.
Best of: Inventive Exploration/Play ($500 prize): Awarded to work demonstrating creativity experimenting with traditional and/or nontraditional drawing media, expressive mark making and gestural approaches.
Best of: Finished Drawing/Composition ($500 prize): Awarded for demonstrating drawing abilities in the production of a fully realized finished work.
Submission requirements
Must be a current SCAD undergraduate student enrolled in a major/minor program at any SCAD location.
Submit 1–3 images by 11:59 p.m., Tuesday, Jan 30, 2018. Submitted works must have been created during enrollment at SCAD.
Jury is looking for drawings and sketches using any combination of analog, digital and unconventional drawing methods. Diverse drawing practices will be considered, showing traditional and unconventional use of media, experimentation, aesthetic expressions, styles and formats, including but not limited to: sketchbooks, drawings intended for digital display, illustrations, fine art drawings, storyboards, prints, conceptual and process sketches, and technical working drawings and 3-D drawings.
How to enter
1. Upload digital images through Submittable. Include the following information in the Submittable form: full name, contact information, SCAD location, major/minor, SCAD email address and phone number.
2. Upload 1–3 works for consideration with the following information:
Title of work
Medium
Dimensions (2-D works: H x W or 3-D works: H x W x D)
Artist price
Is this work intended for digital display? If yes, explain.
3. Complete the following survey questions:
Are you a drawing minor?
Do you want someone to contact you about becoming a drawing minor?
How did you hear about this opportunity?
If your work is accepted for exhibition, you must abide by the following requirements and timeline:
Deliver accepted physical works to the SCAD Frame Shop, Wednesday, Feb. 21, or Thursday, Feb. 22. Email accepted digital works to Ben Tollefson at btollesf@scad.edu by Thursday, Feb. 22.
All accepted physical drawings or digital prints must be professionally framed and ready to hang for exhibition.
Digital prints must be high quality and color corrected from RBG to CMYK.
Digital works will be displayed on an LCD screen and must be formatted for optimal viewing.
If actual work differs from submitted images, it may be rejected from exhibition.
Accepted works from Hong Kong will be displayed digitally. Accepted works from Atlanta have the option to display digitally or to be shipped to Savannah.
Deliver ready-to-hang framed drawings to SCAD Exhibition Storage, Attn: Michael Runnels, Registrar, 102 E. Lathrop Ave., Savannah, GA 31415.
When the exhibition is over, email Michael Runnels at mrunnels@scad.edu to schedule a time to pick up your work from 102 E. Lathrop Ave., in Savannah, March 20–30.