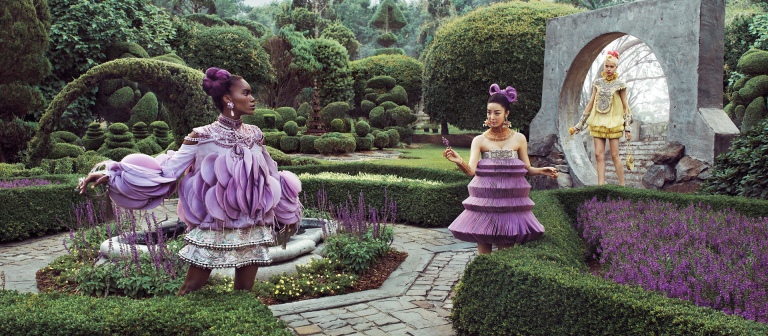 'Guo Pei: Couture Beyond' exhibition
Savannah, GA
322 Martin Luther King Jr. Blvd.
SCAD is honored to premiere the U.S. solo museum exhibition of acclaimed fashion designer Guo Pei, the first Chinese national designer invited to join the prestigious Chambre Syndicale de la Haute Couture.
An extension of the SCAD FASH Museum of Fashion + Film exhibition in Atlanta, Georgia, this concise, complementary presentation of Guo Pei's most exquisite designs offers visitors the opportunity to view the renowned couturière's work in an intimate gallery setting. Included in the Savannah exhibition are dresses and ensembles from Guo Pei's "An Amazing Journey in a Childhood Dream" collection, a fairy tale-inspired collection for which she won the Best Dress Design Award at China International Fashion Week.
For more than 20 years, Guo Pei, China's most renowned couturière, has dressed celebrities, distinguished ladies, royalty and political elite. Long heralded as a modern messenger of the country's rich cultural heritage, Guo Pei made her Paris Fashion Week debut in January 2016 to wide critical acclaim. She has also been named one of Time magazine's "100 Most Influential People" and one of The Business of Fashion's 500 "People Shaping the Global Fashion Industry." Her work has been covered in major international news and fashion media outlets, including Vogue, Women's Wear Daily, The Sunday Times, Harper's Bazaar, The New York Times, CNN and Forbes.
Gallery hours:
Thursday: 10 a.m. to 5 p.m.
Friday: 10 a.m. to 5 p.m.
Saturday: 10 a.m. to 5 p.m.
Sunday: Noon to 5 p.m.
Admission is free for SCAD Museum of Art or SCAD FASH Museum of Fashion + Film members, as well as SCAD students, faculty and staff with a valid SCAD Card. Open to the public with the cost of museum admission. Purchase a ticket at either the SCAD Museum of Art or at Pei Ling Chan Gallery to receive admission for both locations.