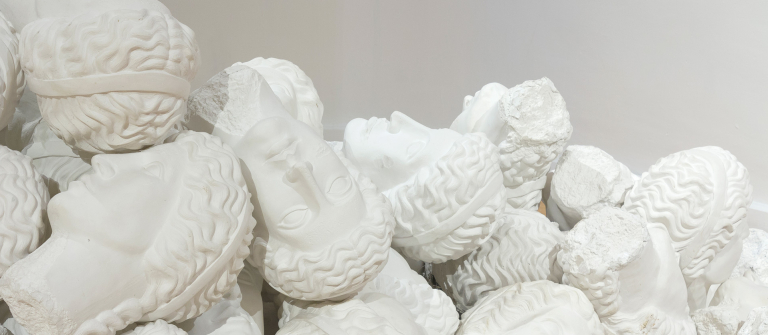 Cynthia Gutiérrez exhibition: 'Persisting Monuments'
The SCAD Museum of Art presents "Persisting Monuments" a solo exhibition by Guadalajara, Mexico-based artist Cynthia Gutiérrez.
Through her research-oriented projects, Gutiérrez has used a number of mediums including drawing, painting, video, ready-made, sculpture and tapestries to explore the ways in which identity or nationalism are embedded in objects, in particular monuments. The artist analyzes the ongoing adherence to moral, ethical, political and aesthetic parameters that originated in classical antiquity and examines the inherent entropy within these structures.
Monuments often celebrate stories that are vulnerable to degradation over time, an aspect of memorialization that is of interest to Gutiérrez. Her artistic projects have analyzed the remnants of socialism in the former Soviet Union, the politics between Ethiopia and Italy and more abundantly, the consequences of colonialism in the Americas.
In "Persisting Monuments," Gutiérrez presents four installations for the Jewel Boxes at the SCAD Museum of Art. Each can be read individually or together as part of a larger narrative and include existing works adapted to the site as well as specially commissioned works.  In one Jewel Box, a heap of 300 plaster heads of the Greek goddess Hera lies on the floor like a mountain of debris. Hera, the queen of gods, is often regarded as the goddess of marriage, birth and fertility, but is also commonly considered as an archetype of all the constraints and domestic violence historically inflicted on women. Gutiérrez's piece represents Hera not as a majestic statue, but rather as a disposable figure piled up.
Similarly, the artist includes other common mythological and nationalistic symbols such as classical columns and eagles, important to many different cultures. The last Jewel Box features an image composed of overlapping silhouettes of local Savannah monuments, a gesture that points towards the rich historic context of the city and ties the exhibition to concepts of place and site-specificity.
Gutiérrez's work considers how time affects both the material and symbolic world, observing how victory and celebration are conditional to a specific moment in history that easily fades away.
Gutiérrez (B. Guadalajara, 1978) has exhibited works as part of the 57th Biennale di Venezia, titled "Viva Arte Viva," curated by Christine Macel. In 2016, Gutiérrez had a large-scale public project in Donetsk, Ukraine, titled "Inhabiting Shadows," as part of the group show "Social Contract," presented by IZOLYATSIA. Her work has been part of international group exhibitions such as the 8th Berlin Biennale, curated by Juan Andrés Gaitán, 2014; "Clemania" at the FRAC des Pays de la Loire, Carquefou, France, curated by Daniela Pérez, 2014 and, "Crossing Boundaries," the II Moscow International Biennale for Young Art in Moscow, Russia, 2010. She was awarded residencies such as the FRAC des Pays de la Loire 28th International Ateliers in Carquefou, France, 2014, and the A+D: Arte y Desarrollo residency at LABoral Centro de Arte in Guijón, Spain, 2009.  Gutiérrez is currently a member of the National System of Art Creators 2016–19 of the National Fund for Culture and the Arts, Mexico.
"Persisting Monuments" is curated by Humberto Moro, SCAD curator of exhibitions.
Museum hours:
Sunday: Noon to 5 p.m.
Monday: Closed
Tuesday: 10 a.m. to 5 p.m.
Wednesday: 10 a.m. to 5 p.m.
Thursday: 10 a.m. to 8 p.m.
Friday: 10 a.m. to 5 p.m.
Saturday: 10 a.m. to 5 p.m.
The exhibition is free and open to the public.