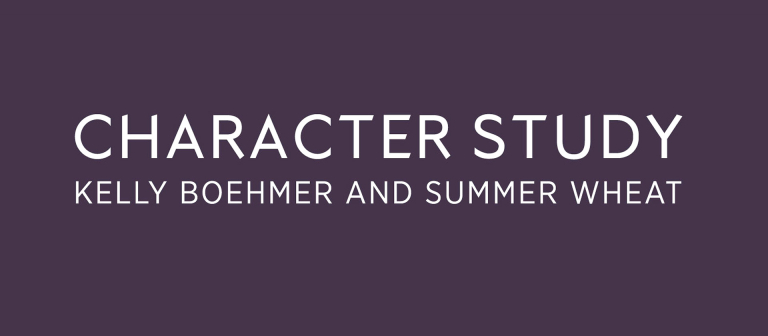 Kelly Boehmer and Summer Wheat exhibition: 'Character Study'
Savannah, GA
201 E. Broughton St.
SCAD presents "Character Study," a joint exhibition featuring Kelly Boehmer and Summer Wheat (M.F.A., painting, 2005). While both artists trained as painters, their figurative two- and three-dimensional works undermine traditional categorizations of artistic media, and instead exist at the intersections of painting, sculpture and fibers. Stylized depictions of humans and animals of the artists' invention are central to this exhibition, and are in turn emblematic, expressionistic, humorous, grotesque and sincere. Boehmer and Wheat accentuate the physicality of their media, and these artistic approaches are evident in their texturally rich assemblages and heavy paint applications.
Inspired by Shakespearean characters, art history and cartoons, Boehmer indiscriminately pulls from these and other sources for her fibers-based sculptures that engage a theatrical sense of tragicomedy to speak to the artist's personal experiences and relationships at large. To this end, Boehmer is fascinated by contradictions — her snarling creatures, real and mythical, are vulnerable in translucent fabrics, their gruesomeness undercut by visually appealing color, texture and innocuous decorative elements. She incorporates kitsch materials such as artificial flowers and faux fur into her work in unexpectedly visceral ways. Boehmer sews by hand with a deliberately unrefined stitch. Old sculptures are cut up to make new work — retaining subtle evidence of corrections similar to those found in paintings, called 'pentimenti.'
Wheat creates sculptures, drawings and large-scale 'tapestries' — figurative works in which the artist pushes paint through wire mesh, creating rich, fiber-like surfaces. She conjures an imagined tribe of women in a primal landscape, depicting their rituals and daily routines, as well as the surrounding flora and fauna. She carefully considers the tools — hairbrushes, drinking vessels, bowls, scissors — that the characters use in ritual ceremonies or in their everyday lives. Among the women and animals is Nut, an Egyptian star goddess. A personification of the sky, she represents a protective mother who watches over the women. She is pictured in a cut-out form as the base of a sculptural table, supporting the women who are arranged in a sacred circle, a symbolic ritual that reiterates strength, healing and inclusiveness.
About the artists:
Kelly Boehmer is a Georgia-based studio and performance artist. She is a member of Glitter Chariot, an artistic collaborative that orchestrates musical performances and gallery installations. Boehmer has exhibited and performed her work internationally, including shows in Baltimore, Maryland; Dallas, Texas; Miami, Florida; New York City; New Orleans, Louisiana; Pittsburgh, Pennsylvania; San Juan, Puerto Rico; and Sarajevo, Bosnia. She earned a B.F.A. and an M.F.A. in studio art from the Maryland Institute College of Art and the University of South Florida, respectively.
Summer Wheat lives and works in Brooklyn, New York. She earned a B.A. from the University of Central Oklahoma in 2000 and an M.F.A. from SCAD in 2005. Her work has been included in museum exhibitions at the Institute of Contemporary Art, Boston, and the DeCordova Museum and Sculpture Park, Lincoln, Massachusetts, among others. Her solo exhibition "Pry the Lid Off" was presented at the Oklahoma Contemporary in Oklahoma City in 2016.
The exhibition is co-curated by Ben Tollefson and Amanda York, SCAD assistant curators.
Reception: Friday, June 2, 5–7 p.m.
Gallery hours:
Monday–Friday, 10 a.m. to 6 p.m.
Saturday, Noon to 5 p.m.
Sunday, Closed
The exhibition and reception are free and open to the public.