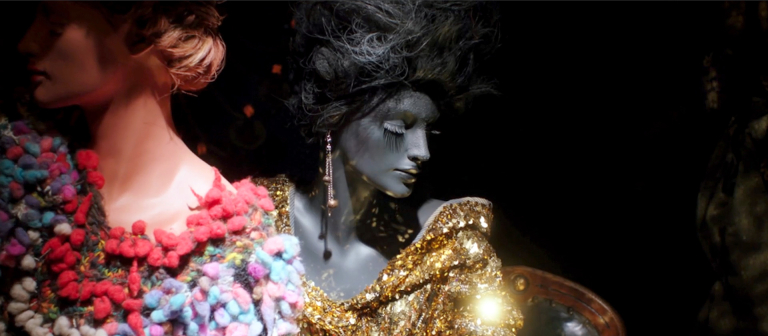 Vivienne Westwood film: 'Dress Up Story — 1990 Until Now'
SCAD presents "Dress Up Story — 1990 Until Now," a short-form documentary profiling iconic fashion designer and activist Dame Vivienne Westwood and the SCAD Museum of Art's 2015 premiere retrospective exhibition of her life's work. This inspiring filmic portrait, shown as a complement to "Shoes: Pleasure and Pain," provides an inside look at the aesthetic and design philosophies that inform Westwood's creative process.
Vivienne Westwood's oeuvre has redefined elegance on the runway and in the street. Her shoes, in particular, blend playful and rebellious elements with classic styling and detail. Alexandra Sachs, executive director of SCAD FASH and Atlanta exhibitions, notes: "Westwood has achieved icon status for her fashion-forward design and political engagement. We are delighted to have more than a dozen Westwood shoes on exhibit, including several that were especially loaned to SCAD FASH for inclusion in "Shoes: Pleasure and Pain." On view are examples from four decades of her designs in footwear, from a pair of 1974 black stilettos with metal spikes that was a collaboration with Malcolm McLaren, to a 2014 unisex pointed toe ballerina shoe."
Offering exclusive behind-the-scenes footage of Westwood and the SCAD curatorial process, "Dress Up Story — 1990 Until Now" is a compelling glimpse of an international fashion legend. Debuting to the public for the first time, the film was produced in conjunction with SCAD students and alumni, including the following:
Director: Eli Born (B.F.A., film and television, 2006)
Executive producer: Jett Steiger (B.F.A., film and television, 2006)
Director of photography: Frank Donnangelo (B.F.A., film and television, 2007)
Editor: Sean Leonard (B.F.A., film and television, 2008)
Location sound, music: Colin Alexander (B.F.A., sound design, 2005)
Post sound supervisor: Brent Kiser (B.F.A., sound design, 2006)
Colorist: Bossi Baker (B.F.A., film and television, 2008)
Fashion consultant: Amanda Hall (B.F.A., fashion, 2007)
Savannah production manager: Lauren Skillen (B.F.A., film and television, 2015)