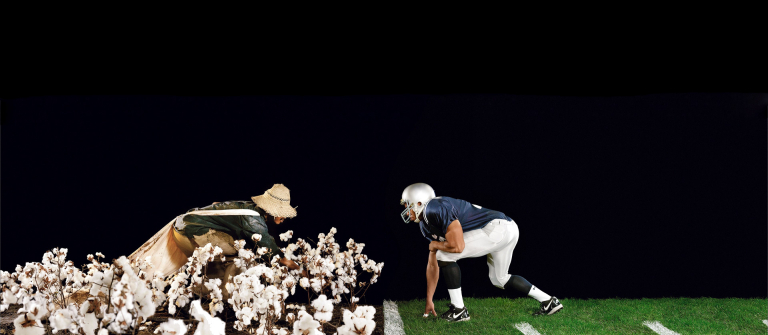 Hank Willis Thomas exhibitions: 'Blind Memory' and 'Freedom Isn't Always Beautiful'
Savannah, GA
601 Turner Blvd.
The SCAD Museum of Art presents "Blind Memory," a site-specific installation by Hank Willis Thomas in the museum's Jewel Boxes exhibited concurrently with his exhibition "Freedom Isn't Always Beautiful" in the Walter O. Evans Center for African American Studies.
Four new works in the exhibition explore the history of the museum complex as a railway depot and its relationship to the agricultural and labor practices of the past. Through the display of commodities that were exported from Savannah during "The Weeping Time" —  a two-day period in March 1857, when 436 men, women and children were auctioned at a racetrack in the city (notable for being the largest sale of human beings in the history of the U.S.) — Thomas calls attention to suppressed or forgotten incidents that were nonetheless instrumental in shaping our contemporary social and political reality.
Thomas fills each of the four Jewel Boxes on the façade of the museum with an agricultural product — tobacco, cotton, rice and indigo — produced on nearby plantations by the labor of enslaved individuals. Each box also features an additional layer of archival documents and symbols related to this history. "Blind Memory" is a further iteration of Thomas' practice exploring the interrelated concerns of the representation of race, the dialectic between images and text and the genealogy of historic iconographies relevant today.
The SCAD Museum of Art continues to explore Thomas' work through "Freedom Isn't Always Beautiful," a concise overview of the artist's socially engaged practice. Composed of works from 2003 to the present, the exhibition explores the artist's interrelated concerns regarding representations of race, the dialectic between images and text, and the genealogy of historic iconographies and their continued relevance.
Thomas employs stark contrasts, both formal and conceptual, to examine concepts of personhood, agency and commodification. The series "I Am A Man," 2009, uses the iconic Civil Rights Movement slogan as a starting point to explore the descriptive limitations of the phrase, while also paying homage to its original use. "I Am A Woman," "Am I A Man," "I Am Many" — these variations create semiotic slippages and nuances of meaning that reassert the affirmation of humanness and humanity at the core of the phrase's original use. Inscribed on signs carried by protestors during the sanitation workers strike in Memphis, Tennessee, in 1968, "I am A Man" can be traced further back to anti-slavery campaigns of the 18th century that asked "Am I Not A Man And A Brother?"
Through the use of reflective or shifting imagery and materials, including mirrors, holograms and lenticulars, "Freedom Isn't Always Beautiful" investigates the act of spectatorship and complicity. Seeing oneself reflected in the surface of the works implies participation and collusion in what is being represented. In works, such as "His Truth Is Marching On" and "Come Walk In My Shoes And I Will Show You Change," Thomas mines archival images, featuring cut outs from black and white vintage photographs by Spider Martin, taken during the Selma to Montgomery Civil Rights uprising and marches in Alabama, in 1965.
Works such as "Liberty," "From Cain't See in the Morning til Cain't See at Night" and "Icarus" tackle the theme of sport. These artworks draw a correlation between slavery and sport in terms of the commodification of black bodies. The artist also comments on labor, and the implicit stereotypes evident in the representation of such bodies in the media. Continuing his interrogation of modern messaging, Thomas appropriates the language and format of advertising to subvert its intended messages. In the work "Caesar's Visa," a neon sign flashes between advertising slogans to reveal new readings and wordplay. "Wonder Woman" and "All Power to the People" engage with political messaging and propaganda, both past and contemporary. Manufactured in the form of oversized lapel pins and referencing significant political and social movements that emerged in the 1960s, the pins transcend their significance as tokens of personal political belief, to become amplified and monumental, perhaps even memorials of what they represent.
Both exhibitions are curated by Storm Janse van Rensburg, SCAD head curator of exhibitions.
Reception: Tuesday, Feb. 21, 2017, 6–7 p.m.
Artist lecture presented by the Jacob and Gwendolyn Knight Lawrence Foundation: Wednesday, Feb. 22, 2017, 2 p.m.
About the artist:
Hank Willis Thomas is a conceptual photo artist working primarily with themes related to identity, history and popular culture. He cofounded For Freedoms, the first artist-run super PAC. Thomas is a member of the Public Design Commission for the city of New York and has exhibited throughout the U.S. and abroad including at The International Center of Photography, Public Art Fund and Studio Museum in Harlem, New York; The Guggenheim Museum Bilbao, Spain; Musée du quai Branly, Paris, France; and Cleveland Museum of Art, Ohio, among others. Thomas' artwork is in numerous public collections including the Museum of Modern Art, Solomon R. Guggenheim Museum, Whitney Museum of American Art and Brooklyn Museum, New York; High Museum of Art, Atlanta, Georgia; and National Gallery of Art, Washington, D.C.
Museum hours:
Sunday: Noon to 5 p.m.
Monday: Closed
Tuesday: 10 a.m. to 5 p.m.
Wednesday: 10 a.m. to 5 p.m.
Thursday: 10 a.m. to 8 p.m.
Friday: 10 a.m. to 5 p.m.
Saturday: 10 a.m. to 5 p.m.
The reception and lecture are free and open to the public. The exhibitions are free for all museum members, and SCAD students, faculty and staff with a valid SCAD Card. Open to the public with the cost of museum admission.
These exhibitions are part of deFINE ART 2017, held Feb. 21–24 at SCAD locations in Savannah and Atlanta, Georgia, and Hong Kong. DeFINE ART is an annual program of exhibitions, lectures, performances and public events that highlights emerging and established artists and visionaries.