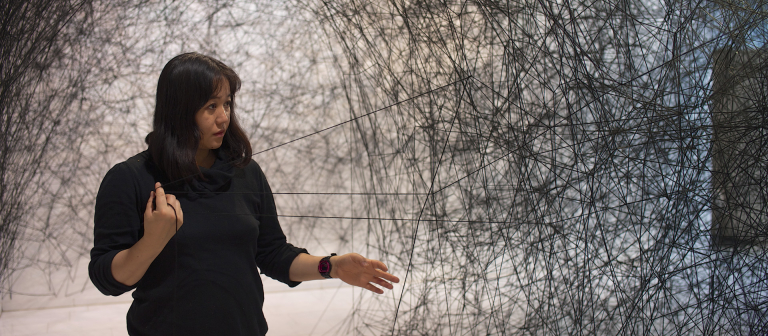 Chiharu Shiota exhibition: 'Infinity Lines'
SCAD Museum of Art presents Chiharu Shiota's "Infinity Lines," an expansive site-specific commissioned installation. This immersive artwork is the newest iteration of Shiota's exploration of the interconnectivity between one's possessions and the stories they hold. Labyrinthine networks of yarn intertwine objects and embody their imbedded narratives, leading viewers along a line of questioning — who has owned these objects, and why do they own them no longer?
For this exhibition, Shiota has incorporated antique wooden chairs that show evidence of their previous use. Red yarn connects one chair to another and also to the surfaces of the gallery itself, filling the space and tying individual stories and memories together, like neurons mapping memories in the brain. Just as memories and life experiences stay with each individual throughout their lives, the objects in the exhibition retain the personal histories of their owners and symbolically link present and past.
Shiota describes her installations as "drawings in space." The seemingly endless webs of red or black yarn have ensconced shoes, keys, beds occupied by sleepers, charred pianos and more. For the artist, red yarn connotes the body and human interaction. Performance is a longstanding part of Shiota's practice, and even when she or other performers aren't present in her installations, corporeal physicality remains an integral component of her work. Viewers navigate the space through pathways she determines, encountering found objects along the way. Shiota's incorporation of these abandoned objects illustrates her belief that people removed from their home countries, such as herself, "live with their bodies as their only real possession."
"Infinity Lines" is guest curated by Aaron Levi Garvey with assistance from Amanda York, assistant curator. 
About the artist
Born in 1972 in Osaka, Japan, Shiota initially studied painting at Kyoto Seika University, Japan. During this time, she undertook an exchange residency at ANU School of Art, Canberra, Australia, where she began to explore the boundaries of painting. She moved to Germany in 1996 and continued her studies, first in Braunschweig and later Berlin, where she continues to live today. She has received numerous notable prizes including the Philip Morris Art Award and the Audience Choice Award at The First Kyiv International Biennale of Contemporary Art, Ukraine. Her achievements also include set design for several major theatrical and operatic productions, most notably Daniel Karasek's "Tristan and Isolde" at Theater Kiel, Germany.
Shiota's museum exhibitions include MoMA PS1, New York; National Museum of Art, Osaka; La Maison Rouge, Paris; The Museum of Art, Kōchi, Japan; Freer and Sackler galleries of art, Washington D.C., and Kunstsammlung Nordrhein-Westfalen, Düsseldorf, Germany, among others. In addition to exhibiting at the 2015 Venice Biennale, her work also been featured in the Biennale of Sydney, the Aichi Triennale in Japan, the Gwangju Biennale in South Korea and the Yokohama Triennale, Japan. Her works are included in The Leopold Private Collection, Vienna; 21st Century Museum of Contemporary Art, Kanazawa, Japan; The Hoffmann Collection, Berlin and The National Museum of Modern Art, Tokyo.
Reception: Tuesday, Feb. 21, 2017, 6–7 p.m.
Museum hours:
Sunday: Noon to 5 p.m.
Monday: Closed
Tuesday: 10 a.m. to 5 p.m.
Wednesday: 10 a.m. to 5 p.m.
Thursday: 10 a.m. to 8 p.m.
Friday: 10 a.m. to 5 p.m.
Saturday: 10 a.m. to 5 p.m.
The exhibition is free for all museum members, and SCAD students, faculty staff with a valid SCAD Card. Open to the public with the cost of museum admission.
This exhibition is part of deFINE ART 2017, held Feb. 21–24 at SCAD locations in Savannah and Atlanta, Georgia, and Hong Kong. DeFINE ART is an annual program of exhibitions, lectures, performances and public events that highlights emerging and established artists and visionaries.