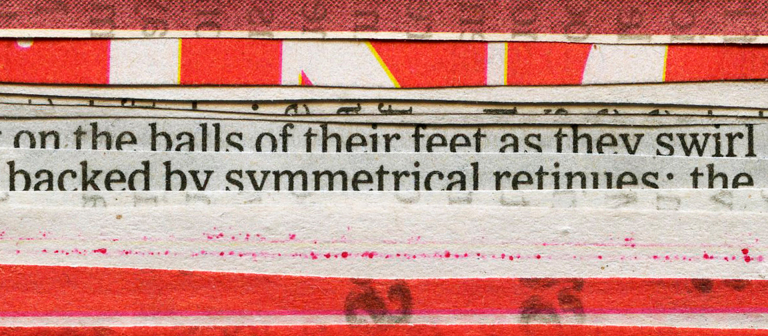 Group exhibition: 'Take Note'
Savannah, GA
201 E. Broughton St.
SCAD presents the group exhibition "Take Note," an exploration of the possibilities of text-based artistic expression. Using a variety of media, artists engage words and letters for formal, narrative and archival purposes that undermine the standardization of language. Created during the last five years, the works of art recontextualize familiar text and symbols to reconsider meaning in various forms of visual communication.
Each artist has developed a unique framework for his or her involvement with the subject matter. Narratives are crafted from found images; daily life is painstakingly documented; printed matter is folded, stacked and collaged to form new compositions; among other approaches. Text, images and formats — such as a calendar or flier — are reconfigured to new ends.
The artists' keen observations call attention to often overlooked aspects of everyday life. Erica Baum, Meg Hitchcock, SCAD visual resources center manager Robin Miller, and Molly Springfield all reconfigure found text through photographs, collage, handwritten anagrams and photorealistic graphite drawings, respectively. Alex Gingrow (M.F.A., painting, 2007) and Nathaniel Russell co-opt familiar forms, such as pages from a daily desk calendar and fliers, and imbue them with new narratives and humor. Todd Schroeder, professor of painting, copies automated writings onto large scale paintings that can be variously draped or folded.
"Take Note" is co-curated by Ben Tollefson, assistant curator of SCAD exhibitions, and Amanda York, assistant curator of exhibitions.
Gallery hours:
Monday–Friday, 10 a.m. to 6 p.m.
Saturday, noon to 5 p.m.
Sunday, closed
The exhibition is free and open to the public.
This exhibition is part of deFINE ART 2017, held Feb. 21–24 at SCAD locations in Savannah and Atlanta, Georgia, and Hong Kong. DeFINE ART is an annual program of exhibitions, lectures, performances and public events that highlights emerging and established artists and visionaries.