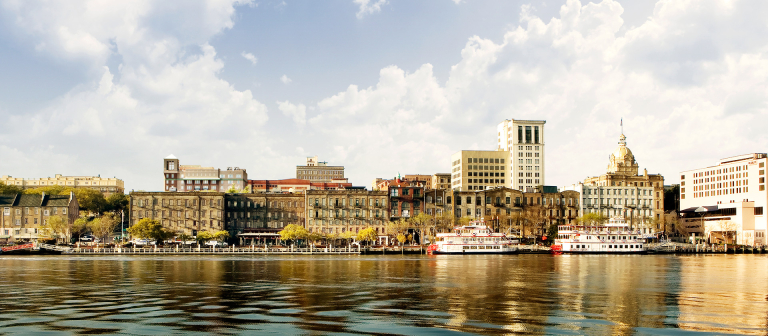 9th Savannah Symposium: The Architecture of Trade
Savannah, GA
601 Turner Blvd.
The biennial Savannah Symposium series brings together scholars and professionals from a diverse range of fields to address an architectural or urban topic that is relevant to Savannah and other parts of the world, as well as to all periods in history. The goal is to offer speakers and attendees the opportunity to interact with others who share an interest in the topic at hand, but who may be from a different discipline or field.
This year, the Savannah Symposium investigates the Architecture of Trade and features more than 50 papers from around the world. Nasser Rabbat, Ph.D., director of the Aga Khan Program in Islamic Architecture at the Massachusetts Institute of Technology, and Joyce Appleby, Ph.D., professor emerita of history at the University of California, Los Angeles, will deliver keynote presentations.
View all 9th Savannah Symposium authors and abstracts
City cultures, landscapes and architectures are inextricable from the force of trade, economics and the pursuit of goods throughout the long history of human habitation. Such cities as Amsterdam, Hong Kong, Istanbul, London, Mumbai and thousands of others along rivers, lakes and oceans have shaped and been shaped by global trade for centuries, if not millennia. While buildings have their own economies, such as the cost of labor, financing and material resources, they also tell a compelling story of how human beings interact through exchange across time and around the world.
The city of Savannah, beyond its famous squares, is home to the fourth-largest port in the U.S. Global trade is a force that has influenced Savannah's architecture and economy for nearly 300 years.
About the Savannah Symposium
Begun in 1999, the past eight symposia in the series have attracted 350 speakers from 28 countries across six continents. Previous symposia have addressed themes of the city square, architectural authenticity, commemoration, regionalism, building in the public realm, world heritage and national registers, spirituality, and modernity across time and space.
Three prior symposia resulted in the following publications:
David Gobel and Daves Rossell, eds. Commemoration in America: Essays on Monuments, Memorialization, and Memory. University of Virginia Press, 2013.
Thomas Gensheimer and Celeste Guichard, eds. World Heritage and National Registers: Stewardship in Perspective. Transaction Publishers, 2014.
Patrick Haughey, ed. Modernities Across Time and Space: Architecture and History in Context. Cambridge Scholars Publishing, forthcoming.
9th Savannah Symposium co-directors
Patrick Haughey
Robin B. Williams
Savannah's Chinese cobblestone
By Robin B. Williams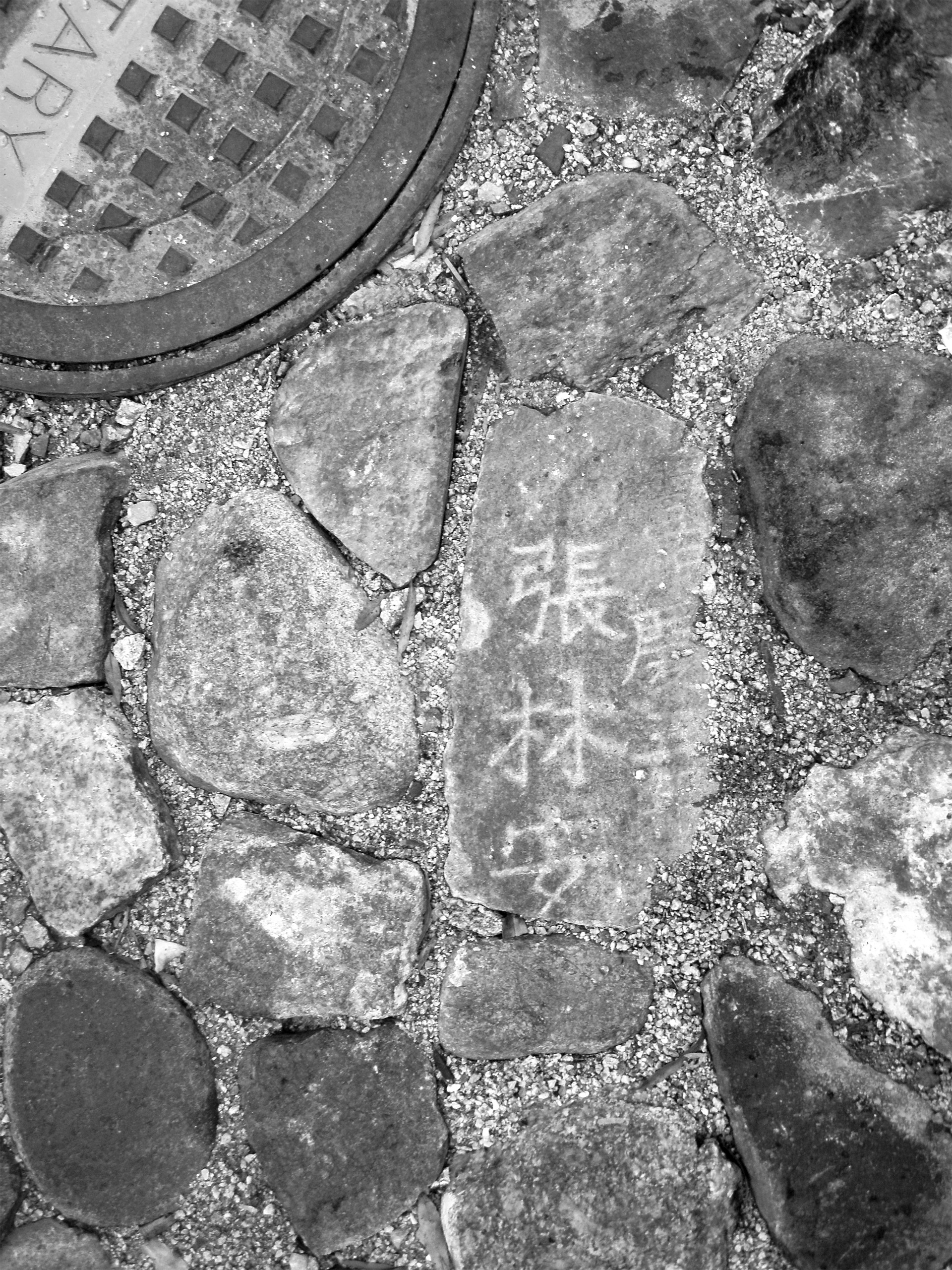 Courtesy of City of Savannah, Research Library & Municipal Archives.
Among the City of Savannah's proud treasures displayed in the city council chamber in City Hall is a piece of pavement — a cobblestone etched with Chinese characters. The unlikely artifact speaks to the rich and complex connections between trade and the built environment. While its journey from being a tombstone in 18th-century China to a lowly piece of pavement in mid-19th-century Savannah, ultimately becoming an object of reverence under glass in the 21st century may be unique, it aptly stands for the kind of global trade that has directly shaped cities throughout history and around the world.
Carved into the stone are two sets of Chinese characters. The smaller characters to the right tell us that it was carved in the third year of the reign of Emperor Jiaqing of the Qing dynasty (1796-1820) — hence 1798. The three larger characters to the left identify a name: Zhang Lin'an. The combination of a name and a date indicates that this stone was used as a tombstone.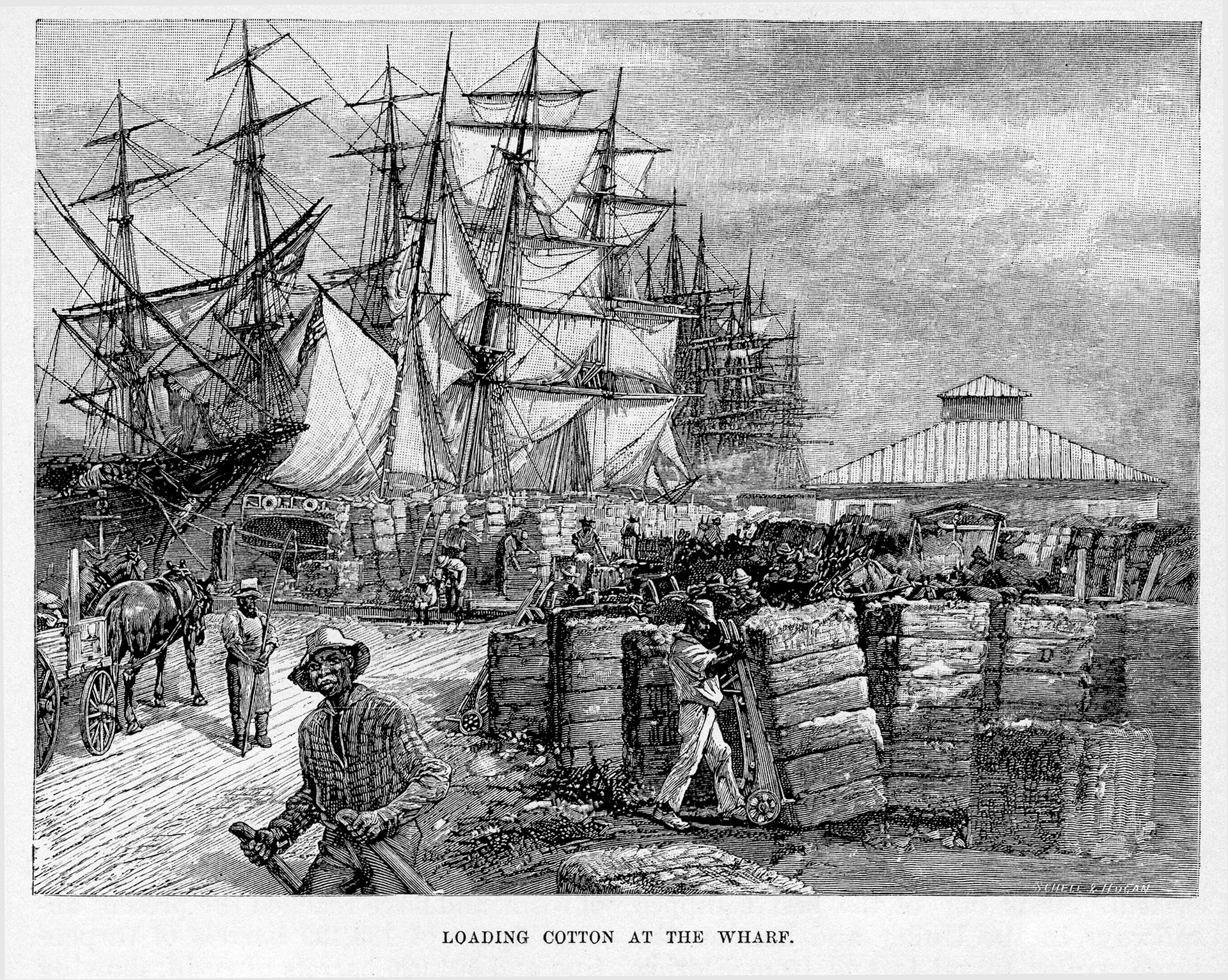 At some point during the first half of the 19th century, the tombstone lost its value and became a piece of rubble placed in a ship's hold as ballast, weight in the bottom of a ship to improve its stability. Using rock for ship's ballast had been a common practice for centuries. At the time, ships arrived in Savannah comparatively empty prior to being loaded with heavy bales of cotton for export. To make more room for outgoing cargo, the ballast stones would be deposited on the waterfront, a practice common in American port cities.
Used in older American cities by the time of the American Revolution, these naturally rounded and irregular cobblestones proved to be the first successful permanent pavement widely utilized in Savannah. Beginning by 1843, the city enthusiastically embraced the material, even though it was viewed poorly by at least one mid-19th-century pavement expert.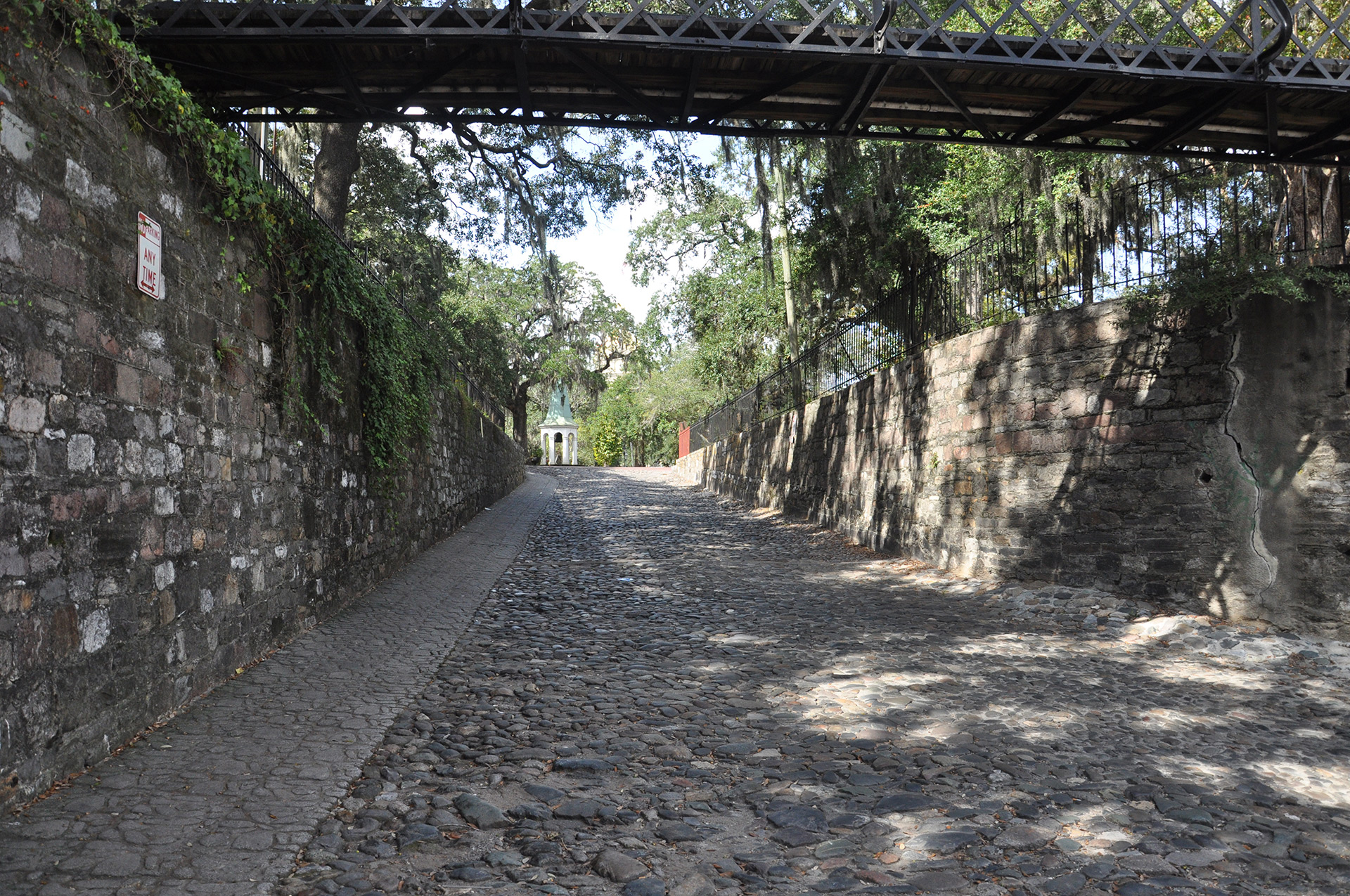 William Gillespie, a professor of civil engineering at Union College in Schenectady, New York, criticized this type of pavement in his 1847 manual as a "common but very inferior pavement, which disgraces the streets of nearly all our cities." The city of Savannah enjoyed a steady supply of the stones from discarded ballast emptied onto the city's wharfs by incoming ships. Until 1880, the city received between 1,700 and 3,250 tons of this material each year, which cost only a "wharfage" fee since the wharfs were privately owned.
Between 1855 and 1858, the ramps leading down the bluff from Bay Street to River Street were paved with cobblestones, while the adjacent retaining walls were exquisitely constructed by Irish stone mason Michael Cash with recycled pieces of masonry, documented by small relief plaques.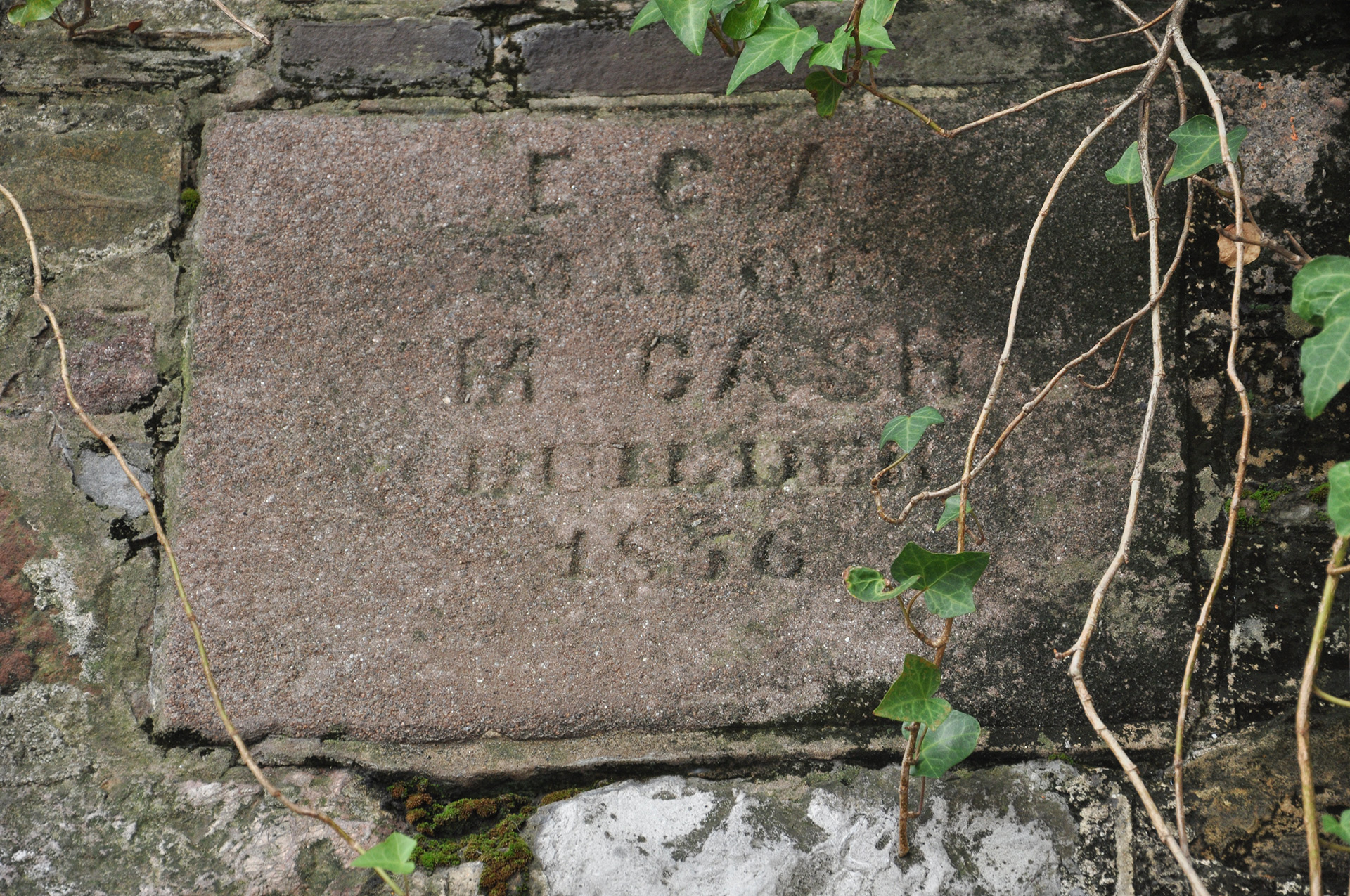 During the Civil War, according to the 1866 Municipal Report issued by the mayor's office, the ramps "were entirely destroyed and the material carried away and sunk in the obstructions" in the river. Rebuilding with new cobblestones and masonry, also by Cash, concluded a year later. All or parts of 13 streets in Savannah were paved with cobblestones before the ready supply diminished in the early 1880s following a new requirement for ballast to be unloaded outside the city.
The Chinese cobblestone may have been used as pavement in Savannah as early as 1843 or as late as 1880, gracing the bottom of Whitaker Street ramp, immediately east of what is now the Bohemian Hotel.
Around 2010, a public works crew repaired the ramp, which entailed removing the historic cobblestones and patching the roadway with concrete stamped with a cobblestone pattern. The Chinese cobblestone went missing, to the consternation of area historians, but was ultimately tracked down by City of Savannah archivist Luciana Spracher. She had the stone cleaned, documented and translated prior to placing it on display in a glass showcase in the City Hall council chamber, where it remains.
The Savannah Symposium: A look back
In February 1999, SCAD's architectural history department sponsored the Savannah Symposium on the City Square, a three-day forum for scholarship and discussion about an important theme in architectural and urban history with direct relevance to the city of Savannah and contemporary practice in the building arts.
That symposium earned SCAD its first-ever outside humanities grant — from the Georgia Humanities Council and the Samuel Kress Foundation — and paved the way for many more grants and outside sponsorships to be awarded to the symposium series. That first year of success led to development of the symposium as a biennial event intended to stimulate interdisciplinary dialogue among scholars, urban designers, regional and local community leaders, faculty and students on a topic that has relevance to both historical and current affairs.
The Savannah Symposium on the City Square
Feb. 25-27, 1999
Directed by David Gobel, Ph.D., and Robin Williams, Ph.D.
Keynote speakers:
Marvin Trachtenberg, professor of architecture, Institute of Fine Arts, New York University
Malcolm Bell III, archeologist, Center for Advanced Study in the Visual Arts
Carroll William Westfall, professor of architecture, University of Notre Dame
Robert Glover, director of urban design, City of Toronto
Stefanos Polyzoides, partner, Moule & Polyzoides Architects
Public life in America at the end of the second millennium seems to be characterized increasingly by its placelessness. Automobiles, shopping malls, cellular phones and cyberspace seem to be heralding the extinction of urban space. Some would argue that city squares have no place in contemporary urban design. But to declare the traditional city square — which has served as the heart of urban design since antiquity — as obsolete seems premature. A stroll through any of the 18th- or 19th-century public squares in Savannah provides ample evidence of the viability of the city square today.
The 2nd Savannah Symposium: Authenticity in Architecture
Feb. 15-17, 2001
Directed by David Gobel, Ph.D., and Robin Williams, Ph.D.
Keynote speaker:
James Howard Kunstler, author of "The Geography of Nowhere"
Western society at the end of the 20th century is obsessed with authenticity. Ours is a "culture of authenticity," according to Charles Taylor. "To thine own self be true" has become the motto of a society in search of the authentic self. It is not surprising, therefore, to hear authenticity as an incessant refrain applied to contemporary architectural criticism. In the architecture columns of The New York Times, The Boston Globe and the Los Angeles Times, authenticity has replaced the Vitruvian triad of firmness, commodity and delight as the primary standard of judgment. Likewise, when debates arise regarding the appropriateness of a modern versus a historical building design for a community, the question often becomes, "Which is more authentic?"
3rd Savannah Symposium: Commemoration and the City
Feb. 20-22, 2003
Directed by David Gobel, Ph.D., and Daves Rossell, Ph.D.
Keynote speakers:
Catherine Bishir, senior architectural historian, Preservation North Carolina
David Lowenthal, professor emeritus, University College, London
Dell Upton, professor of architectural history, University of Virginia
Acts of commemoration are fundamental to human experience and fundamental to the act of building. In fact, it can be argued that the building of cities itself is a radically commemorative activity. "Come let us make a name for ourselves," said the builders of Babel. Commemoration lies at the poetic, historiographic and social heart of human community. It is how societies define themselves. Individuals memorize, remember or ponder the past; communities commemorate. Collective memory is, however, an invitation to controversy and contention.
4th Savannah Symposium: Architecture and Regionalism
Feb. 24-26, 2005
Directed by Daves Rossell, Ph.D.; Thomas Gensheimer, Ph.D.; and Karl Schuler, Ph.D.
Keynote speakers:
Nezar AlSayyad, professor of architecture, planning, urban design and urban history, University of California, Berkeley
Henry Glassie, professor emeritus, Indiana University, Bloomington
We begin with the simple proposition that architecture is inevitably regional. While globalizing trends alter or create entirely new regions, regional identities remain. The symposium explored the ways in which regionalism has been — and continues to be — defined and redefined. How do regional spaces shape social identity? What constitutes a regional boundary in space or time? How have popular adoptions of regional form muddied the understanding of region? How have regional traditions of architecture and cultural landscape been interpreted by artists, authors and scholars?
5th Savannah Symposium: Building in the Public Realm
Feb. 8-10, 2007
Directed by David Gobel, Ph.D., and Celeste Guichard, Ph.D.
Keynote speakers:
Tom Hanchett, staff historian, Levine Museum of the New South
Christopher Mead, dean of the College of Fine Arts, University of New Mexico
Jo Noero, architect, Johannesburg, South Africa
The theme for this symposium allowed consideration not only of the various manners in which architecture and space are and have been constructed for use outside of private contexts, but also of how various "publics" are formed, transformed, sustained and even elided through public buildings.
6th Savannah Symposium: World Heritage and National Registers in Perspective
Feb. 19-21, 2009
Directed by Celeste Guichard, Ph.D. and Thomas Gensheimer, Ph.D.
Keynote speakers:
Zahi Hawass, Egyptologist, secretary general of the Supreme Council of Antiquities, Egypt
Ronald Lewcock, international conservator, professor, University of Queensland
Harold Kalman, architectural historian, member of the Historic Sites and Monuments Board of Canada
The 2009 symposium explored the architectural and spatial elements of cultural properties on the World Heritage and National Register lists and topics related to heritage designations as a factor in furthering global and local study of the built environment. This focus, tailored in response to requests to include issues related to national registries, is supported by a Georgia Humanities Council grant.
7th Savannah Symposium: The Spirituality of Place
Feb. 17-19, 2011
Directed by Thomas Gensheimer, Ph.D. and Jeff Eley
Keynote speakers:
Kenneth Foote, professor of cultural and historical geography, University of Colorado at Boulder
Louis Nelson, associate professor of early American architecture, chair of the department of architectural history, University of Virginia
The 2011 symposium explored the role of spirituality as it relates to the development and shaping of architectural and urban forms. Paper sessions focused on the broadest context of spirituality as a significant factor in the study of the built environment globally, nationally and locally. Of particular interest were essays that provided a critical evaluation of the relationship or co-existence of sacred and secular spirituality in regard to the constructed world.
8th Savannah Symposium: Modernities Across Time and Space
Feb. 7-9, 2013
Directed by Patrick Haughey, Ph.D. and Daves Rossell, Ph.D.
Keynote speakers:
Mark Jarzombek, professor of the history and theory of architecture, associate dean of the School of Architecture and Planning, Massachusetts Institute of Technology
Dell Upton, professor of architectural history, University of California, Los Angeles
The art historian T. J. Clark spoke for many scholars when he declared modernity marked a special historical transition when "the pursuit of a projected future — of goods, pleasures, freedoms, forms of control over nature, or infinities of information" overcame tradition and ritual.
He distinguished the last 500 years against all previous time, and the West against the rest of the world. But such a bold assertion has opened itself to diverse interpretations. Is there a single modernity? If so, how was it created, disseminated and adopted? Or, alternately, are there actually multiple modernities? How can we appreciate the diversity of different cultures and different times?
The 8th Savannah Symposium featured 60 papers investigating modernity or modernities in the broadest and most critical terms. Studies addressed architecture, landscape and the imagined environment as well as empirical, methodological and theoretical approaches.
Register to attend the 9th Savannah Symposium
Register before Monday, Jan. 5 and receive the early bird rate. Discounted registration is also available for students and SCAD faculty members.
Hotel information
Need a place to stay in Savannah conveniently located near symposium events? Several local hotels are offering discounted rates for symposium attendees. Full details are below.
Hampton Inn and Suites Savannah Historic District
603 W. Oglethorpe Ave.
912.721.1600
Group name: Savannah Symposium
Group code: SSS
Rate: $129/night, valid for bookings made on or before Jan. 5, 2015
Check in: Feb. 4, 2015 | Check out: Feb. 8, 2015
Embassy Suites
605 W. Oglethorpe Ave.
912.721.6900
Group name: Savannah Symposium
Group code: SSS
Rate: $179/night, valid for bookings made on or before Jan. 5, 2015
Check in: Feb. 4, 2015 | Check out: Feb. 8, 2015
Springhill Suites Savannah Downtown/Historic District
150 Montgomery St.
912.629.5300
Group name: SCAD
Rate: $134/night, valid for bookings made on or before Jan. 6, 2015