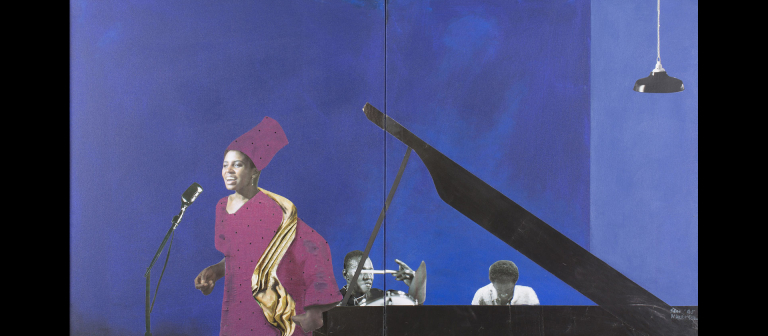 Sam Nhlengethwa exhibition at Gallery 1600 in Atlanta: 'Life, Jazz and Lots of Other Things'
Atlanta, GA
SCAD Atlanta, 1600 Peachtree St.
"Life, Jazz and Lots of Other Things" travels to SCAD Atlanta from the SCAD Museum of Art, where it premiered earlier this year as Sam Nhlengethwa's first solo museum exhibition in the U.S.  Based in Johannesburg, Nhlengethwa is revered as one of South Africa's leading contemporary artists.
Curated by Laurie Ann Farrell, SCAD executive director of exhibitions, the show features a broad cross section of the artist's practice and themes. The show opens with a juxtaposition of works by Nhlengethwa and Romare Bearden, orienting viewers to a significant creative voice for the artist.
The exhibition also features vibrant jazz scenes, images of daily life and nation building, along with iconic works that touch on deep social issues. Paintings, installation, works on paper and tapestries provide insight into Nhlengethwa's worldview through the eclectic array of life, jazz and lots of other things.
Artist talk: Thursday, Oct. 2, 6 p.m.
Events space, fourth floor, building C
The artist talk is held in conjunction with Atlanta Celebrates Photography 2014.
Reception: Thursday, Oct. 2, 7-8 p.m.
Gallery hours: Monday-Friday, 8:30 a.m. to 5:30 p.m.
The exhibition and reception are free and open to the public.