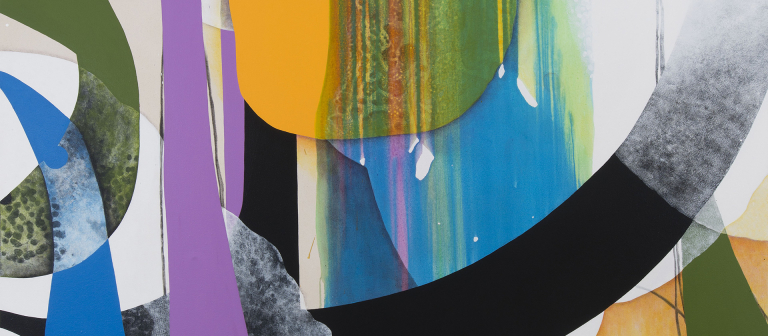 Carrie Moyer exhibition: 'Pirate Jenny'
Savannah, GA
601 Turner Blvd.
SCAD presents an exhibition by New York-based artist Carrie Moyer. For the past two decades, Moyer has created paintings that boldly combine abstraction, political imagery and unapologetic visual pleasure. Influenced by her background in graphic design, feminism and queer activism, Moyer's paintings intricately interweave concept, research and experience.
The artist loads her complex and seductive works with a range of stylistic and physical references to Color Field, Social Realist and Surrealist paintings; 1960s and 1970s counterculture graphics; 1970s feminist art; and bodily forms and fluids. Exploring the full capabilities of acrylic paint — what she calls the "ugly stepchild of oil paint" — Moyer often works on the floor, pouring, rolling, stippling, mopping and handworking the paint, as well as adding sections of glitter.
Moyer combines her interests in graphic design and painting in works that featured imagery from 1960s protest graphics, challenging divisions between abstract art and political content. Less explicit in their symbolism, her recent paintings picture mysterious, seductive spaces that assert their own politics of pleasure.
"Carrie Moyer: Pirate Jenny" was organized by Ian Berry, Dayton Director of the Frances Young Tang Teaching Museum and Art Gallery at Skidmore College, in collaboration with the artist, and was organized in-house by Tim Peterson, SCAD chief curator of exhibitions.
Reception: Friday, June 27, 6-8 p.m., presented as part of the SCAD Savannah gallery hop
Museum hours:
Sunday: Noon to 5 p.m.
Monday: Closed
Tuesday: 10 a.m. to 5 p.m.
Wednesday: 10 a.m. to 5 p.m.
Thursday: 10 a.m. to 8 p.m.
Friday: 10 a.m. to 5 p.m.
Saturday: Noon to 5 p.m.
The reception is free and open to the public. The exhibition is free for all SCAD students, faculty, staff and museum members and open to the public with the cost of museum admission.