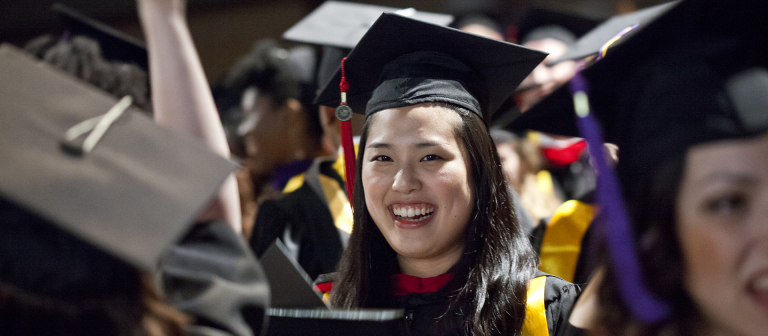 SCAD Commencement 2014 in Hong Kong
W Hong Kong
1 Austin Road West, Kowloon Station
Join us as we honor and celebrate the Class of 2014 during spring commencement.
The Presidential Conferment of Degrees ceremony begins at noon, and will honor all graduating students.
Guest information
Ticket information
Seating is limited in the Grand Room and each graduating student will receive a set number of tickets for friends and family who wish to attend the ceremony. All guests must have a ticket to enter, and the tickets must be picked up in advance of the ceremony by the participating student. Students should visit the graduation blog for additional details.
Disability access
Handicapped-accessible seating is available for guests who require special accommodations. Because seating is limited, only one person may accompany the individual in the designated area, and special seating tickets are required.
Contact the events department via email or by calling 852.2253.8181 for disability seating requests. All requests must be submitted by Friday, May 9, and any special seating tickets requested by the graduating student will be counted toward the total number of tickets allotted to that student.
Additional details
For additional commencement information, download the 2014 Hong Kong commencement brochure.
Parking information
Parking is available for guests at W Hong Kong and the Elements shopping mall. Both areas are within close proximity to the ceremony location. Rates are approximately HK$15-100 per hour.
Transportation to the ceremony
W Hong Kong is MTR-accessible and located directly above the Kowloon Station.
Hotel accommodations
The following list of hotel options has been assembled for the convenience of guests who require overnight accommodations:
W Hong Kong
1 Austin Road West, Kowloon Station
Kowloon, Hong Kong
852.3717.2222
The Mira Hong Kong
118 Nathan Road, Tsimshatsui
Kowloon, Hong Kong
852.2368.1111

For more information about the commencement ceremony in Hong Kong, contact the student success office via email or by phone at 852.2253.8000.