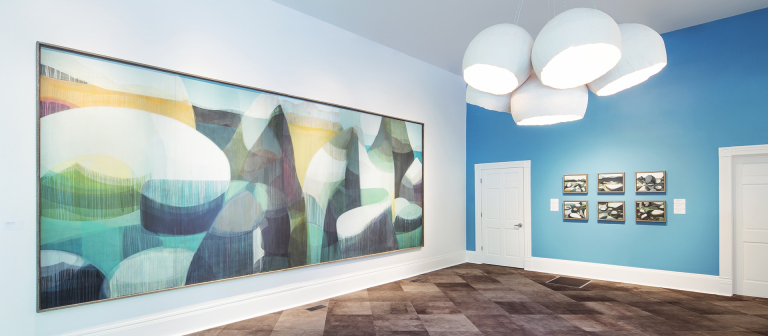 katherine sandoz exhibition: 'tahoe hybrids'
Savannah, GA
320 E. Liberty St.
SCAD presents an exhibition by katherine sandoz, an award-winning multidisciplinary artist who is inspired by the people and landscapes of Savannah and Coastal Georgia. A SCAD alumna (M.F.A., painting, 2005, M.F.A., illustration, 1998) and former professor, sandoz has exhibited extensively in the U.S. and abroad.
In 2013, sandoz stepped away from her Savannah home to explore Lake Tahoe, an alpine lake straddling the border of Nevada and California, and its surrounding areas. While there, she created her most comprehensive body of work to date, the "tahoe hybrids."
These works comprise an in-depth examination of the area's rocky terrain, crystalline waters and picturesque skyline. The exhibition includes studies on panel, works on canvas and a monumental paneled mural created specifically for the exhibition at SCAD's Pinnacle Gallery. sandoz has described this body of work as a "bridge in her trek to minimalism."
Reception: June 27, 6-8 p.m., presented as part of the SCAD Savannah gallery hop
Gallery hours:
Monday-Friday, 9 a.m. to 5:30 p.m.
Saturday, 10 a.m. to 5 p.m.
Sunday, 1-4 p.m.
The exhibition and reception are free and open to the public.