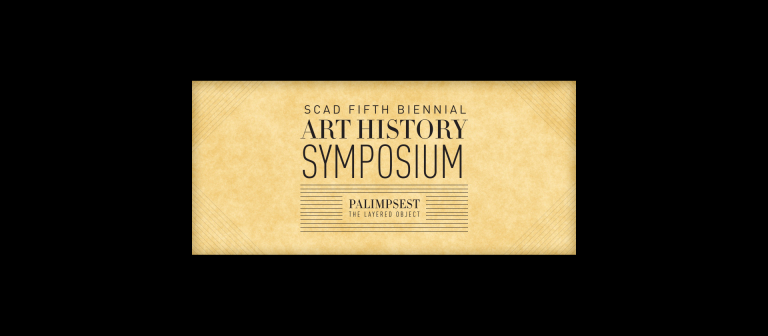 Fifth Biennial Art History Symposium 2014: Palimpsest
Savannah, GA
601 Turner Blvd.
The Savannah College of Art and Design invites participation in the Fifth Biennial Art History Symposium, Palimpsest: The Layered Object.
The media, techniques and materials of art-making are comprised of layers of knowledge. These tools contain evidence of the physical and intellectual act of creation. The art object changes with the build up of successive layers or with the erosion of material over time. Both tangible and virtual paint covers canvas; earth subsumes artifacts; weather and environmental effects leave traces; and new layers of thought replace older conventions.
Palimpsest: The Layered Object will explore the connection between aesthetic inscriptions, erasures and related historical conditions of media, whether drawing, film, incunabula, painting, print, sculpture, textiles, architecture or urban space.
This symposium considers the "layered object," or "palimpsest," as a model for artistic production. We seek to mine history, excavate knowledge and find meaning in the residue between layers of creation.
In the late 20th century, philosophy enabled the investigation of the effects of media and technology on the human condition. Today, where do we stand within our rapidly accelerating post-media society? Technologies and their application in art history provide us with tools to generate a profound understanding of the monumental and the ephemeral, the real and the imagined, the single object and the archive.
The SCAD art history department welcomes interdisciplinary contributions that merge art history with other fields. The symposium will feature topics that explore the beginning of inscription as well as the remains of its erasure. Palimpsest: The Layered Object is unbounded temporally, geographically and culturally.
Symposium language is English.
Symposium chair
Andrew Nedd
Symposium committee
Rihab Bagnole, Scott Budzynski, Patricia Butz, Christian Carr, Arthur J. DiFuria, Beverly Elson, Holly Goldstein, Christoph Kluetsch, Lesa Mason, Alexandria Pierce, Anne Swartz, Geoffrey Taylor, Stephen M. Wagner, Lisa Young
Acknowledgments
This symposium was made possible with the support of the following:
President Paula Wallace
The School of Liberal Arts:
Beth Concepcion
Martelle Forbes
Exhibitions:
Laurie Farrell
Aaron Garvey
Alex Sachs
SCAD Museum of Art:
Kimberly Shreve
Melissa Messina
Events and conferencing
Sue Richards
Alice Eisner
Heather Kochendarfer
Friday, Feb. 28
Registration and Coffee
8-9 a.m., SCAD Museum of Art, 601 Turner Blvd.
Session I: Subtractions/Erasures
9-10:45 a.m.
Scott Budzynski, SCAD, session chair
Nicole Blackwood, University of Toronto, "Malleable Substrates: A Comparative Study of Titian and Richter"
Dalia H. Linssen, Rhode Island School of Design, "Layered Traces: The Palimpsest Process in the Works of Jo Sandman"
Delia Solomons, New York University, "Perpetual Erasure: Mirrors and Identity Politics in 1960s New York"
Session II: Surfaces/Additions
11 a.m. to 12:45 p.m.
Lesa Mason, SCAD, session chair
Kris Belden-Adams, University of Mississippi, "The Unreal Realism of Composite Analog and Digital Photography"
Gillian Pistell, Metropolitan Museum of Art, "Ray Johnson's Collaged Histories"
Kristin deGhetaldi and Elizabeth Melanson, University of Delaware, "Rediscovering Van Gogh's Idol: The Examination of a Still-Life Attributed to Adolphe Monticelli"
Lunch
12:45 p.m. to 2:45 p.m.
Session III: Layered Histories
2:45-5 p.m.
Patricia Butz, SCAD, session chair
Remei Capdevila-Werning, Universitat Autònoma de Barcelona, "The Layered Symbol: A Palimpsestic Approach to Architectural Preservation"
Linda Nolan, John Cabot University, "Destroyed but not Forgotten: Old St. Peter's Basilica in the 17th century"
Rebecca C. Turner, SCAD, "Layers of Meaning in 12th-century Churches in Rome"
Erin Thompson, John Jay College City University of New York, "The City as Palimpsest: Cycles of Deconstruction and Reconstruction in Ancient Babylon"
Gallery reception
5-6:30 p.m., SCAD Museum of Art
Keynote speaker Brett Littman, executive director of The Drawing Center
"From Lascaux Caves to AutoCAD"
7-8:15 p.m., Trustees Theater, 216 E. Broughton St. 7-8:15 p.m., Trustees Theater, 216 E. Broughton St.

Saturday, March 1
Registration and coffee
8-9 a.m., SCAD Museum of Art
Session IV: Archeology of the Subject
9-10:45 a.m.
Arthur J. DiFuria, SCAD, session chair
Kate Markoski, Johns Hopkins University, "Aspects of Realism: Ben Shahn's Palimpsest Paintings"
Lynn M. Somers, Seton Hall University, "Temporality, Trace, and Ambivalence in the Work of Sally Mann"
Karen Stock, Winthrop University, "Somatic Cartography: The Work of Susan Harbage Page"
Elise Trucks, University of Tampa, "The Changing Shape of Louise Bourgeois's Femme-Couteau: the Knife-Woman as Layered Object"
Session V: Traces
11 a.m. to 12:30 p.m.
Alexandria Pierce, SCAD, session chair
Haneen Rabie, Princeton University, "Re-materialization in Recent Reuse Design"
Suzanne Singletary, Philadelphia University, "Memory, Time and the Palimpsest: The Photographs of Edgar Degas"
Justin G. Greenlee, University of Alabama, "Michelangelo's Louvre Sheet No. 685: An Inspirational Palimpsest"
Lunch
12:45-2:45 p.m.
Session VI: Cultural Memory
2:45-4:30 p.m.
Holly Goldstein, SCAD, session chair
Michelle Apotsos, National Museum of African Art, Smithsonian Institution, "Constructing Culture: Architecture and Contemporary Identity in Northern Ghana"
Lauren Cullen, Sheridan College, "PROUD TO HOOK. Matrilineage, Rug Hooking and the Canadian Palimpsest"
Seunghan Paek, The Ohio State University, "The Layered Cityscape: The Video Works of Park June-bum on the Play of Commercial Signs (2004-present)"
Eliana Sousa Santos, Universidade de Coimbra, "Plain Styles in Hard Times: George Kubler and Juan Downey"
Final comments
4:30 p.m.
Exhibitions
Photography exhibition: "Manipulated"
Through March 31
Matthew Brandt exhibition: "Lakes and Reservoirs"
Through July 6
Charmaine Ortiz exhibition: "Graphene"
Through July 11
Michelle Apotsos
National Museum of African Art, Smithsonian Institution
"Constructing Culture: Architecture and Contemporary Identity in Northern Ghana"
As the primary mode through which individuals organize their physical reality, architecture, perhaps more than any other medium, is able to successfully articulate the cultural identity of its particular context through the collective representation of multiple narratives via material, form and function. This is particularly true in the village of Larabanga, a small but Islamically significant community in Northern Ghana, where an ancient earth and timber congregational mosque acts as both a symbol of regional Islamic faith as well as a cultural text for its primary ethnic group, the Kamara. In recent years, however, the influx of modernity in the form of technology, tourism and conservation initiatives has begun problematizing this identity through the addition of two new "careers" to the mosque's repertoire: that of a tourist attraction and a national heritage site. The uneasy rapport that has developed between these elements has generated shifts within the mosque's conceptual program, as the presence of tourists during events like Ramadan force the mosque's traditional and contemporary identities to collide. These occurrences not only speak to the ambiguous nature of the mosque's current role within this community, but also the condition of the community itself as a population in a state of rapid cultural flux. Thus, this paper seeks to unpack the layers of meaning and identity that now define the mosque as a method of parsing Larabanga's current sociocultural moment, using the mosque's various realities as a means of uncovering the methods through which the community, as both a cultural and architectural landscape, has thus far been able to navigate the murky waters of modernity while continuing to sustain the ideals and value systems that inform its unique cultural matrix. In this way, the mosque as a "layered object" provides a blueprint toward understanding the cultural dynamics of this community through its simultaneous articulation of past traditions and present realities within the space of a singular structure.
Kris Belden-Adams
University of Mississippi
"The Unreal Realism of Composite Analog and Digital Photography"
At first glance, photographer John L. Lovell's Harvard class portraits represent one man and one woman. But instead, these composite photographs personify the "average" appearance of the entire, all-male and all-female classes of 1887 at Harvard University and the Harvard "Annex"/Society for the Collegiate Instruction of Women, which would be chartered in 1894 as Radcliffe College. To make these portraits, Lovell carefully aligned and re-photographed dozens of portraits on a single negative to create a single accumulated image from the multiple exposures. Individual students' facial features and bodies are obscured in a ghostly haze as they coalesced, with the aid of generous retouching, to form pictures of human beings who never existed.

These photographs, which were sold as keepsakes to students and their parents, typologically represent a particular social caste — Boston's Protestant Brahmin elite. Lovell employed a technique of composite portraiture pioneered by eugenicist Francis Galton to study the connections between a group's physical attributes and its perceived intelligence, talents or deviant inclinations. The Harvard class portraits likewise represent a "type" of semi-aristocrats whose inherited wealth and elevated social position enabled them to enjoy and wield considerable social, economic and political power. The figures in Lovell's portraits are "real" without being "actual." That is to say, they lend tangible visual representation to the late-19th-century New England social-class experience. Using Lovell's photographs as a springboard, this paper takes a closer look at several analog and digital composite images that articulate the conditional relationship of this practice of image-making to indexicality and the production of visual knowledge.
Nicole Blackwood
University of Toronto
"Malleable Substrates: A Comparative Study of Titian and Richter"
This paper considers the paintings of the Renaissance Venetian Tiziano Vecellio (c. 1488-1576) and the Contemporary German Gerhard Richter (1932- ) as products of analogous palimpsestic techniques. The word palimpsest comes via Latin from the ancient Greek palimpséstos, from palin "again" and psestos "rubbed smooth or scratched." Titian built up his pictures in multiple layers, adding various glazes, known as velatura or veiling, that toned down colors that might stand out too much, thereby creating a unity among hues, shadows and highlights. Using a variety of tools — including brushes, palette knives, rags and fingers — Titian would smear, blend or rub the pigments into the coarse canvas. Modern technical analysis has confirmed that through these interventions Titian sometimes created as many as 30 to 40 layers of glaze. Richter, similarly, experiments with multiple areas of color laid in over and blended into each other by way of scraping away the surface, through which the impression of a certain "lively" blurriness is created. Richter even acknowledged his indebtness to Titian in his series of five paintings titled "Annunciation after Titian" from 1973, where the process of making is parallel with unmaking. By examining Titian and Richter's layered pictures and their techniques of scrapping, rubbing, or scratching, this paper offers a phenomenological reading of their paintings in relation to bodily engagement, the sensuality of touch and the materiality of flesh. The synesthesia that was central to their process thus leaves traces in these works of a kind of graduated becoming, an emergence of form from the inchoate textures of pigment and cloth, and offers a meditation on the process of making and transformation, of nature, the body and art as gradually unfurling into actuality.
Remei Capdevila-Werning
Universitat Autònoma de Barcelona
"The Layered Symbol: A Palimpsestic Approach to Architectural Preservation"
The term "palimpsest" is generally used in architectural preservation and archaeology to designate those traces of past structures — such as the marks of former stairs in demolished houses — that provide a clue about what had been there in the past. It also designates the complex overlapping of meanings created by the superimposition of material strata; the conceptual layering of meanings is then recognizable through physical traces. Taking Nelson Goodman's theory of symbols as my conceptual framework, I argue that this physical and conceptual palimpsest can be understood as constituting a layered symbol. An architectural palimpsest is thus construed as a symbol inserted in different symbol systems, conveying multiple meanings and open to various interpretations.

I develop the idea of palimpsests in preservation as layered symbols by examining the reconstruction and restoration of Neues Museum in Berlin by architect David Chipperfield and preservationist Julian Harrap. Reopened in 2009, this building is a particularly good example for an architectural palimpsest because the guiding principle for the museum's reconstruction was precisely to preserve as many material layers as possible. In this way, the history of the building is made visible. This process may seem to be a straightforward recovering of the past, but it actually shows more than was actually ever visible. It thus creates a layered symbol that had never existed; a new building with new meanings is produced. By construing the palimpsestic structure of the Neues Museum from Goodman's thought, I hope to show how the process of unveiling material layers also opens up a building to multiple interpretations and aesthetic experiences. What is at stake is not only the superimposition of meanings in a particular building, but the truthfulness of preservationist interventions in architecture and the construction of new works from the remains of other structures.
Lauren Cullen
Sheridan College
"PROUD TO HOOK. Matrilineage, Rug Hooking and the Canadian Palimpsest"
The hooked rug is unequivocally a layered art object. Originally constructed from the ripped up rags and scrap fibers of the past, hooked objects are coated with meaning and history as they appropriate old fibers to create new artistic expressions. Sometimes practical yet always rooted in aesthetics embedded deeply within a North American identity, rug-hooking cultures are also identified within a gendered order. An intergenerational practice of passing down rugs and skills between kin and community marks rug-hooking cultures in direct opposition to what Mira Schor has adeptly described as the patrilineal plague of legitimizing art through male predecessors. Both centered and grounded by pioneer hearths, histories of rug hooking often credit the art form as emerging from a necessity, a need. Whether covering drafty floorboards or lending itself to the colonial task of domesticating "wild" territories occupied by white settlers, the hooked rug tells a story layered in metaphor and complexes. The North American hooked object remains a romanticized visual object in the Canadian imagination.

I am interested in unraveling the hooked object and its multitude of layers, arguing the history and practice of hooked rug making in North America is complex, multifaceted and engulfed in tensions. By employing a transnational feminist framework and anti-colonial methodology to the study and history of the hooked object, my research explores the material culture and hooked object as a rich and complex palimpsest. I critically examine gender, class, race and sexual hierarchies that exist in hooking cultures, both past and present, to produce a transnational history of rug hooking cultures. Specifically, I am re-examining rug-hooking histories in a manner that pays attention to what rugs lay atop: the dispossession required of first nations along the Eastern seaboard.
Kristin deGhetaldi and Elizabeth Melanson
University of Delaware
"Rediscovering Van Gogh's Idol: The Examination of a Still-life Attributed to Adolphe Monticelli"

Recently, a painting attributed to the 19th-century French artist Adolphe Monticelli (1824-1886) was brought to Winterthur's Scientific Research and Analysis Laboratory for examination. The work, a still life, was given to the University of Delaware several decades ago with the warning that it might be a forgery. Now, with the resurgence of scholarly interest in Monticelli, a conservator and art historian from the university are working together to determine the painting's authenticity. In this presentation, Kristin deGhetaldi and Elizabeth Melanson will discuss their scientific and art historical research, and the implications of what they discovered in the layers of Monticelli's still life.
The richly impastoed surfaces, bright palette and Provençal subject matter of Monticelli's paintings were a major source of inspiration for Van Gogh. Though little-known today, his works were extremely popular in the early 20th century, and several talented imitators produced fakes at an alarming rate.
Scholars have only recently begun to analyze Monticelli's idiosyncratic painting technique in order to answer questions of attribution and dating. Using this small body of scholarship, deGhetaldi studied the still life, considering the presence and absence of pigments, the nature of the paint and the type of support, as well as relevant paint deterioration phenomena using a variety of techniques, including cross-sectional analysis.
The results of her investigation suggest the complex history of the object and what it reveals about the history of taste and the art market in America and Europe. In the painting's layers, one finds insight not only into the artist's technique, but into what made Monticelli's work so strikingly original in the late 1880s and why it subsequently fell from favor. Melanson will discuss these issues, as well as what we can glean from the various alterations, both additions and subtractions, that were made to the painting over the course of the 20th century.
Justin G. Greenlee
University of Alabama
"Michelangelo's Louvre Sheet No. 685: An Inspirational Palimpsest"
In c. 1500–1510, Michelangelo created a drawing of the "Virgin, Child, and St. Anne." The sketch is rendered in black chalk, traced in ink and the central figures are surrounded by an array of visual and textual fragments. These include two halting quotations — written in Michelangelo's handwriting — of the first line of Petrarch's "Rime 129." The quotations appear within a series of marginal notes containing allusions to the Bible, the contemporary Latin liturgy and selections of the artist's poetry. Significantly, while the drawings are Michelangelo's, they are rendered on a piece of old paper, recycled from a hundred-year-old Buonarroti family record book. This is made clear by sheet's verso, which contains six lines of text describing the business dealings of Michelangelo's great-great-grandfather, Buonarroto di Simone, from c. 1400.

In this paper, I identify the Louvre sheet as an inspirational palimpsest that functions as a deep meditation on family. Rather than thinking of the sheet as a random collection of fragments, I suggest that the drawings reflected a series of associative choices — neither precisely premeditated nor random — that coalesced into a work of art with identifiable meaning. First, I describe the image of the "Virgin, Child, and St. Anne" as a generational image consisting of a lineage of grandmother, mother, and child, and situate the work within a period defined by images of family. Second, I compare the Louvre sheet to other drawings by Michelangelo that include allusions to similar textual sources, and show how the integration of words and images was typical of Michelangelo's creative process. Finally, I analyze Michelangelo's decision to draw a familial image on an important family document, and define the Louvre sheet as a inspirational palimpsest whose gradual accumulation embodied the type of creative self-fashioning that typified Michelangelo's relation to his own family history.
Dalia H. Linssen
Rhode Island School of Design
"Layered Traces: the Palimpsest Process in the Works of Jo Sandman"
Renowned Boston, Massachusetts artist Jo Sandman has spent much of her career delving into the spiritual facets of art making, a pursuit inspired by abstract expressionists Robert Motherwell and Hans Hoffmann with whom she studied. Sandman's most recent work extends her interest in the ephemeral through the conceptual framework of palimpsest. Built up using a range of media from photocopies and transparencies to drawings, X-rays and digital files, Sandman's recent works reveal quiet, haunting meditations on mortality, perception and memory. This paper analyzes the use of palimpsest in Sandman's series "Light Memory" and "Transmission" to map a theoretical dialogue between notions of photographic indexicality and the improvisatory qualities that characterize abstract expressionism.

Stark yet evocative, "Light Memory, 2003-2004" comprises X-rays that the artist enhances digitally to heighten soft contours of skin and subtle tonal distinctions that signal shifts in bone density. Akin to figural manuscripts upon which the artist inscribes, Sandman's works transform medical data into a metaphysical engagement with cycles of life and death. Where the X-ray penetrates deep to reveal a structure, Sandman's palimpsest-like process brings the viewer's perception back to the surface, eliciting a play between photography's alleged objectivity and a deliberate ambiguity of line and form.

Similar occupations with notions of perception and the body inform Sandman's 2012 series, "Transmissions." "Transmission Ix," for example, reveal a palimpsest of three layers: a photogram of a rock that the artist reshaped to amplify its anthropomorphic features, writings and diagrams by John Cage and a single blue transparency encased within two weighty glass panes. By contextualizing Sandman's works in the discursive spaces between theories of photographic "trace" and psychic automatism, this paper examines metaphors of destruction and renewal, the ephemeral nature of perception, and the multifaceted processes of signification embedded in contemporary palimpsest.
Kate Markoski
Johns Hopkins University
"Aspects of Realism: Ben Shahn's Palimpsest Paintings"
Around midcentury, Ben Shahn's work took a new, somewhat unexpected, turn. Perhaps best known for what is often deemed his social realism, in the late-1940s he became increasingly dedicated to what he would call a "personal realism." At the same time, Shahn began to paint in what he termed a "palimpsest" mode. Whereas in earlier paintings, he washed out any changes he made to a canvas, in the late-1940s he began to incorporate such marks as active pictorial elements. Central to his turn toward both a personal realism and his palimpsest mode are a rich yet understudied group of paintings executed during and around the summer he spent teaching at Black Mountain College (1933-56) in 1951. This paper offers an account of those works and, in so doing, of this midcentury shift in Shahn's approach to painting. Though Shahn's palimpsests certainly relate to the postwar emergence of action painting, I will show how his works are also newly illuminated by a consideration of fellow Black Mountain teacher and poet Charles Olson's theory of projective verse, a poetics first articulated in 1950 and one that understood the poem to be an accumulation of breaths taken by the poet over time. Drawing on a careful analysis of Olson's verse, Shahn's paintings and an unpublished lecture delivered by the artist at Black Mountain, I will ultimately argue that his palimpsest paintings testify to a particular understanding of our embodied being-in-the-world and our relations to others in it. More specifically, these paintings, and especially their clear buildup of marks, evidence Shahn's commitment to articulating particularity from within a group — that is, to the possibility of being part of a collective without surrendering one's idiosyncrasy — a commitment that carried especially high stakes during the American postwar years.
Linda Nolan
John Cabot University
"Destroyed but not Forgotten: Old St. Peter's Basilica in the 17th century"
In the early 17th century, the last vestiges of the fourth-century basilica to St. Peter were documented and dismantled to make way for the new building to the first pope. Pieces of old St. Peter's Basilica can be found inside the new edifice as well as in other churches in Rome. An expansive series of corridors called the Grotte Vaticane, a kind of alternate plane, was created for some of the old monuments. Within the space of the grotte, the old monuments were renewed and showcased. And the word that rebounds in inscriptions throughout the space is renovatio. In the name of "renovation" for preserving the memory of the ancient building, monuments were transferred, destroyed and reconfigured.

In this paper, I assert that the visual and verbal evidence related to old St. Peter's Basilica ensured its continued presence at the site of the new building. Old St. Peter's was both fragmentary and complete in the minds of artists and writers in the 17th century who marveled at the new monument, but looked for remnants of the old. The fragments dispersed at the site and to other churches in Rome functioned as visual synecdoche to remind people of the missing whole. And like Freud's evocation of the memory of multiple buildings on the same site in "Civilization and its Discontents," paintings and prints of the old basilica guaranteed the memory of the old building continued to exist even as the new one came to completion. No matter the dramatic visual differences between the two basilicas, the images and verbal descriptions of the old basilica reminded visitors to the site of what was once there, destroyed but not forgotten.
Seunghan Paek
The Ohio State University
"The Layered Cityscape: The Video Works of Park June-bum on the Play of Commercial Signs (2004-present)"
One of the most prominent aspects of contemporary Asian cities is the ephemeral nature of cityscapes comprised of the dense array of advertising, most often consisting of billboards and neon signs of store names and announcements hung on the exterior of commercial buildings. This paper will explore the singularity of everyday urban space in South Korea by analyzing a series of experimental video works made by a contemporary Korean artist named Park June-bum that simulate the step-by-step process through which small-scale commercial signboards are attached to the exteriors of ordinary commercial buildings in the miniaturized models he creates for his videos. Although at first glance it seems that Park's works emphasize the presence of an omnipotent power manipulating everyday life, one comes to realize that there is a more subtle relationship between the sovereign power, represented by the physical hands in the films, and the activities of everyday life. In other words, in Park's works there is no real hierarchical order between the two realms in the sense that the "sovereign hands" always hesitantly follow what is occurring at the ground level without completely grasping and overriding it. What is thus disclosed throughout the videos is the singularity of everyday urbanism that each performance of sign attachment played by the artist deconstructs the ostensibly firm relationship between the accumulated signs and the "sovereign hands," and constructs the complicated relationships and spatial rhythms between the two realms. As Gilles Deleuze pointed out, power relations always "move one point to another" and generate "inflections, resistances, twists and turns" according to every change being made, the dynamic interplay between the sovereign power and the activities of everyday life opens up the multiple layers of affective and perceptive dimensions of everyday urban space that are always latent in Korean cities.
Gillian Pistell
Metropolitan Museum of Art
"Ray Johnson's Collaged Histories"
Ray Johnson's collages are palimpsests of materials, meanings and even chronology. His first collages were relatively simple, made from scraps of cardboard he saved from the dry cleaners where he had his shirts laundered, which he layered and then sanded down into small tesserae-like pieces he called "moticos." Moticos is an anagram of the word "osmotic," the adjectival form of osmosis or the gradual mingling of elements. Despite Johnson's claim that he chose this word randomly out of a dictionary, it aptly describes the development of his moticos collages; they gradually became more complex, layering materials like cardboard, paint, sand, glue and often cannibalized pieces of earlier collages. Indeed, little work remains intact from the early 1950s, but resurfaces piecemeal in later collages.

Johnson had a Google-like brain, a single word inciting an endless web of connections from one topic to another. This tangential train of thought not only emerged in daily conversation, but also in his collages. Each work contains a myriad of references, both visual and verbal, juxtaposing one idea with another, sometimes without any clear reason. Because of this, Johnson's collages were never "done"; he would return to one years later to add something else — another layer of materials and meaning — resulting in works dated such as "1968-72-73-75." This paper examines how Johnson used these collages as a way of creating his own version of history, using layers of visual and textual materials to relate people, places and events in novel ways. By exploring examples of Johnson's collages, I will show how Johnson defined a new historical record and challenged pre-existing ones, an early experiment in postmodern historical reinterpretation and construction.
Haneen Rabie
Princeton University
"Re-materialization in Recent Reuse Design"
Tejo Remy's ("You Can't Lay Down Your Memories") Chest of Drawers is itself a palimpsest. Each example of the chest, which was designed in 1991 and later produced for the Dutch design company Droog, consists of 20 discarded receptacles. Drawers, baskets, bins, desk trays, wine racks, baking dishes, all showing signs of use and wear, are encased in bespoke beechwood sleeves, piled together into the approximate shape of a circle and held precariously by a commercial cinch strap.

Considered together, the component objects materialize a critique of modern consumer culture and of design historically. But at the same time, the chest aestheticizes these castoffs with a loving hand. For each vessel, Remy has crafted a perfectly sized, hand-finished case. In the desired circular form of the chest, there is a childlike, poignant wish to reclaim a prelapsarian ideal. The circle offers not only to recuperate the bad design of the decades into an object that is beautiful and useful, but also (as the chest's title suggests) to remake whole the consuming subject by banding together fragments of memory and identity. In its engagement with the recent (modernist, industrial, personal) past, Remy's chest stakes out a position that is both critical and post-critical.

My paper considers Remy as part of a group of contemporary furniture and decorative art designers whose work incorporates waste objects. The category I will define as "reuse design" deviates from the modernistic drive toward clean, unblemished surfaces, minimalistic forms and technological solutions. It incorporates the partial, the obsolete, the ruined and the culturally effaced. I will ask how this palimpsestic treatment of modern material culture and design works simultaneously to critique and longingly rehabilitate the detritus of our socio-cultural-historical evolution.
Eliana Sousa Santos
Universidade de Coimbra
"Plain Styles in Hard Times: George Kubler and Juan Downey"
George Kubler, in "The Shape of Time (1962)," characterized the history of objects as sequences and series traversing time, dormant in some periods and awake at others. Dormant series could be awakened by catalysts and reappear. I would like to argue that Kubler's own ideas were catalysts that awoke of different series, both in art and architecture. His concept of plain architecture (1972) — originally referring to a previously unnamed type of Portuguese architecture in the period of economic and political crisis in the 16th and 17th centuries — was re-appropriated in recent times to become ubiquitous in the discourse of Portuguese architects. This concept was also appropriated by the artist Juan Downey on his artworks referring to the dynamics of economic crisis and artistic practice in 1970s New York.

The subject of scarcity appears often in Kubler's work. His interest in the subject of art and architecture emerged during the Great Depression, in 1936, under the influence of Henri Focillon's seminars on Mediaeval architecture. Similarly, Kubler's interest in Portuguese plain architecture and in the religious architecture of New Mexico related to the production of architecture with limited resources.
There has been an emergent interest in art history scholarship about Kubler's role given the fact that his work relates to 1970s artists like Robert Smithson, Donald Judd and Robert Morris. This presentation will expand on this subject, addressing his collaboration with Juan Downey.

Downey was born in Chile and, like is father, was trained as an architect. However he worked mostly as an artist. When he read Kubler's book about the artistic development of a time of crisis — "Portuguese Plain Architecture" — he saw a parallel with 1970s New York City at the time, and this inspired him to film a series with the underlying subject of art and crisis. This series, called "Hard Times and Culture," would focus on the development of artistic practice in 15th century Florence, 16th century Portugal, fin de siècle Vienna and New York in the 1970s. Downey only finished the film about Vienna, but it still resonates Kubler's idea about "an epoch of staggering economic difficulties above which painting, poetry and the theatre flowered imperishably."
Suzanne Singletary
Philadelphia University
"Memory, Time and the Palimpsest: The Photographs of Edgar Degas"
With the incursion of train schedules into daily life, the proliferation of pocket watches as portable aide memoires, and the standardization that came with the establishment of the Greenwich Meridian and rigorously delineated zones, the 19th century experienced a heightened sensitivity to the exigencies of time. Indeed, modernity was perceived in terms of temporality as global time-keeping became a cultural imperative, indispensable in assuring productivity and efficiency within a capitalist society. Inventions such as photography at midcentury and cinema during the 1890s both shaped and reflected this growing obsession — the former supplying an index of frozen moments; the latter mummifying movements in time and space.

Analyzing this phenomenon relative to Charles Baudelaire's poetry, Walter Benjamin wrote: "In the spleen, time becomes palpable; the minutes cover a man like snowflakes …" Baudelaire's embrace of modernity celebrated the contingent and fugitive, ephemeral images archived in memory and retrievable via imagination. Baudelaire, who detested photography and its concomitant mechanization, apotheosized music as the highest art. By its inherent abstraction, transience and linearity, music encapsulated the very essence of time. Similarly, painters confronted the task of imagining time as an essential ingredient of modernity. Just as public time was becoming uniform, artists conversely meditated upon the phenomenological and epistemological aspects of time, manifested in repeated renditions of specific subjects. One such motif was the dance. Mallarmé's famous proclamation, in response to Folies-Bergère dancer Löie Fuller, that "… the dancer is not a woman who dances … she is not a woman at all, but a metaphor …" can be read in terms of the collision between the corporality of many discrete moments of experience and their inevitable evaporation into illusion and memory.

Best known for his paintings and pastels of dancers, Edgar Degas was an accomplished photographer who deployed the camera's eye to probe the subjectivity that was the essence of his art. His late pastels and photographs of dancers in particular serve as records of multiple moments of perception and experience, collapsed within a single frame. Each is a palimpsest, a trace memory assembled from accumulated layers of lived time that serve as an index of the act of remembering. This paper focuses upon Degas's experimental photographic processes and proto-Cubist representations of dancers in which the artist not only fixed individual moments of time, but also compounded multiple, temporal strata to suggest sequential development in time and space. These works replicate the synchronic and diachronic structure of music, while revealing a privileged view of the multivalent, translucent layers of consciousness and memory.
Delia Solomons
New York University
"Perpetual Erasure: Mirrors and Identity Politics in 1960s New York"
A mirror is the ultimate palimpsest, a surface on which images are perpetually created, erased and recreated. As art historians, we mourn the total loss of those prior images. However, for artists of the mid-1960s, that impermanence proved irresistible and mirrors became ubiquitous in the New York art scene. The pliable and exciting medium was put to diverse use by Robert Morris, Julio Le Parc, Michelangelo Pistoletto, Robert Smithson, Yayoi Kusama, Joseph Kosuth and many others. For these artists, the medium also erased and rewrote conventional art-world dichotomies, challenging the divide between abstraction and figuration, the pictorial and the sculptural, and the real space of the viewer and the fictive space in the artwork.

When Uruguayan artist Luis Camnitzer and Argentine artist Luis Felipe Noé moved to New York in the mid-1960s, they responded to two concurrent booms in the New York art world: that of mirrors (1965–1967) and of Latin American art (1959–1966). Camnitzer and Noé used mirrors in their artworks to make viewers think about the nature of perception and representation — not only in the visual and psychological terms that interested their international contemporaries listed above, but also on a cultural and political level. In their writings, activism and artworks, Camnitzer and Noé challenged the way U.S. critics and curators produced a fictional unified distillation of "Latin America" in the face of its evident disunity. By enlisting mirrors, and particularly their property of continual erasure, these artists refused to offer any single fixed image of "Latin American art," instead catalyzing an opportunity for U.S. viewers to confront their own expectations.
Lynn M. Somers
Seton Hall University
"Temporality, Trace, and Ambivalence in the Work of Sally Mann"
The photographic oeuvre of Sally Mann is an uncommon archive in the postmodern era. Mann's pictures of her three young children in the bucolic Lexington, Virginia countryside where they grew up publicly tell the private stories of family, motherhood and a visual rhetoric of childhood that simultaneously mines the "purity" of innocence and sexuality.

The embodiment of a mother's desire at its most visceral physical, psychological and emotional states emerges in a series of multilayered, complex, deeply evocative photographs, many using 19th-century methods, including large format cameras and collodion processing. The near ferocity of Mann's photographs of her children — typically nude, sometimes verging on the erotic, climax in an image of the of sublime that has exposed her to repeated attacks of questionable morality and even child abuse. Begun in 1984 and first exhibited collectively in New York in 1992 as "Immediate Family," ethereal monochrome photographs of Emmett, Jessie, and Virginia (then ages 3 to 7) materialize from a depth of liquid blackness, resulting in surfaces redolent with sumptuosity and pictorial effects that recall the Victorian romanticism of both Julia Margaret Cameron and Lewis Carroll (Charles Dodgson). Yet scant critical attention has been offered to how one might frame Mann's "archaeological" project as emblematic of psychoanalytic — and ambivalent — maternal desire. "Immediate Family" mines the visual conventions of documentary and straight photography (Dorothea Lange, Edward Weston and Diane Arbus), and yet the artist stages many of her works as "photographic fictions," oddly aligning her with the pictures generation of the late 1970s and '80s.
My reading of Mann's work frames it as a kind of palimpsest: a visual field of stories, memories, experiences, indices and traces that build upon each another, year after year, as a kind of eternal return; Mann's tale of what it means to be painfully human and engaged as an artist and mother.
Karen Stock
Winthrop University
"Somatic Cartography: The Work of Susan Harbage Page"
In her work, Susan Harbage Page foregrounds the metaphorically and literally wounded female body. Her large black and white photographs combine imperfect flesh with a semiotic interrogation of the power and instability of sign systems. This discussion focuses on two series of works: A "Question of Beauty (2000)" and "Palimpsest (2004)."

"A Question of Beauty" was inspired when a child asked Page, during her battle with breast cancer, if she was a man or a woman. This series rehearses the moment when stereotypes break down and societal labels prove inadequate. Two dialectically opposed self-portraits are presented multiple times with different identifying labels such as Mother or Wife. In one photograph, Page wears stereotypically feminine attire and in the other her bald head and bare torso unflinchingly display the effects of the cancer treatment. The label inevitably breaks down thereby calling into question the viewer's preconceptions.
In the "Palimpsest" series, women map their individual trauma through marking on their nude bodies with a pen. The process of marking and then cleansing is documented in photographs. Through this cathartic exercise women document and then expunge their negative as well as positive emotional experiences. Instead of using prescribed labels the women use a personal mark-making system that uses their own bodies as the "parchment" in the creation of these living palimpsests. Page illuminates a language of the flesh in which wrinkles and scars are the foundational layer that can never be entirely wiped clean. Both series subvert the idealized notion of the feminine body and provide a way to map femininity through a personal cartography in which irregularities are confidently exposed rather than disguised.
Erin Thompson
John Jay College, City University of New York
"The City as Palimpsest: Cycles of Deconstruction and Reconstruction in Ancient Babylon"
Babylon, whose mudbrick buildings crumbled and were rebuilt, crumbled and were rebuilt, for 3,000 years. Babylon, where Hammurabi wrote his code of laws and Nebuchadnezzar built his Hanging Gardens, one of the Seven Wonders of the World. Babylon, encrusted with gaudy reconstructions built atop ancient ruins by Saddam Hussein, seeking to legitimize his rule by drawing links between himself and Nebuchadnezzar. Babylon, looted by Iraqis after the fall of Saddam, taking revenge on his possessions when they could not reach his person. Babylon, made into a military encampment by victorious American troops, who destroyed the bricks of the ancient Processional Way with a celebratory tank parade and built fortifications by filling sandbags with bone- and pottery-rich earth from the archaeological area. Babylon, current subject of a multimillion dollar reconstruction initiative by the U.S. State Department, the World Monuments Fund and Iraq's State Board of Antiquities and Heritage.
This presentation will explore Babylon as a crucial case study for the city as palimpsest. I will first introduce the sustained longing in the modern era to reconstruct Babylon through description, representation and archaeological excavation, all of which sought to overwrite the site's aesthetically unappealing stubs of mudbrick walls in order to make the city better accord with our perceptions of its past importance. I will then explore the ways in which political and social factors led to the particular types of reconstructive and destructive actions acted out on the site during the rise and fall of Saddam. Finally, I will point out the potentials and pitfalls of the current reconstruction effort. Will it be true to the past and serve as a model for the architectural rebuilding of Iraq? Or will it serve as yet another manipulation of history, this time in favor of a different set of victors?
Elise Trucks
University of Tampa
"The Changing Shape of Louise Bourgeois's 'Femme-Couteau': the Knife-Woman as Layered Object"
Throughout her illustrious career, Louise Bourgeois reimagined her femme couteau — her "knife woman" — charting historical and ahistorical factors of female figuration. At once blade and woman, the femmes couteaus are objects layered by time, exhibiting an active engagement with the earliest extant examples of anthropomorphic art. The always ambiguous knife woman begins in the 1960s as a polished marble fusion of knife and woman, a small glowing object reminiscent of Paleolithic "Venus" carvings. It is both woman and knife and neither, written over by the suggestion of violence, both as perpetrator and victim. In subsequent reimaginings, the knife woman sprang forth again on the occasion of two of Bourgeois' retrospective exhibitions. The form and media change dramatically. In her latest revisitation, the woman and knife become separate, while the woman loses several appendages. She is cloth. The knife, a store-bought blade, is literalized. I argue that the dramatically changed forms of the femmes couteaus over time result from the artist's engagement with her own body of work. They are a rewriting of a work that is itself constantly becoming knife and woman, while never being exactly either.
The analysis depends necessarily on the artist's relationship with feminisms over time. For this reason, I appropriately examine the changing forms of her femmes couteaus through the lens of feminism, both as historical movement and critical mode. As the work of Bourgeois is self-consciously ambiguous in general — particularly with her knife women — and as the artist framed her artistic production in psychoanalytic terms, this study also takes a psychoanalytic approach. These analytical strategies lend themselves to the topic of palimpsest, showing Bourgeois' femmes couteaus and the human figurative artistic tradition itself as layered objects of inquiry.
Rebecca C. Turner
SCAD
"Layers of Meaning in 12th-century Churches in Rome"
A stunning revival of church building in Rome in the 12th century, most famously represented by the churches of San Clemente, San Crisogono and Santa Maria in Trastevere, surpassed in size and splendor churches built in that city over the previous 300 years. Rejecting Romanesque developments taking place in Europe north of the Alps, such as the inclusion of stone vaults and ambulatories, these churches instead incorporated traits that are reminiscent of churches built in Rome after the legalization of Christianity in the fourth century under Constantine. These 12th-century Roman churches exhibit traditional traits such as the standard basilica plan, the inclusion of spolia, and rich interior decoration in mosaic and marble. Rather than reflecting a lack of creative originality, however, the designers of these churches deliberately utilized the plans and décor of Rome's early churches to evoke an array of meanings specifically local to the city of Rome and the power of the church headquartered there. The viewer would have been confronted with plans and décor deeply symbolic of not only churches from Rome's glorious past, but also with themes suggesting the newly expanded powers of the church under the Gregorian reforms of the late 11th century. The purpose of this paper is to explore the various layers of meaning embedded in this recycling of early Roman church plans, décor, architectural materials and techniques, and to discern how these churches would have been perceived by contemporary viewers.
Michelle Apotsos
Michelle Apotsos, Ph.D., is currently a research fellow at the National Museum of African Art, Smithsonian Institution, in Washington D.C., and will begin an assistant professorship in the arts of Africa at Williams College in the fall of 2014. Apotsos earned a B.A. from the University of North Carolina at Chapel Hill, an M.A. from Tufts University, and her Ph.D. in African Art and Architectural History from Stanford University.
Her research interests include African and Afro-Islamic architecture and visual culture, architectural theory, cultural syncretisms, materiality and medium-based analyses, and the material impacts of globalization in the developing world.
Apotsos was a Peace Corps volunteer in Mali, West Africa, from 1999 to 2001, and maintains an active research interest in the visual and architectural culture of the region.
Kris Belden-Adams
Kris Belden-Adams received her Ph.D. in modern and contemporary art history with a specialization in the history of photography from the City University of New York Graduate Center. She also earned an M.A. in art history, theory, and criticism with a concentration in contemporary art from the School of the Art Institute of Chicago, Illinois.
Adams' scholarly work on the history of art, photography and visual culture has been published by the Metropolitan Museum of Art, "Afterimage: The Journal of Media Arts and Cultural Criticism," "The International Journal of Technology, Knowledge and Society" and "Cabinet." Prior to joining the University of Mississippi art department in the fall of 2013, Belden-Adams was an assistant professor and interim liberal arts chair at the Minneapolis College of Art and Design in Minnesota.
Remei Capdevila-Werning
Remei Capdevila-Werning is an adjunct professor of philosophy at Fairfield University in Connecticut. She received her Ph.D. in 2009 from the Universitat Autònoma de Barcelona, with a dissertation on Nelson Goodman and architecture, and a master of science in architecture studies in history, theory and criticism of architecture and art from the Massachusetts Institute of Technology in 2007. Capdevila-Werning has been a visiting scholar at the universities of Potsdam, Harvard and Columbia, and her research interests include analytical aesthetics and epistemology, philosophy of architecture, and philosophical issues concerning architectural conservation, monuments and memorials.
Among Capdevila-Werning's publications are: "Goodman for Architects (2014)," "From Buildings to Architecture" in "Re-thinking Aesthetics: Role of the Body in Design (2012)," "Can Buildings Quote?" from the "Journal of Aesthetics and Art Criticism (2011)," "Das Gedächtnis der Namenlosen: Benjamin – Karavan," in "Profanes Leben: Zur Dialektik der Säkularisierung bei Walter Benjamin (2010)."
Kristin deGhetaldi
Kristin deGhetaldi is a paintings conservator with extensive experience in the technical analysis of Old Master paintings. Prior to graduating from the Winterthur/University of Delaware in 2008, she spent more than two years in a private restoration studio in Florence, Italy, working on easel paintings and frescoes damaged by the 1966 Florence Flood. DeGhetaldi has also participated in internships and conservation positions at the J. Paul Getty Museum, the Rijksmuseum in Amsterdam and the Museum of Rhode Island School of Design.
She earned a post-baccalaureate certificate in conservation in 2004 at the Studio Art Centers International in Florence, Italy, and a B.A. in chemistry from Grinnell College in 2003. DeGhetaldi also served as the Andrew W. Mellon fellow in painting conservation at the National Gallery of Art, where she worked on a number of important Italian paintings. She is currently enrolled in the Ph.D. preservation studies program at the University of Delaware, focusing on the changeover from tempera to oil in Early Italian paintings.
Justin Greenlee
Justin Greenlee earned a bachelor's degree in art history from Kenyon College in 2009, and expects to graduate from the master's program in art history at the University of Alabama this year. Prior to returning to graduate school, Greenlee worked as a Eugene McDermott Educational Intern at the Dallas Museum of Art, an artist's assistant at the Nashville Cultural Arts Project: Seed Space, and an international intern for the Peggy Guggenheim Collection in Venice, Italy.
His research pertains to topics in Medieval and Renaissance art in Italy, specifically objects that are created, acted on and restored many times — works that frustrate a study of the "moment" of creation, instead demanding an analysis that moves across time and geographic borders.
Brett Littman
Brett Littman has been executive director of The Drawing Center since 2007, bringing to the table his experience as a writer, critic and an administrator. For nearly 20 years, he has contributed news and commentary to a range of international publications and critical essays to many scholarly catalogues.
As a curator, Littman has organized a number of noteworthy exhibitions for the center and other galleries and museums. For The Drawing Center, he curated "Yüksel Arslan: Visual Interpretations"; "Greta Magnusson Grossman: Lighting and Furniture"; and "Leon Golub: Live & Die Like a Lion?," which was awarded the Best Show in Non-Profit Gallery award by the International Association of Art Critics USA in 2010. He also curated "Drawing and its Double: Selections from the Istituto Nazionale per la Grafica, Rome (2011)" and co-curated with Joanna Kleinberg "Sean Scully: Change and Horizontals."
Along with his curatorial responsibilities, Littman collaborates with board and staff members to frame The Drawing Center's vision and strategic course. He oversees all aspects of running and programming the museum, and managed and oversaw the center's $11 million capital campaign and building expansion, which was completed in November 2012.
Linda Nolan
Linda Nolan is adjunct assistant professor of art history at John Cabot University, Rome. She received her Ph.D. from the University of Southern California, Los Angeles, with a focus on early modern Italian art and ancient Roman sculpture. Nolan's current research focuses on the history of collecting and display, mobility of meaning, and theory of response to art and material culture in early modern Rome.
She is currently working on a book project on the impact of finishing new St. Peter's Basilica, as well as essays on the history of chapel design, the reception of Michelangelo and classical material culture, and on the social meaning of anecdotes related to famous monuments in Rome.
From 2006-08, Nolan was a Samuel H. Kress Pre-doctoral fellow in residence at the Bibliotheca Hertziana, Rome, and in 2008-09, a fellow of the American Association of University Women. Nolan also received grants to support her travels from the Dorot Foundation of the Archaeological Institute of America and the American Academy in Rome, Summer Archaeology Program.
In early 2012, Nolan helped found the new "Rome Society" of the Archaeological Institute of America. Her essay about a sculpture by Gianlorenzo Bernini, "The Simulacrum of St. Bibiana: Expression and design in early 17th century Rome," will be published in the collection "The Eternal Baroque: Essays in Honor of Jennifer Montagu," forthcoming in 2014.
Seunghan Paek
Seunghan Paek is a doctoral candidate in the department of history of art at The Ohio State University. His research interests focus on contemporary urbanism in Asia, Europe and the U.S., with a particular interest in philosophical discourses of the everyday, theories of affect and issues of community.
Paek's dissertation focuses on the phenomenon of commercial signage in Korean urbanism, and the aesthetic, ethical and political questions it raises. His essays and book chapters have appeared in the "Journal of Asian Architecture and Building Engineering;" "Instant Cities: Emergent Trends in Architecture and Urbanism in the Arab World;" and "Regional Architecture and Identity in the Age of Globalization."
Paek has been awarded a presidential fellowship provided by the graduate school at The Ohio State University, with which he is currently completing his dissertation titled, "Urbanism, Signs, and the Everyday in Contemporary South Korean Cities."
Gillian Pistell
Gillian Pistell is a Ph.D. candidate in art history at the Graduate Center, the City University of New York. She earned a B.A. from Colgate University in 2008, double majoring in history and art history, and her M.A. in 2010, from the graduate program in the history of art, Williams College. She is currently a research assistant in the modern and contemporary art department at the Metropolitan Museum of Art.
Prior to this position, Pistell was the researcher for the Ray Johnson Estate and Hollis Taggart Galleries, both in New York City. She has published work on Theresa Bernstein and Ray Johnson for various exhibitions on the artists, and is beginning work on her dissertation, which will address Ray Johnson and his multifaceted practice.
Haneen Rabie
Haneen Rabie is a Fulbright scholar and earned a B.A. with honors from Harvard University. Her research focuses on the history and theory of decorative art and design in the modern period.
Rabie's M.A. thesis at the Bard Graduate Center considered Palestinian embroidered folk costume as a site of resistance, and she is currently working toward a Ph.D. in the department of art and archaeology at Princeton University, where she is also a Mellon Foundation research assistant at the Princeton University Art Museum. Rabie's dissertation will address recent reuse design and its potential for social and design-historical critique.
Suzanne Singletary
Suzanne Singletary, Ph.D., is an associate professor in the history of art, architecture and photography at Philadelphia University, Pennsylvania, and has participated in national and international symposia. She has lectured at American and European museums including the National Gallery of Ireland, Dublin; the National Gallery, London; the Tate Britain, London; the Art Institute of Chicago, Illinois; the Philadelphia Museum of Art; the Pennsylvania Academy of the Fine Arts; the National Gallery, Washington, D.C.; and the Taft Museum of Art, Cincinnati, Ohio.
Singletary has published on Delacroix, French symbolism, Goya and contributed to the catalog, "Impressionist Interiors," at the National Gallery of Ireland. Her essay on Manet and Whistler appeared in "Perspectives on Manet (2012)," and she will contribute to the anthology, "Rival Sisters," this year. Singletary's book, "James McNeill Whistler and France: A Dialogue in Paint, Poetry, and Music," is under contract with Ashgate Publishing.
Delia Solomons
Delia Solomons is a doctoral candidate at the Institute of Fine Arts and a fellow at the Humanities Initiative at New York University. Her research interests include 20th-century art of the Americas and Europe, and the politics of display, visual culture and globalization. Her dissertation examines U.S. reception of Latin-American art in the 1960s.
Solomons has worked as an adjunct professor at NYU, writer/researcher/editor at the Solomon R. Guggenheim Museum and curatorial assistant at the Grey Art Gallery. Her writings have been published in "In the Distance (2011)," "Notation: Contemporary Art as Idea and Process (2012)," "Encuentros con los '30 (2012), and "Journal of Curatorial Studies (forthcoming)." She has presented papers at the College Art Association, Princeton University, Massachusetts Institute of Technology, Pratt Institute, University of Texas at Austin and Latin American Studies Association.
Lynn M. Somers
Lynn M. Somers is an independent scholar in modern and contemporary art history and criticism in New York City area. She earned a Ph.D. at Stony Brook University and is currently an adjunct assistant professor of art history at Drew University, where she teaches history of photography.
Somers' publications include "A Taste for Sham: Examples of Perversion and Suffering in Contemporary Art," in "Dialectical Conversions: Donald Kuspit's Art Criticism (2011)" and essays in the "Encyclopedia of Twentieth-Century Photography (2005)," and "The Encyclopedia of Sculpture (2003)."
In February, she presented papers on Sally Mann at The Feminist Art Project's panel "The M-Word: Motherhood and Representation" at the College Art Association's 102nd annual conference in Chicago, Illinois, and "Psychoanalysis as Art and Cure: Louise Bourgeois from Beginning to End" at the Future Bourgeois: Symposium and Workshop, National Gallery of Modern Art, Scotland, Edinburgh.
Eliana Sousa Santos
Eliana Sousa Santos earned her Ph.D. from the London Consortium and is an architect, researcher and educator. She has worked at West 8 and at Sousa Santos Arquitectos, and is a postdoctoral researcher at Centro de Estudios Sociais, University of Coimbra, with the project "George Kubler's Shape of Time: The Historiographical effect of Portuguese Plain Architecture in Post-revolutionary Portugal."
Erin Thompson
Erin Thompson is an assistant professor of art law and art crime at John Jay College, City University of New York. Both an art historian and a practicing attorney, Thompson's work focuses on the damage done to humanity's shared history by the looting and smuggling of antiquities.
Her book on the history of the private collecting of antiquities, "To Own the Past," will be published by Yale University Press in early 2015.
Catherine Elise Trucks
Catherine Elise Trucks earned an M.A. in history of art in 2009 from the Courtauld Institute in London and her B.A. from Columbia University in 2007. Trucks served as managing editor of "International Street Photographer" throughout the magazine's inaugural year. She currently teaches as an adjunct professor at the University of Tampa, Florida.
Register through Eventbrite and reserve your space now for "Palimpsest: The Layered Object."
Have questions or need additional information? Email the symposium organizers.