Be it baseball, football, basketball or soccer, fans may think it's pure sport that draws them in. But the electric atmosphere surrounding the World Cup, for example, is partially the result of the players' exquisite athleticism and partially the result of long hours put in, and deliberate decisions made, by designers like Savannah College of Art and Design alumna Emily Choate (B.F.A., graphic design, 2005), lead designer for the U.S. Soccer Federation.
The club may not have advanced, but thanks to Emily and her team at Stone Ward in Chicago, who have worked with U.S. Soccer for five years, feelings of patriotism, a shared sense of pride and adrenaline, albeit mellowed, still hang over the remainder of the World Cup games for fans of U.S. Soccer. You wouldn't have known it by passing a pub on the day of a match, but the job of rallying a country and that kind of intensity behind U.S. Soccer, which typically plays second fiddle to American football, basketball or baseball, was no easy task. 
Emily's work touched every piece of collateral that one could imagine being associated with the World Cup, and many others you wouldn't think to imagine, from ticket design and swag (i.e., t-shirts and scarves), to email signatures, bus wraps, stadium graphics and bar regalia (i.e., posters and coasters).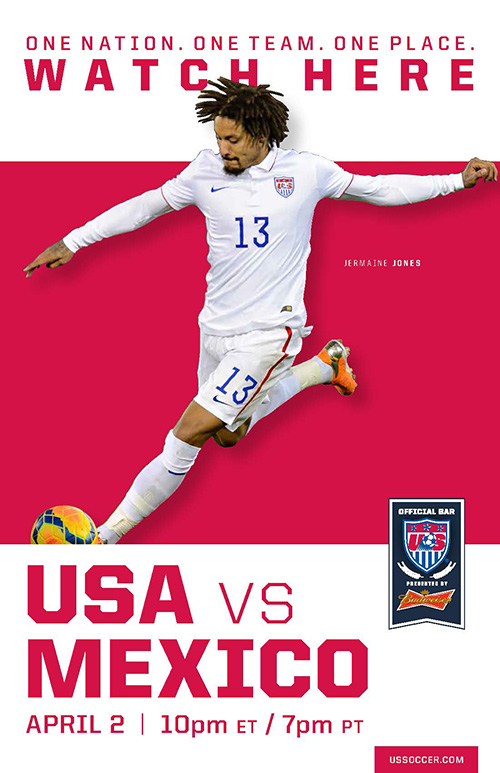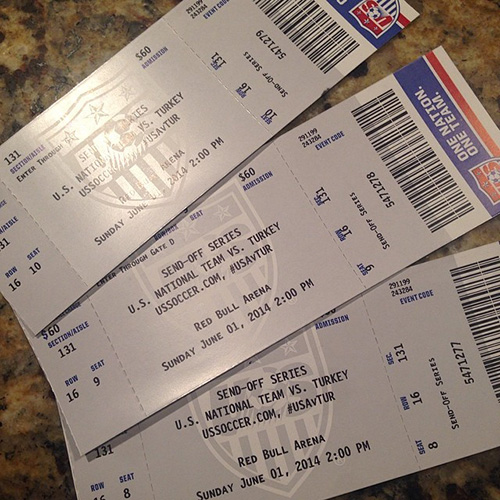 Here's Emily on designing U.S. Soccer's "One Nation. One Team." promotional and awareness campaign for the Men's and Women's World Cup, finalized in November 2013 and rolled out to the public in January 2014.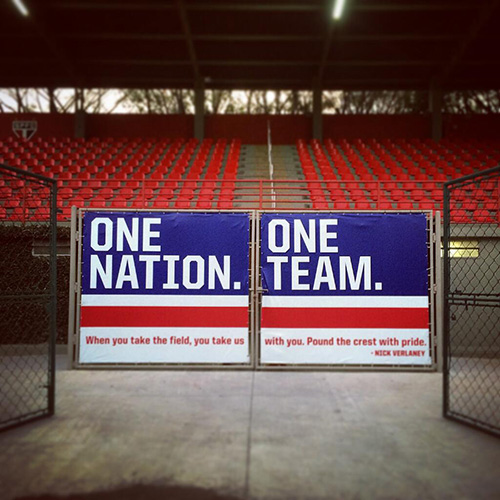 Thread: What was the brief that you received from U.S. Soccer?
Emily: 'We need a more coordinated campaign across all our platforms, a unifying iconic statement and look that is big enough and simple enough to engage with all Americans during the world's largest event.'
T: How many people are on your team and what were their roles?
E: We are a close-knit team of brand managers and creatives. Our intern, a SCAD undergrad, Jackson Bernard's (B.F.A., graphic design) first day was the first day of the World Cup. During the Ghana game, he worked fast and furiously with our brand manager, myself and the client and his team in the U.S. Soccer Federation social hub. He's with us for the rest of the summer.
T: What considerations go into crafting a design for an event as visible as the World Cup?
E: Especially for a World Cup year, you need to make sure your message and approach are invigorating within your base (existing fans, casual and hardcore), as well as a nation of potential new U.S. fans. What we found was that the campaign even captured the hearts of people all over the world.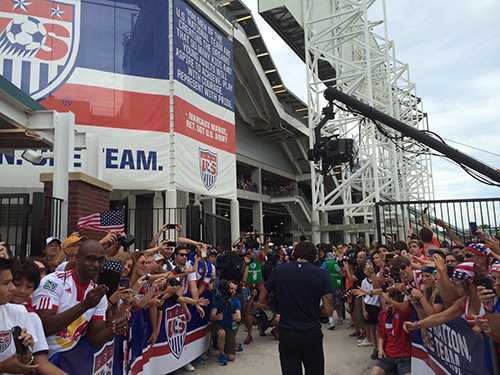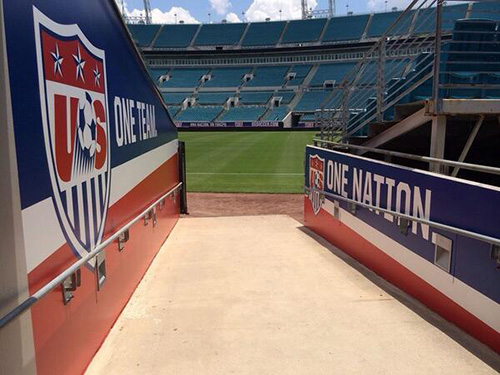 T: How long did it take to arrive at the final design?
E: As for the overall design aesthetic and tagline, we worked with U.S. Soccer through various concepts, honing down to our final design for about two to two and a half months.
T: Why is the design you went with – One Nation. One Team. - the right one for U.S. Soccer? How does it fit the brand?
E: It's clean. It's pure. It's American. It also connects fans and players interwoven on the same journey in the most simplistic way. There is a Women's National Team, a Men's National Team and Youth National Teams, all representing the U.S. One Nation. One Team. And the blue, white and red bands (also similar to the 2014 away jersey) always run through the entire width of a design piece, showing a united nation behind our colors.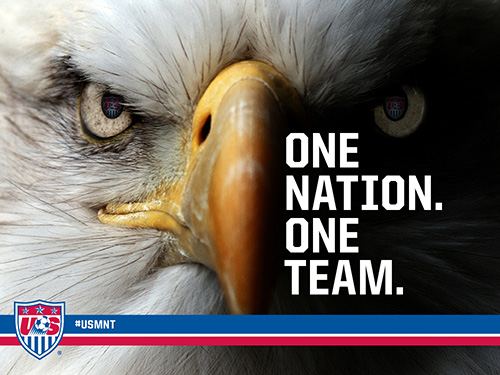 T: How is designing for a professional sports team different than designing for other brands?
E: Preplanning and strategy are important. Having a good plan in place helps because you always have to be prepared to capitalize on opportunities when they come about. Sometimes you have six months to prepare for things, sometimes you have 20 minutes, and in the event of live graphic creation for social media during a game after a goal you have less than a minute or two to get something out to the fan base of followers that is celebrating that moment.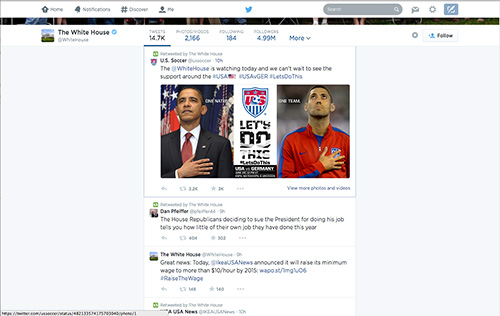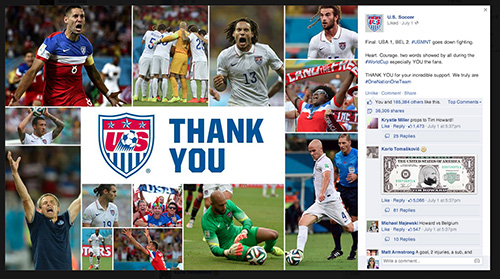 T: How does the U.S. brand compare that of their opponents?
E: We've seen a lot of club teams in the EPL that do design well. But on the country level, soccer is the number one sport among most other countries. They don't have to do too much marketing/design to rally their countries around a team. In the U.S., where soccer isn't the number one sport, you have to compete and promote a little differently. I think after this World Cup we are finally changing the perception about the world's sport among many Americans.
T: How do you measure the success of the design?
I believe the best design is the kind you don't have to tell people about. If it's effective enough, people see it, are affected by it and notice it on their own.
T: What else would designers or soccer fans find interesting about this campaign?
E: To do this job well you have to separate your fandom and work. I love soccer. U.S. Soccer is my team. When it comes down to watching games or working at games, you have to put yourself into work mode so that you can focus on sharing an experience with the fan rather than getting lost in the moment as a fan. 
T: When did you become a soccer fan?
E: I played in high school. I became a World Cup lover in 1998 while traveling with family through Europe, and became a Women's National Team fan in 1999 when they had their second World Cup win. I became a huge U.S. Men's National Team fan during the 2010 World Cup. I can't single out any particular player, it's such a team sport.
T: How does it feel to turn on the World Cup and see your work?
E: Seeing your work on TV always feels good, but what's really rewarding is knowing that the work is inspiring a nation and especially the team. It's more about knowing that I'm part of the team that is working to show the Men's National Team that a nation is behind them. We collected fan messages and have carefully placed them in locations on the Men's National Team's journey from training camp in May all the way throughout the World Cup. Whether it's a quote at their training camp, in a stadium, in a locker room, or even inside the jersey, we truly let them know in a unique way that their nation was with them the entire way.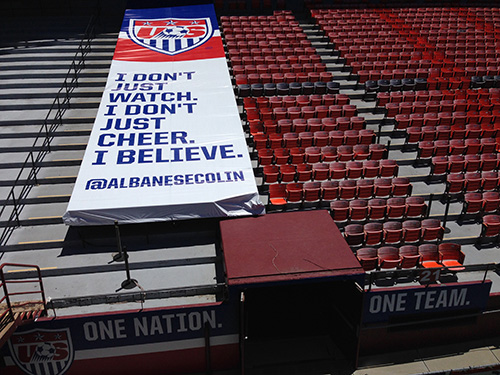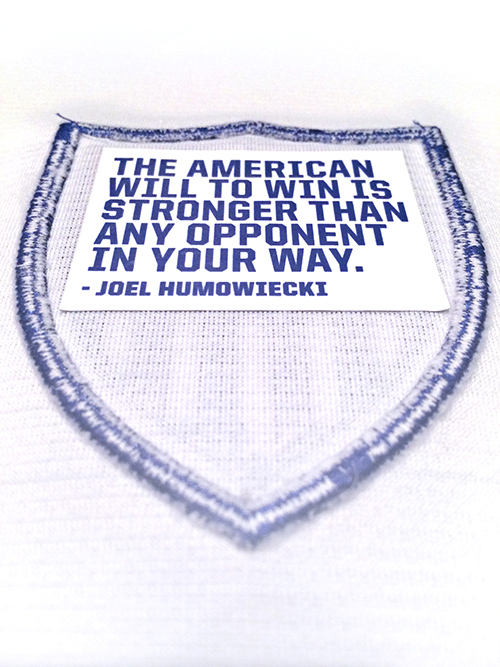 T: Is this the job you envisioned yourself having while you were studying at SCAD?
E: I wanted to be a graphic designer since I learned that it is a real career. When I went to SCAD, I remember one of my professors talking about a former student who was the designer behind the Super Bowl logo that year. I thought to myself, "Maybe one day I'll be doing that." I know very little about football, but the magnitude of the Super Bowl is something I know very well. Now I'm creating graphics and helping strategize campaigns for the U.S. National Teams, which play in the world's largest sporting event. It's humbling.
T: What's the best design advice you've received and given?
E: Received: Pick your battles. Given: Do what you love and believe in. It shows in your work and the people affected by it.
If that's the case, then the hearty response of U.S. Soccer fans to their team's World Cup run would seem to indicate that Emily has found work she truly loves.