The Bowerbags 2011 Kickstarter campaign was my first foray into crowdfunding.
You know the feeling you get when you empty your pockets on laundry day only to find a five or ten dollar bill that you had completely forgotten about? There is arguably nothing more satisfying than when you find free money, especially if it's for your growing business.
It was precisely that feeling that moved me to load up my car and spend five days sharing my project in downtown Jacksonville last year at the inaugural One Spark festival, slated this year for April 9-13.
One Spark, dubbed the 'world's crowdfunding festival,' is a creative safe haven of music, art, and technology, designed to help creators showcase their talents and score some cash for it. Whether you're a musician, a maker, mural painter, printmaker, hacker, or even an organic farmer, the sky is the limit at this event.
Imagine the scene: creators displaying and demoing their projects, which span every imaginable genre, while festival goers vote for as many projects as they like through a mobile app. Every vote my company, Bowerbags, took in last year wound up being worth somewhere around five dollars. (Not too bad for spending the days with my girlfriend and brothers strolling downtown Jacksonville, and far more interesting than anything I do on laundry day.)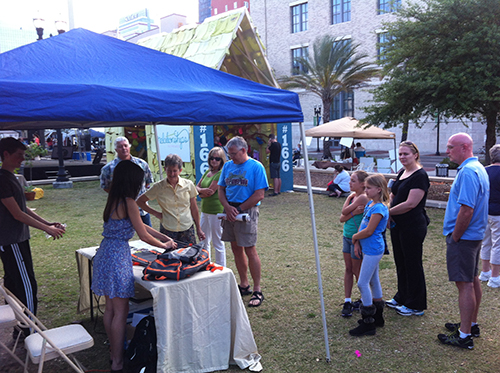 Outside of the money, it was a great way to validate the product line with face-to-face consumer feedback. We also gained some great industry contacts and further press coverage just from people stopping by the booth.
Woody Allen said, "90% of success is just showing up." I definitely found this to be the case with last year's One Spark. Based on that turn out of 130,000 people, I'd say it's a fair wager that this year's festival will be even bigger, and more profitable.
If five days of art, music, and technology sounds fun, but you'd rather not do any work, then get down to Jacksonville anyway. The One Spark events go all day and all night and, even if you don't have a business yet, the festival is a great way to network and meet project supporters.
To read some festival success stories and register your project for One Spark, go to http://www.beonespark.com/participate-creator. Students with a .edu email address can register for free until January 31, which is the deadline for Creator applications.
Jamie Bowerman (B.F.A., Graphic Design, 2004) is a SCAD graduate student (M.A., Industrial Design) and founder of Bowerbags. Jamie enjoys all things innovative and spends most of his time thinking of new ways for people to carry things. Follow Jamie on Twitter @bowerbags.