One last nod to Mother Earth before Earth Month slips away. Behold the thought-provoking and stunning pieces that comprise the Hong Kong exhibition, "Waste to Art." The show is a result of HSBC's partnership with 29 Savannah College of Art and Design freshmen to raise environmental awareness within the bank's community. In three months time, the students made sculptures composed entirely of recycled waste provided by the bank, including plastic, paper, and electronics. The 23 sculptures, which bear the fruit of the students' diverse academic pursuits at SCAD Hong Kong as much as they do an astute social conciousness, will be displayed at HSBC locations until June 22. Additionally, HSBC is considering adding several of the pieces to its permanent art collection, which includes works by Chinese and western artists, like George Chinnery.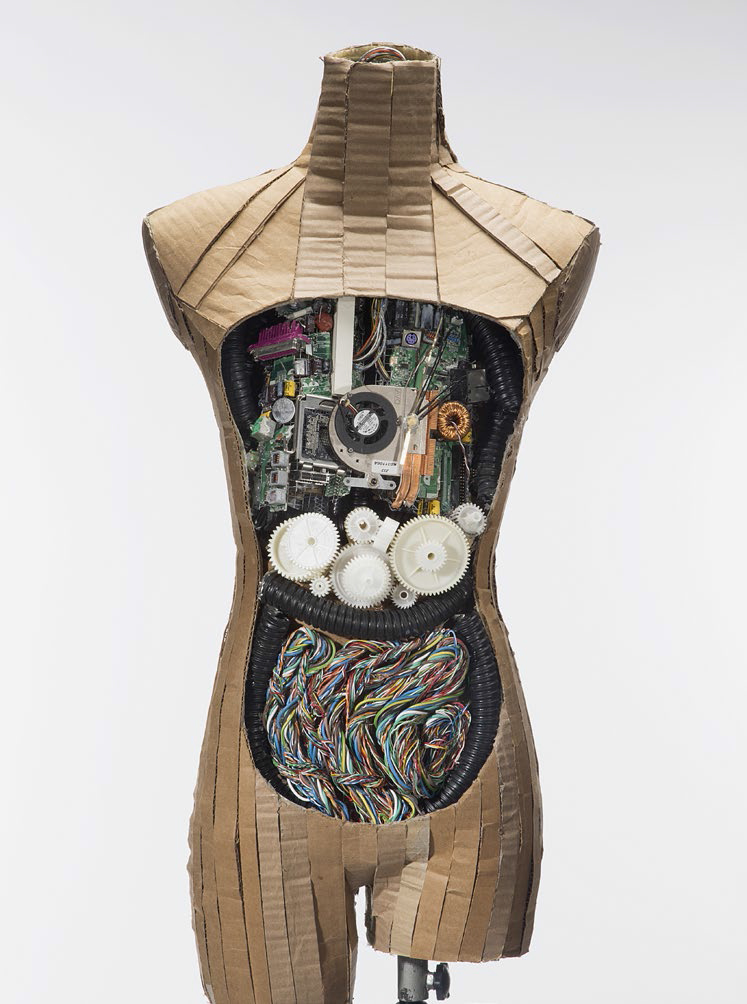 "E-body" by Abinanth Ashok (B.F.A., visual effects) and Mariam Zamani (B.F.A., graphic design). Made of cardboard, wire mesh, cable wires, clock, motherboards and printer gears.
E-body represents a human race that contains electronic parts which many of us carelessly discard. It foretells the future of mankind if timely precautions are not made.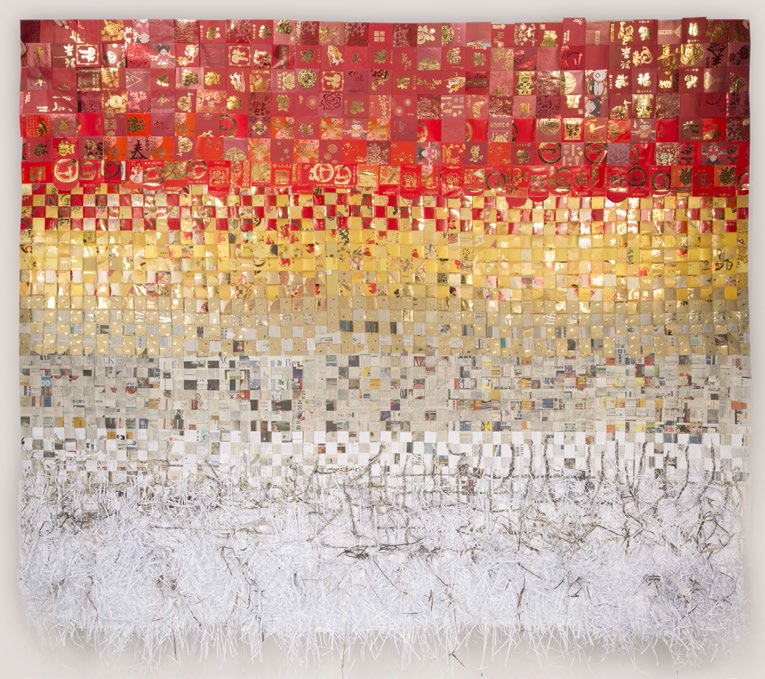 "Lai See/Paper Tapestry" by Rhéa Duckworth (B.F.A., advertising) and Rhea Nayar (B.F.A., architecture). Made of newspaper and shredded paper.
Lai See/Paper Tapestry was inspired by one issue: We sought to portray the falling motion of waste entering the landfill, where 25% of Hong Kong's paper ends up.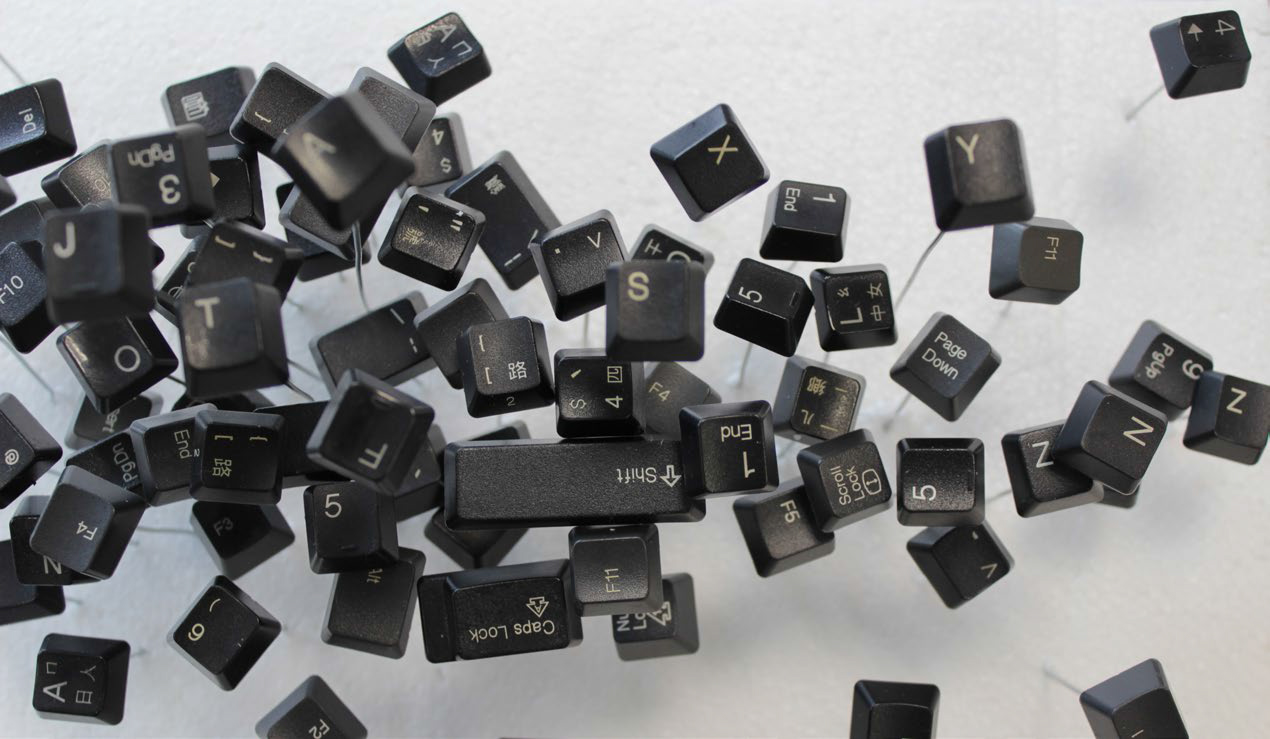 "Tech Smog" by Anastasia Simone (B.F.A., advertising) and Jonathan 'Jay' Lee( B.F.A., advertising). Made of keyboards and wires.
Tech Smog represents a sinister cloud because this deadly form of pollution is not often brought to light. It's about treating e-waste like dangerous pollution. We believe recycling is not enough. We don't really want to make something look like waste. We want to make something that looks like art, not just screaming 'recycling.' It's just there quietly and sends you the message that you don't really have to think about it.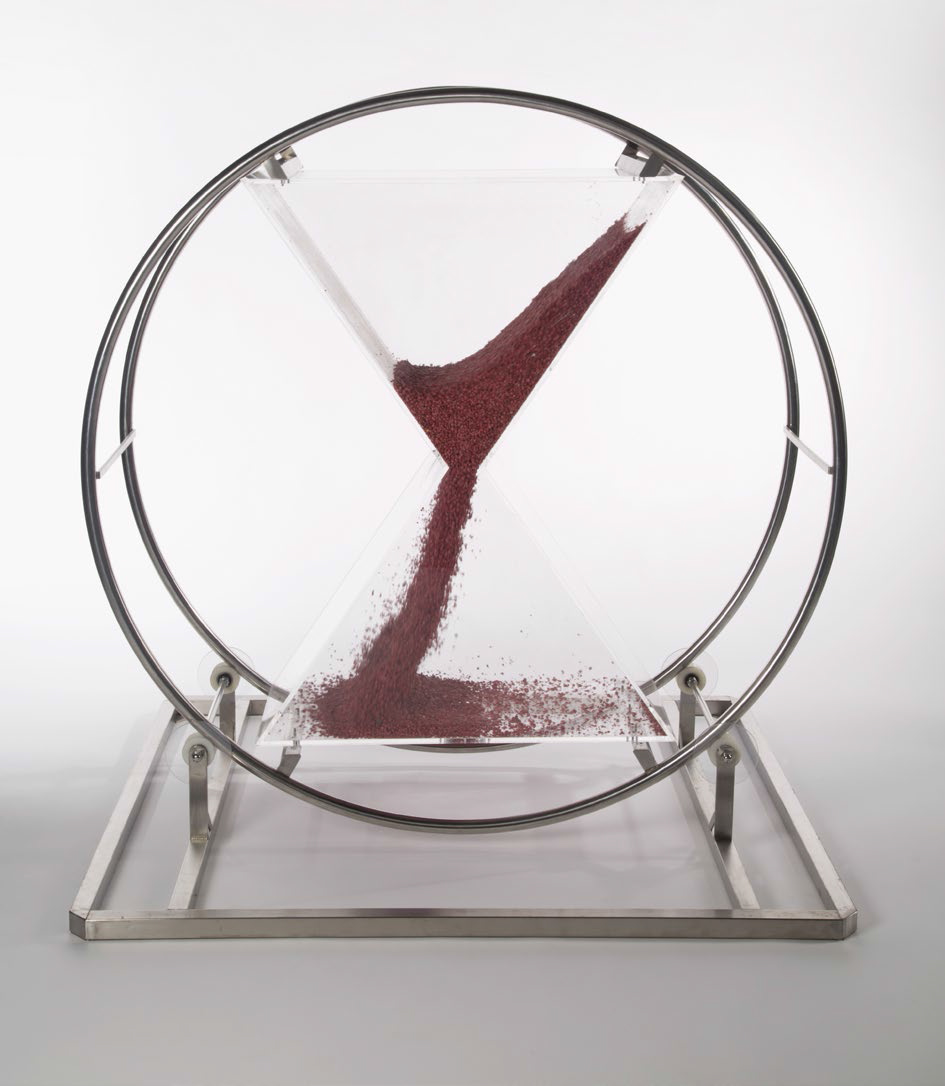 "I wasted time, and now doth time waste me" by Inga Nelli (B.F.A., painting). Made of steel, acrylics and recycled plastic pellets.
The monumental hourglass, with waste trickling down, reinforces the idea that time runs out as waste becomes a permanent part of our nature. Viewers are invited to invert the hourglass.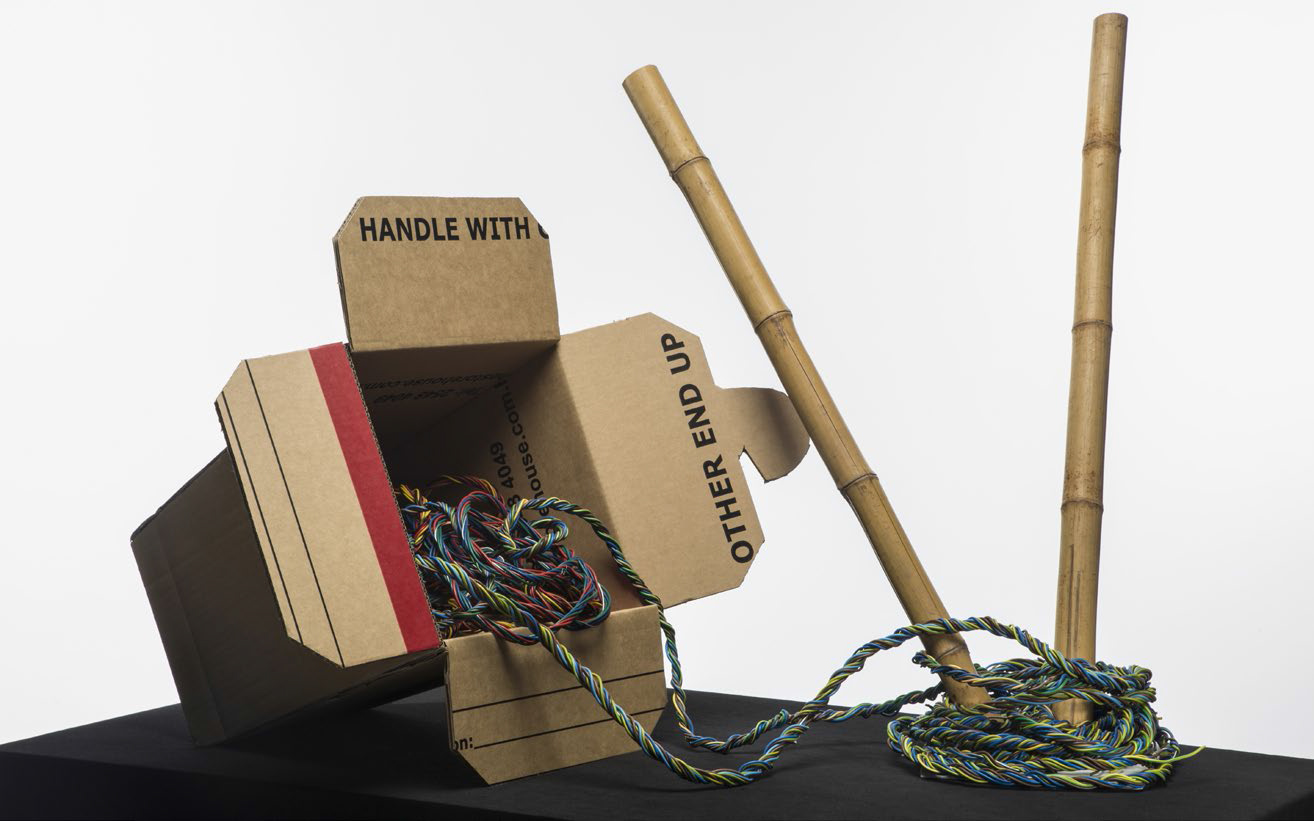 "Take-A-Waste" by Daniel Kostianos (B.F.A., graphic design). Made of cardboard, cables and bamboo.
Based on the premise of consuming less and reducing more, this piece is made entirely out of discarded computer cables, cardboard and a pair of bamboo sticks rescued from the rubbish bin.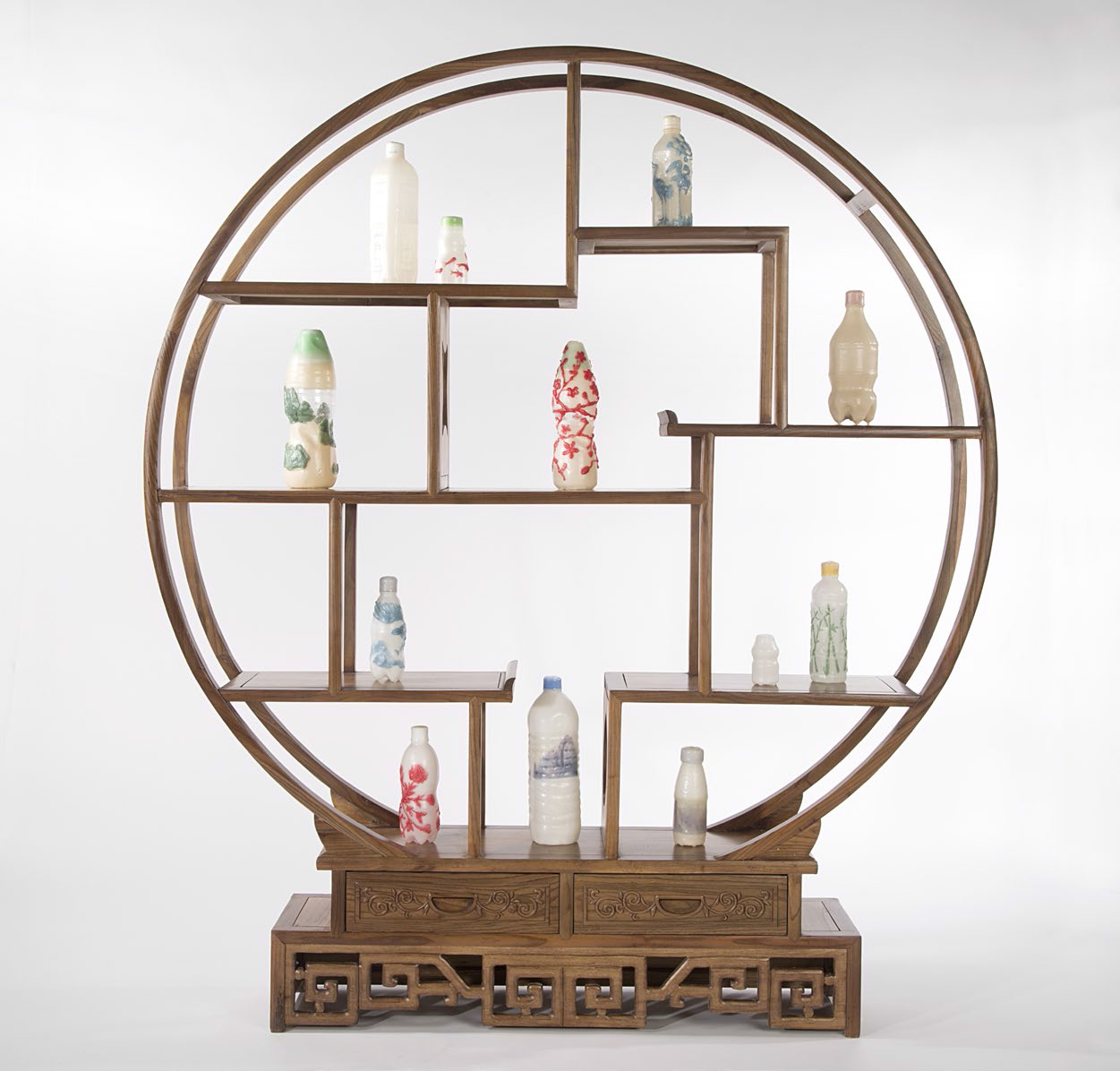 "Plastic is the New Porcelain" by Dawn Bey (B.F.A., fashion). Made of plastic bottles and wax.
By making plastic bottles resemble modern-day Ming vases, this piece elevates the status of such material into imperial ornaments, leading viewers to reflect on the widespread usage of plastic in our society today. I melted wax and dipped the plastic bottles and coated them a few times until they look really smooth, like porcelain. I made three types of bottles: plain, a layer of rice paper under a layer of wax, and wax printed on wax. All made of classic Chinese imagery like bamboo and plum blossoms.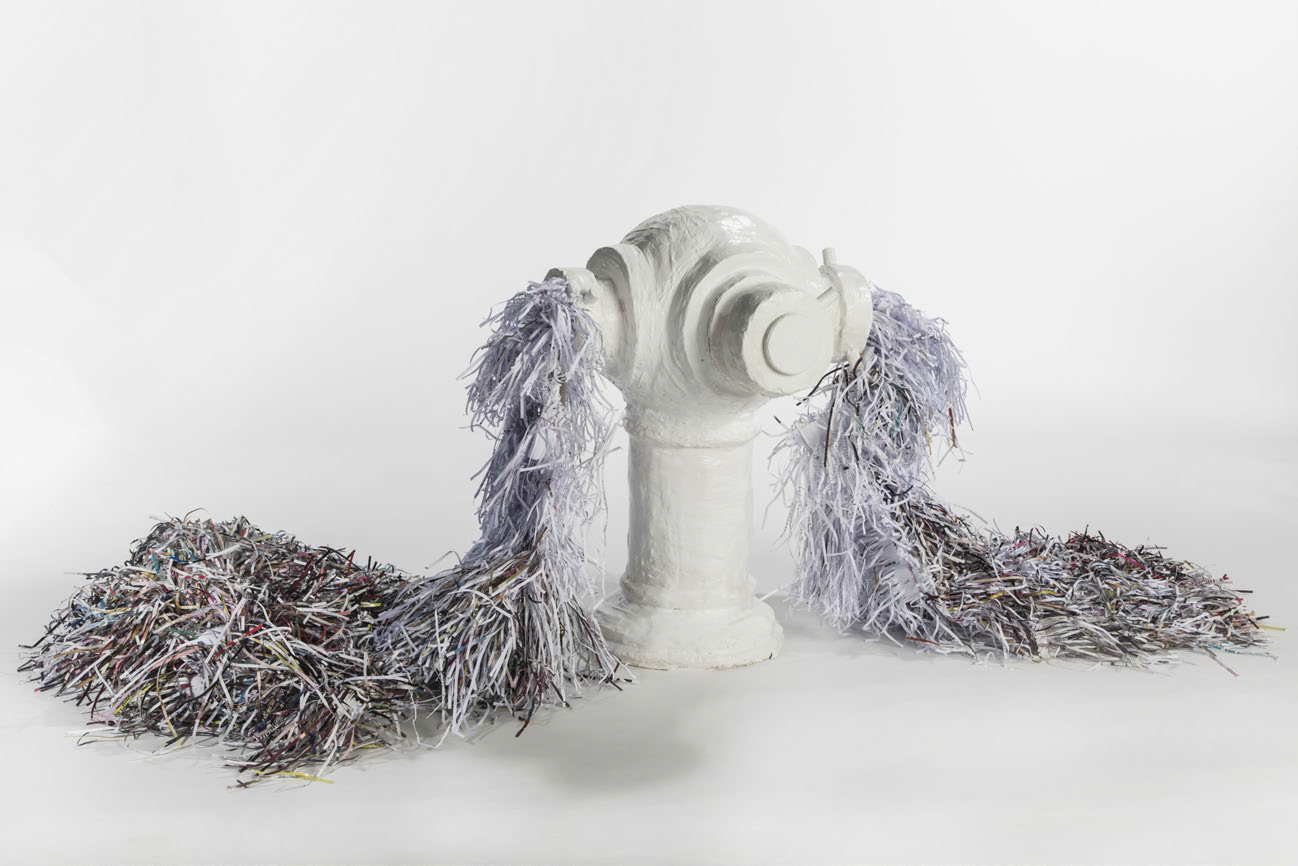 "SPLURT" by Andre Ho, (B.F.A., interactive design and game development), Ellen Siu (B.F.A., interior design) and Jenn Lam (B.F.A., illustration). Made of shredded paper and foam.
This piece symbolizes the excessive use of paper in Hong Kong, showing that our landfills are overflowing and warning us that it soon may fill our streets.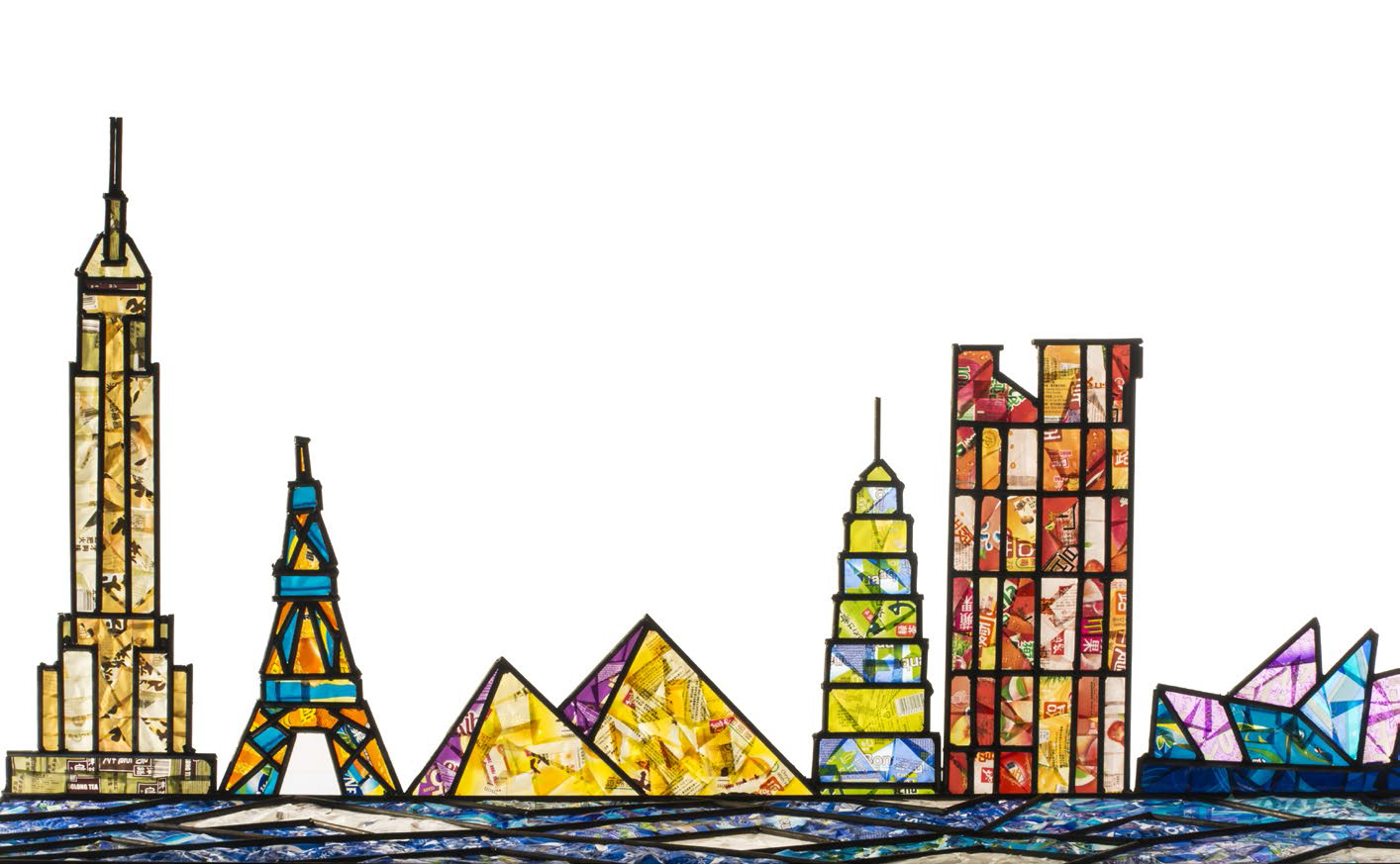 "Stained City" by Jeselle Leung (B.F.A., photography). Made of plastic bottle labels and steel.
When will we start to take care of the place that we live in? A city made from waste prompts viewers to reflect on how they are affecting the community.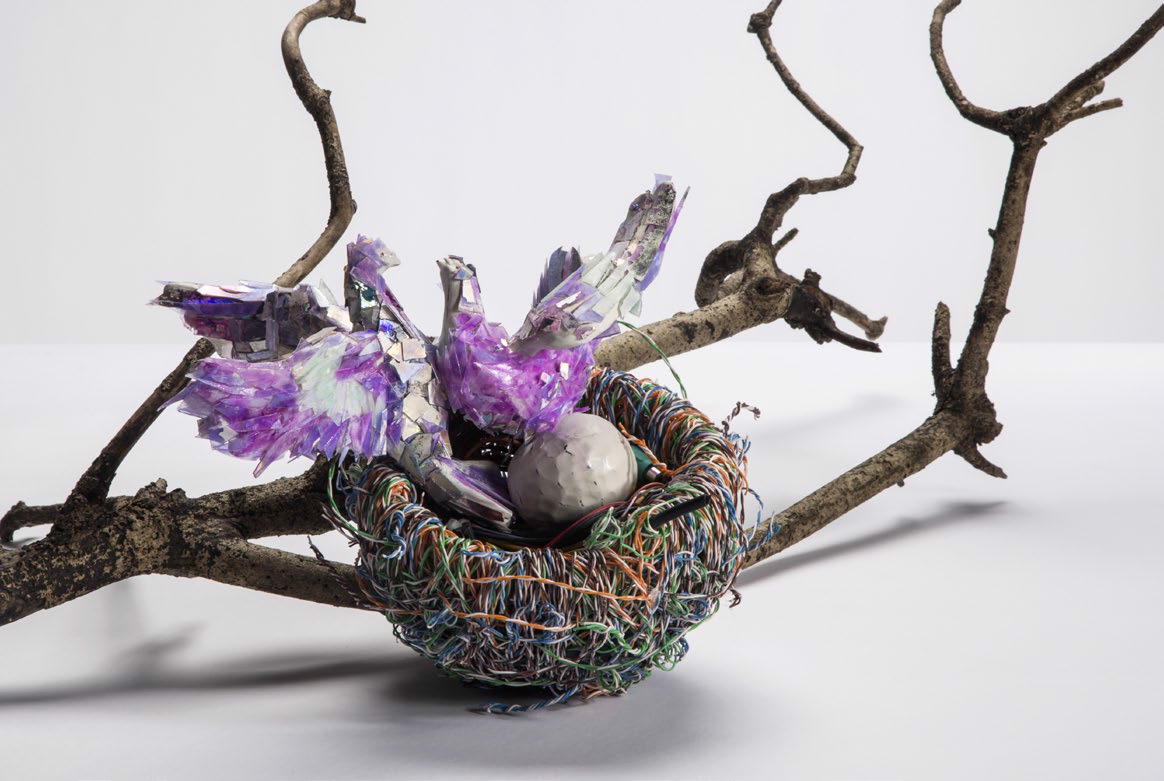 "E Bird" by Wesley Yau (B.F.A., visual effects) and James Hou (B.F.A., fashion marketing and management). Made of wires, metal, and CDs.
We love nature; and since birds are fragile creatures, we have created this bird sculpture to raise public awareness of e-waste harming animals in Hong Kong.