Art critic and "Art in America" contributor Paul Laster has known many of the artists showing at SCAD Museum of Art for years. But that hasn't stopped him from rediscovering them all over again during his third visit to Savannah College of Art and Design for deFINE ART. This artist, turned curator, turned critic and editor for Flavorpill.com ArtKrush, and more, helped me to see this feast of contemporary art through his eyes.
Paul Laster: This work by Matthew Brandt speaks for itself.
Thread: It's beautiful.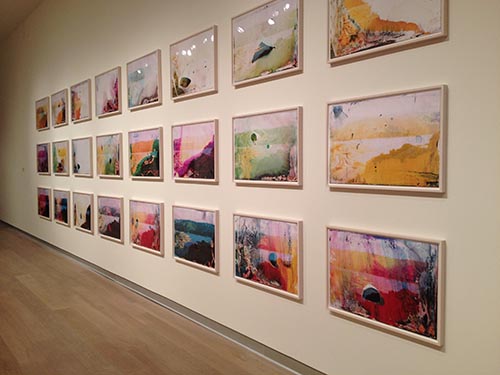 Matthew Brandt "Lakes and Reservoirs"
P: This is the series that he's done where he's photographed the lakes and then he puts these photographs into the water from the lake so it's like a secret soaked in lake water. The pictures are so clear and crisp because he shoots 35 millimeter and then puts the negative together in the computer. Then he makes a composite that he makes the prints from, so he gets all of that detail.
T: How did you become familiar with this work?
T: I reviewed his show in New York for "Time Out New York" and at that time, just as we're doing, I had a walk-through with him so that I could totally understand. I do that often.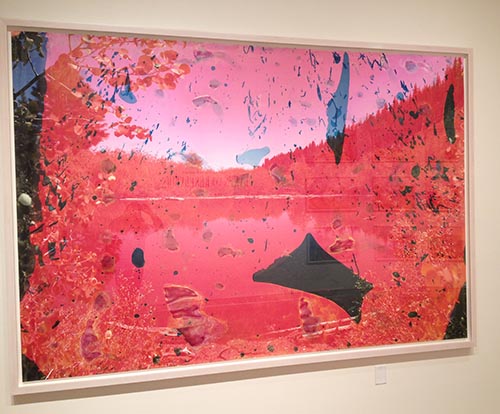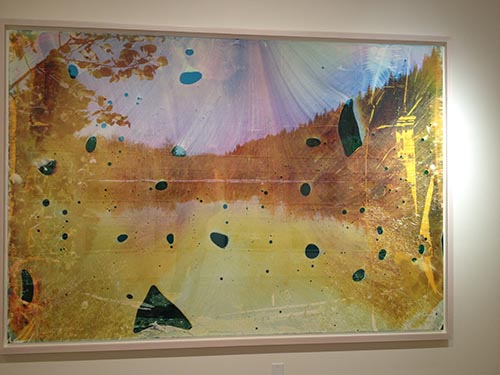 T: I would think that'd be the only way to do it.
P: Well, some people don't want to get that involved. They want to have an objective point of view but, for me, I'd rather know as much about the work and then…I mean look at how sublime this is. So I'd rather know about the process, how it's made and then look at it from the aesthetic.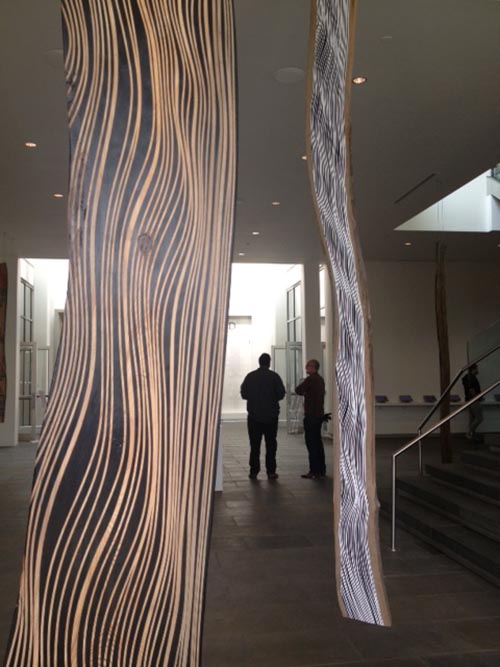 Jason Middlebrook "Submerged"
T: How do you approach a place where there's so much happening all at once?
P: Obviously, I walk in and I see [Jason Middlebrook's] installation first and you soak that up and then, like a kid in the candy store type of thing, you come into  show. Then, oh, it's [Viviane Sassen's] show, and I like her work a lot, too. So at first you look at it and it's all mixing together but then you start to delineate it, you have to separate it. See [Dustins Yellin's] show just on it's own, or [Tallur's L.N.'s] show just on it's own.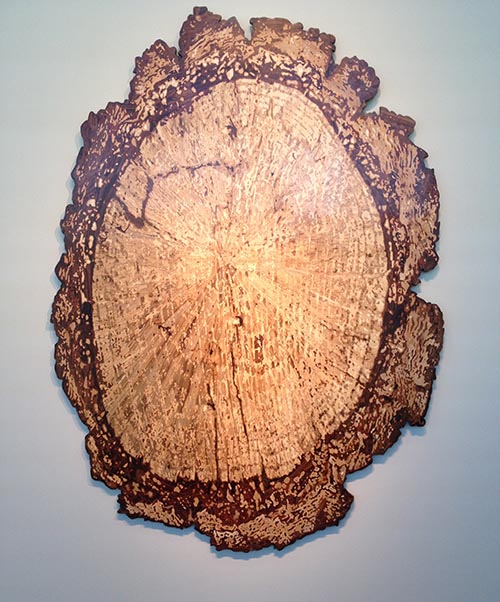 Tallur L.N. "Balancing Act"
P: You just take it one at a time. Obviously, for me, I'm doing an interview with [Alfredo Jaar], but I have to decide too between [Nicola Lopez] or [Tim Rollins] and the kids as far as a review for Art Pulse. And then I'm reviewing Tallur's show for Art Asia Pacific. So what I do is…and I'm thinking about doing something on [Sam Nhlengethwa's] work. You just take it one step at a time.
T: Walk me through Tallur's "Balancing Act" exhibition.
P: An artist like Tallur I'd never seen before. But that's great because now there is someone else that I've met and someone else that I'm going to write about, someone else whose language I'm learning about.
T: Is there a piece here that you're particularly drawn to?
P: Yeah, the last two, they're all different. But this one's quite fascinating in that these were ready-made sculptures that he cut the figure off. But when you look into these, too, you see the light from the other side?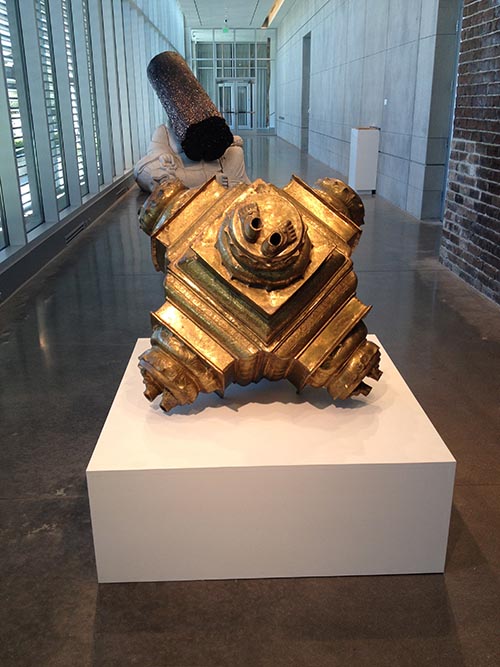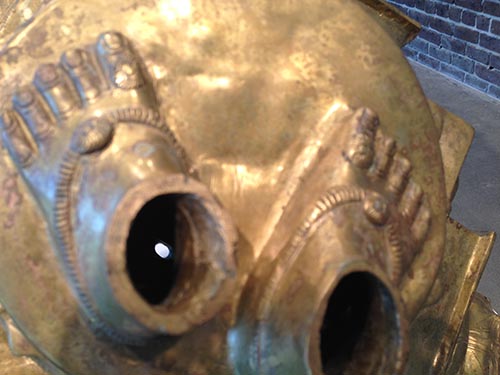 T: Oh, wow.
P: It's kind of marvelous. This is kind of like a top or a toy that spins. But he's just welded all of these together. And this is quite marvelous, too.
T: I pounded a penny in there per the artist's invitation to the public.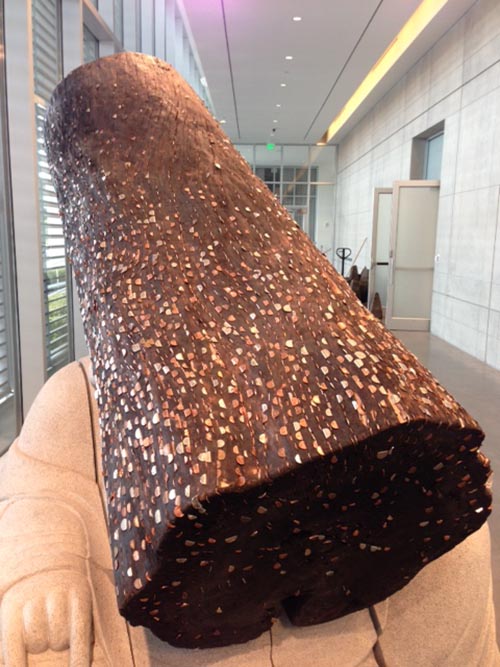 P: It's interesting how he cut this up. It's not for an aesthetic, it's for practicality because it's so heavy. So by cutting it up he can ship it in separate parts.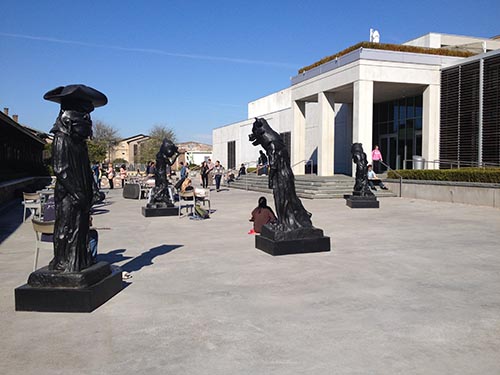 Nathan Mabry "Process Art (B-E-A-G-G-R-E-S-S-I-V-E)"
P: I saw these [Nathan Mabry sculptures] when they were exhibited at the Nasher Sculpture Center in Dallas.
T: This reminds me of the Rodin Sculpture Garden at Stanford.
P: Well, these are "The Burghers of Calais." He's transformed them. It's amazing because these are bronzes that he had made. When they were at the Nasher Sculpture Center they were on these terrace steps, so they were woven throughout that.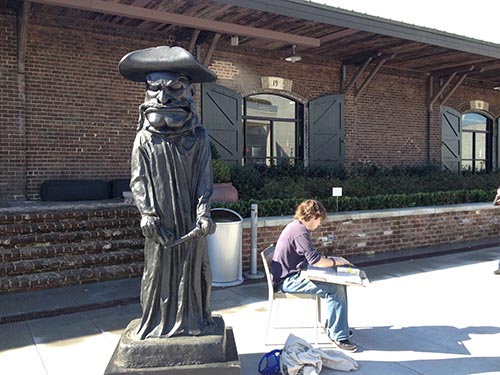 T: I watched them drop these into place.
P: These are heavy. These are amazing. They're quite spooky with those masks on. The poses are after "The Burghers of Calais," but they are transformed through this changing situation.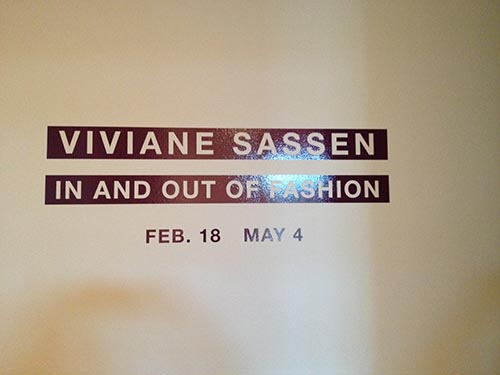 P: I like [Viviane Sassen's "In and Out of Fashion"] a lot because basically she's showing us photography in a very unconventional way. Rather than it being framed prints on the wall, like Matthew's work is, she has found a way to show us the pictures in the book in some dynamic, moving way.
T: It reminds me of a slideshow on a blog.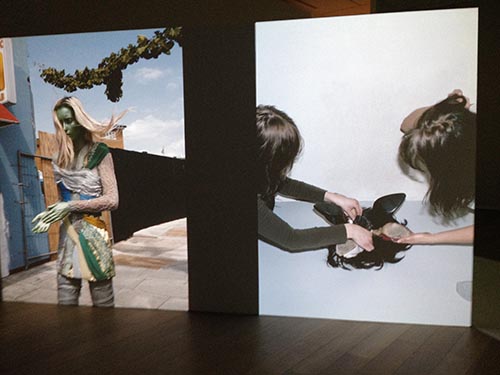 P: And then I love the way this image sweeps across the floor, just through the trick of the mirror. Look how dimensional the space becomes. You're swept into it with this mirror.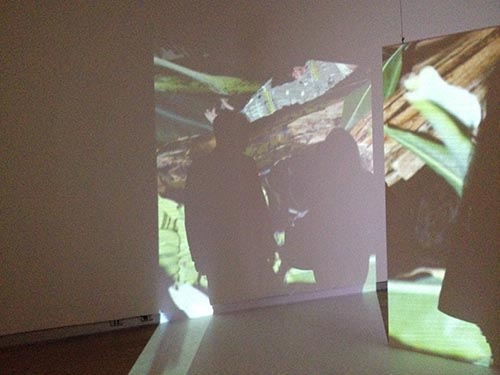 T: It's immersive.
P: It's quite a marvelous use of a small gallery. I think it's something a lot of people could overlook because of the impact of a show like Tim's or Sam's.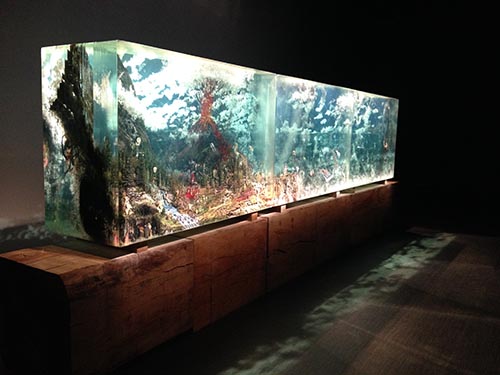 Dustin Yellin "The Triptych"
P: [Dustin Yellin's] piece ["The Triptych"] was exhibited in a show on Sandy in Brooklyn.
T: Hurricane Sandy?
P: Yes, one year later. Phong Bui, editor of the The Brooklyn Rail, curated the show, and artists had to respond to Sandy.
P: This piece is phenomenal. Like in Tallur's piece, how you can see the rings of the tree. You're seeing kind of like the rings of a tree here. This is layer after layer after layer of resin. He has poured layer after layer of resin. And then working on the top of each new surface is another level of collage and another level of collage.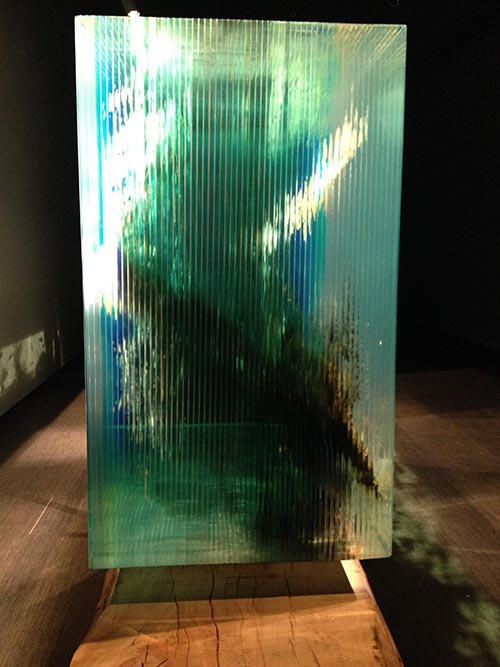 T: He builds these layer by layer?
P: Yes. All this smoke area is paint, but the paper is layer after layer after layer until it starts to look dimensional.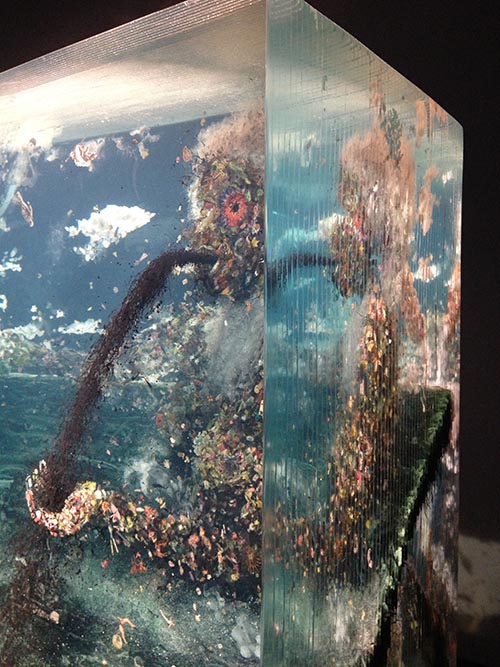 T: Do you know how long this took him to complete?
P: No, I don't. But look how complex this is. It's like how Fred Tomaselli works. He works in resin and he paints and he collages and they become dimensional because it's one layer on top of another.
T: Did you see Waldo hidden in one of the sections?
P: No, I hadn't seen him. That's wonderful, and he's as tiny as you can get to still see it. It's so complex because it's a world unto it's own.
Next stop on Paul's world tour of art is the Armory Show in New York and TEFAF Maastricht in Holland. Follow him on Twitter @plasternyc.