Starting off a few years ago as a tiny gallery on Desoto Row, Art Rise Savannah is becoming a hub for the independent art community and the city of Savannah as a whole.
Every first Friday of the month, Art Rise hosts the Art March, connecting the galleries, shops, and cafes from Forsyth to Victory for a three hour tour of Savannah's arts district. It also hosts exhibition fellowships to help artists showcase their work with Fresh Exhibitions, holds an indie arts market outside the gallery to help craftsman sell their products and supports local artists in everything from networking to getting health insurance. We caught up with the executive eirector and interim secretary for the Art Rise board, Clinton Edminster, and to get his insights on how art impacts a community and how young artists can start a creative scene in their own city.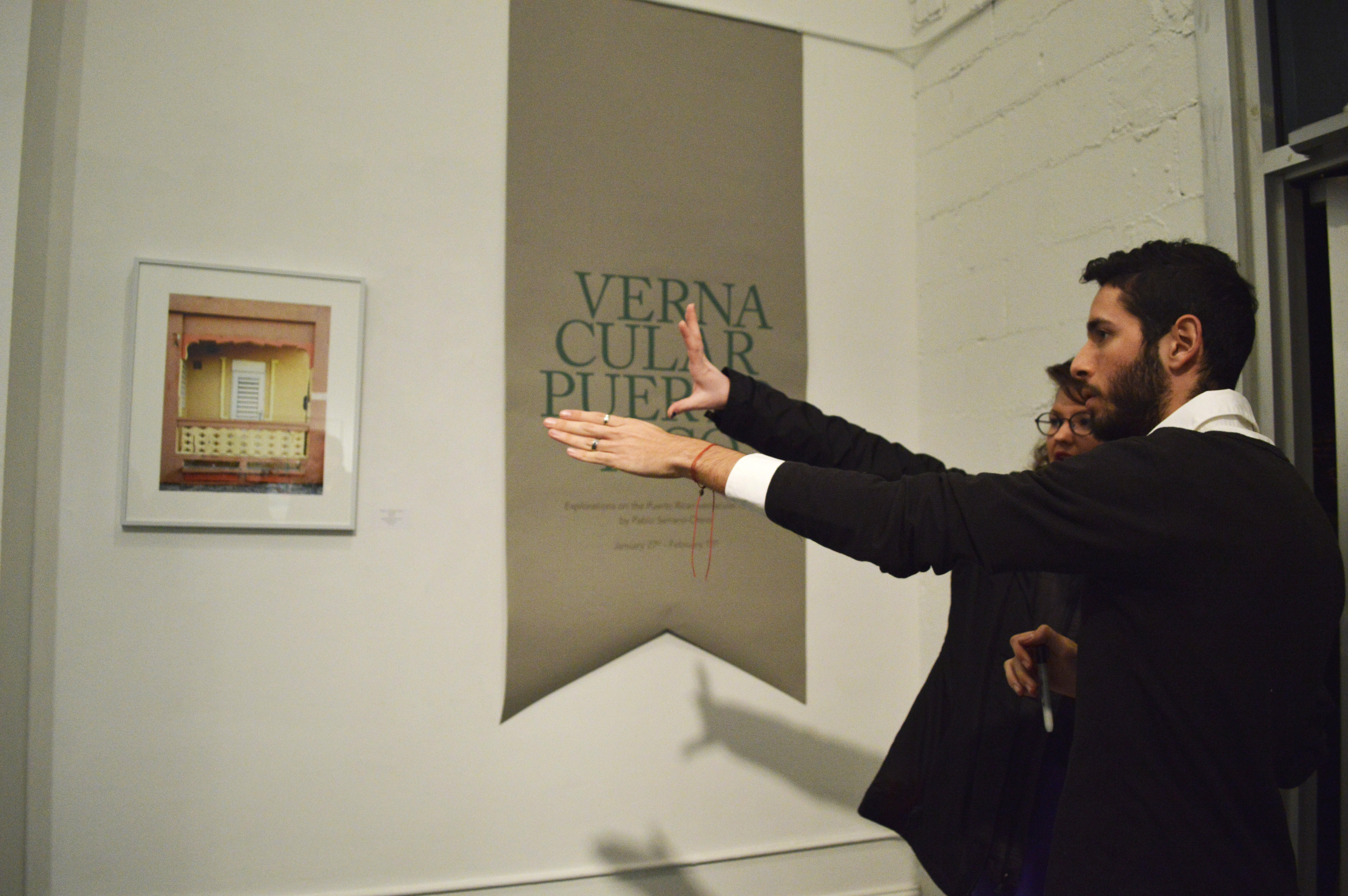 Photographer Pablo Serrano discusses his work during the Feburary Art March. Photo by Art Rise staffer Logann Fincher.
Thread: How do you get people involved to build an art scene or an arts organization where there isn't one?
Clinton Edminster: I think the key here is to show people a reality that doesn't exist yet by using clues that are present now. To simply have people imagine the future then ask them if it's something they would enjoy being a part of. If their answer is yes, then get them excited about putting that structure together. I think that's really the main key: just getting people in. I found this a fascinating challenge because, unlike other places with a well established arts community, I wanted to be a part of developing it, and I think a lot of other people do as well.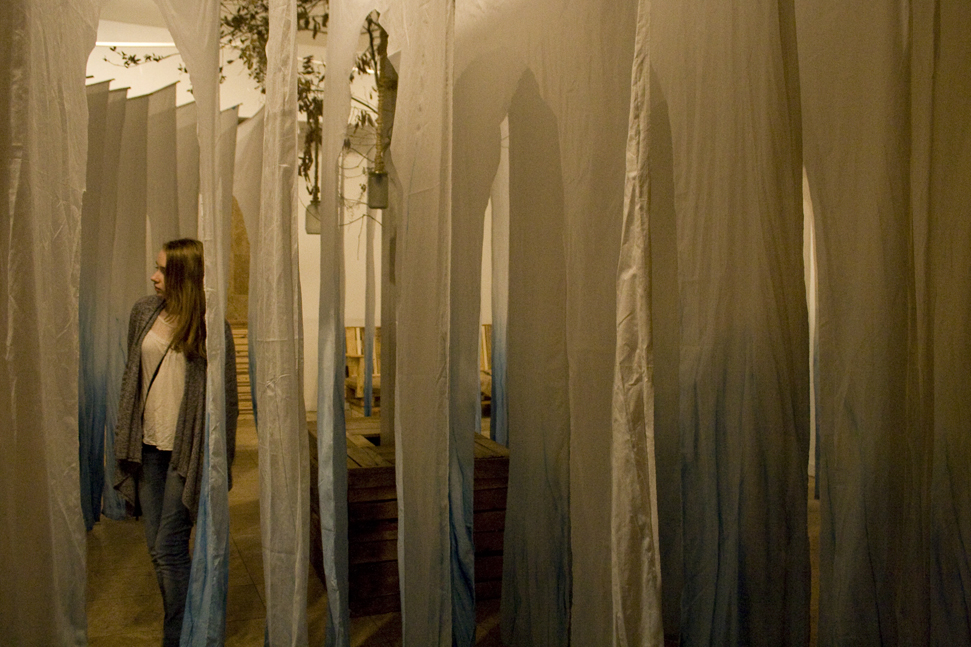 An onlooker explores a installation during the March Art March at Sicky Nar Nar. Photo by Art Rise staffer Lauren Flotte.
It's also important to just start talking to people, to know your environment and figure out specifically what you want to do so you don't reinvent the wheel. You have to fill a vacuum somewhere, but you have to figure out what that vacuum is first. So you talk to people at shows and you become a part of the community, and from there you can figure out where the gaps are and what you have to offer them.
What it really comes down to is just a group of people willing to do the dirty work and a lot of paperwork. You have to go beyond the romantic idea of starting an arts organization, because the infrastructure is vital to developing a community.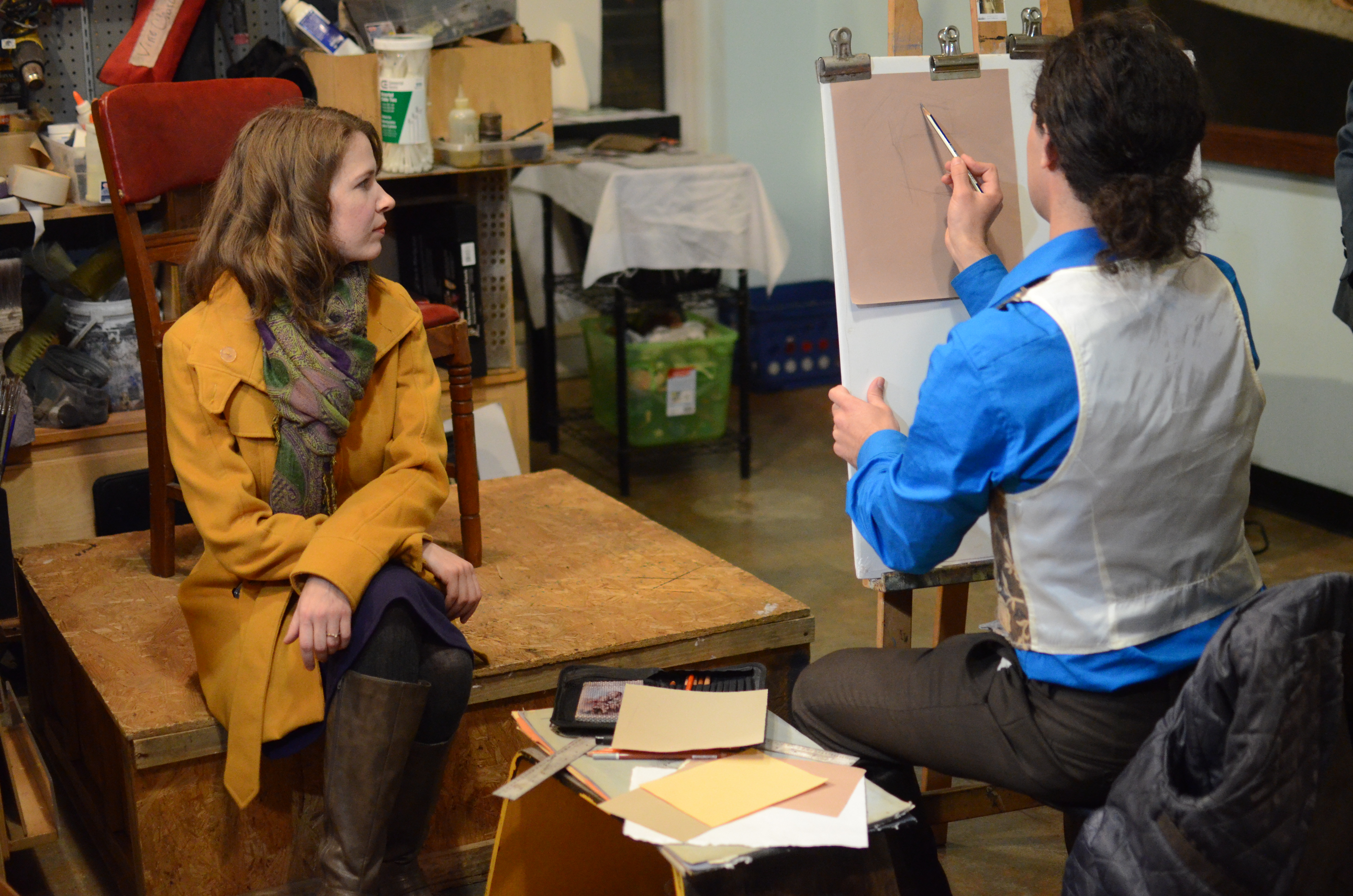 Painter Jared Seff does some impromptu portraiture during the January Art March. Photo by Art Rise staffer Peterson Worrell.
T: Other than bringing art to Savannah, how else has Art Rise changed the community?
C: Well, that can be broken down in a couple ways. First, you can break it down demographically.
The cool thing about art is that everybody can enjoy it. There's some work to be done about making art accessible, but as soon as you do that, everyone can enjoy it—no matter your age, race, ethnicity, background, education—because art is so extensive. Theater, poetry, abstract, representational, whatever.
It's all awesome and it's all about the visual things that people enjoy. Art is a heightened sense of entertainment and it's a community-based sense of entertainment.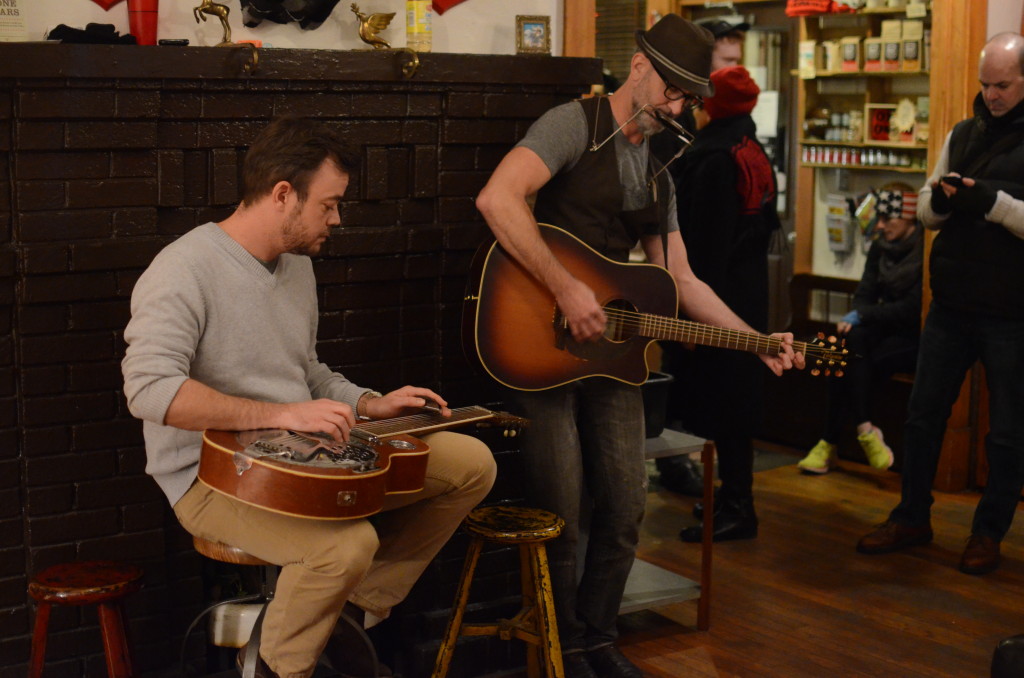 Clouds & Satellites playing at Foxy Loxy Cafe during the Art March. Photo by Art Rise staffer Peterson Worrell.
Art Rise is in the business of creating opportunities and awareness of this incredibly accessible medium that everyone can enter in on at relatively the same level—whether they're art appreciators or artists. It's really all just about people talking to people in the presence of art. It's sort of like art's not even the point anymore, it's just the excuse we all have to go out on a Friday night and meet people we might not meet otherwise. It creates a dialogue that's different from one you would have at work, or school, or at a football game. It's more intellectual, more uplifting and you can gain a better vocabulary for describing your own life. It can be lofty, but it can also be very basic in the best way. So that's where I see art bringing communities together demographically, and that's what we're really pushing for.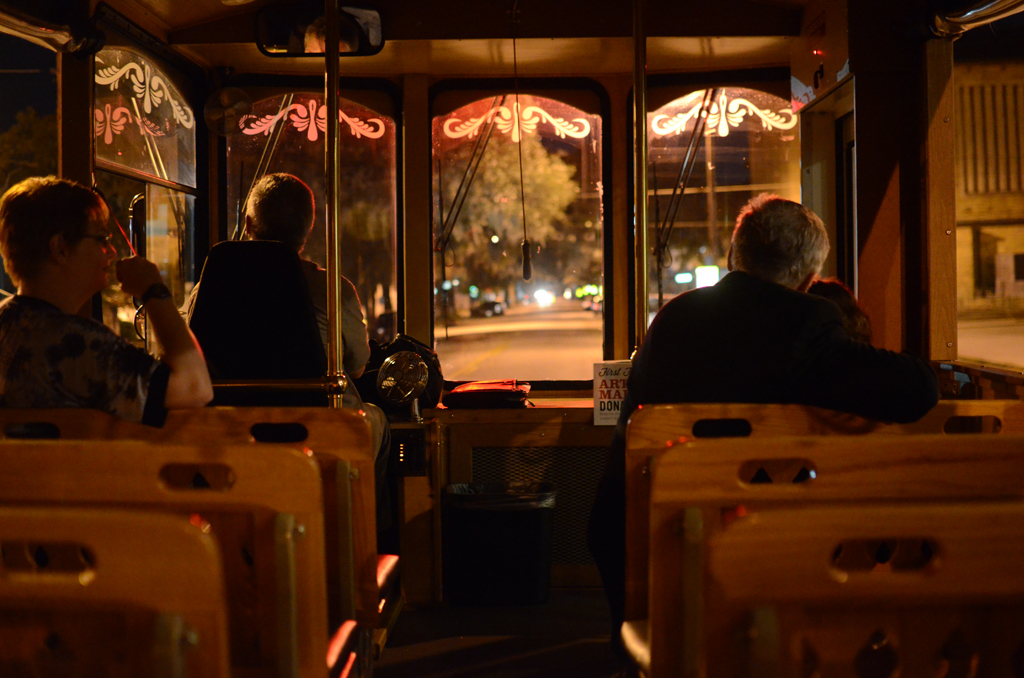 Art Marchers ride the trolley from stop to stop. Photo by Art Rise staffer Peterson Worrell.
Also, economically the Art March is pretty great. Foxy Loxy's busiest day ever was the April Art March. And for Foxy, that's saying a lot. The Art March has become a night where people come explore down here past the park, and I think it remains pretty true that it's the busiest day of the month for all of the galleries here. It creates a heartbeat, and it connects people and they see it and talk about it and it gets dispersed. It's really valuable from an economic standpoint, but it needs to be seen as valuable in that way, too.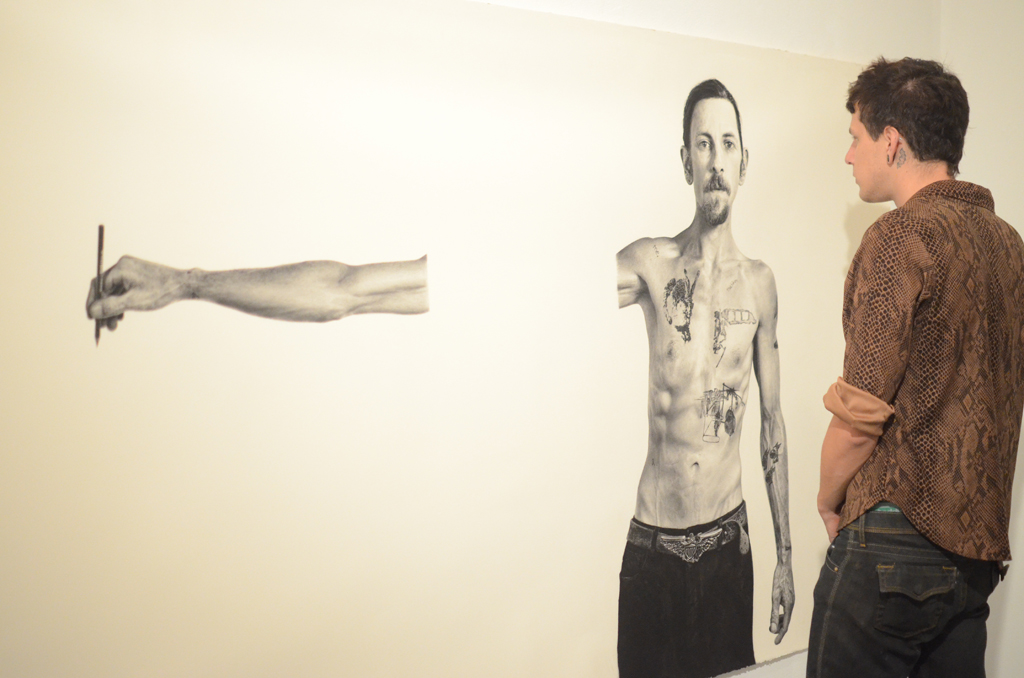 Adam Gabriel Winnie's exquisite realism series during the December Art March. Photo by Art Rise staffer Peterson Worrel.l
T: How else does art help a community? Why is it important?
C: Not only is art really valuable from an economic standpoint, but it creates a heartbeat. It connects people. They see it and talk about it and it gets dispersed. It also expresses a vocabulary that really plays on the subjective experience that we all feel, in a different way than language can, because language is pretty solidly defined. One word means the same thing for hopefully a lot of people and it's a very logical medium. Language can be used in abstract ways of course, but essentially it's designed to be logical. But visual art is a different vocabulary, used to talk about things in ways we can't yet express verbally, and that's important. We're always going into the future, and it's important for us to be thinking 20, 40 years ahead about concepts we might not even really fully understand now. When you look at art, you feel a different way that you can't really explain, and that feeling is a complex emotion that later you'll be able to actually talk about and discuss. Art creates the future; it sees the future. It helps build up how we discuss it.
Art Rise is gearing up for the May Art March on the 2nd of the month, so check out the map, plan your route, and get your walking shoes ready.